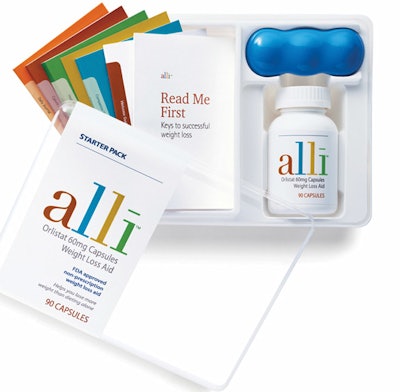 • GlaxoSmithKline (GSK) Consumer Healthcare, Moon Township, PA, is marketing its new alli OTC weight-loss capsules in a consumer-friendly starter kit whose design delivers a sensory experience by presenting the brand as the consumer's ally during a weight-loss program.
"We got very deep into the consumer experience, and we found that weight loss is a very emotionally charged category," says Donna Sturgess, global head of innovation at GSK Consumer Healthcare. "We needed alli to be an honest voice and a transparent brand—here's what you can expect if you follow the instructions."
Ideo developed packaging to gently guide consumers in the product's use. GSK markets alli in a starter kit—a two-piece plastic container and lid. Inside the container, a white thermoformed tray contains a bottle of 60-mg tablets in the 60-, 90-, or 120-count sizes, a pill-carrying case, product usage pamphlets, a daily journal, a calorie and fat counter, and Quick Facts cards. The kit's graphics card provides information for accessing a personalized diet action plan at www.myalli.com.
The primary container and tray also work on a sensory level. The white tray holding the product and collateral materials is easily viewed through the transparent lid. They are meant to be emotionally reflective as product users transform themselves during the dieting process.
"It puts forth a canvas so you can see yourself and create your own identity," Sturgess says.
The bottle label prominently displays the four-color alli brandmark. Different colors in the brand name correspond to emotional cornerstones of understanding the product and sustaining a product-use routine: What is alli? How does it work? What's the plan? Are you ready?
• The second OTC pharmaceutical package, designed for the Plan B emergency contraceptive, reflects regulatory changes that now make the drug available in nonprescription form for women 18 and older. Barr Pharmaceuticals, Pomona, NY, markets the drug in packaging that is adaptable both behind the pharmacy counter and on the store shelf, saving the company money with a single package. The carton's soothing colors and focus on product benefits give women peace of mind about their purchase.
Barr decided that women 18 and older were old enough to purchase the product on the store shelf without a pharmacist's guidance, but needed a package to provide functional benefits and reduce purchase anxiety.
IQ Design helped create the carton. The dual-label package contains two pieces. The outer sleeve, believed to be SBS, includes white space on the back panel for the prescription label when the drug is sold in prescription form to women 17 and younger. A hinged, billfold carton that also looks to be SBS contains two tablets enclosed with clear film inside a die-cut window on the billfold's right panel.
The package, containing two 0.75-mg levonorgestrel tablets, makes Plan B visually approachable for consumers, says Carol Cox, Barr spokesperson.
"This was a deliberate decision for several reasons," Cox says. "First, shelf space behind the counter in pharmacies is limited, and some pharmacies would not be able to accommodate shelving two separate products. Second, having a single package for the OTC and Rx product minimizes confusion for consumers and pharmacists. Third, the package has a new National Drug Code number from the previously Rx-only product."
The carton, from Sharp Corp., also contains prescribing information and a patient information booklet explaining how and when to consume the tablets. The design's blue-violet background gives way to a circular graphic using darker tones of the same colors. A side-by-side bright green swoosh bleeds off the carton.
Companies in this article