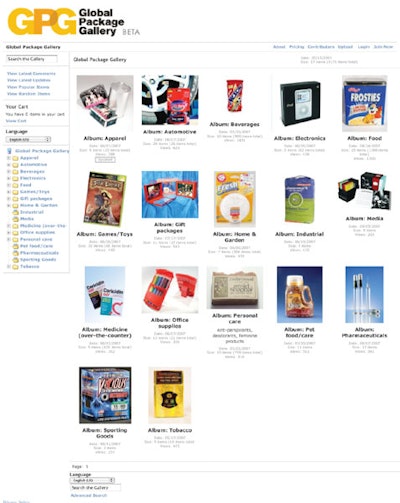 I have just discovered a fantastic packaging image gallery on the Web which I encourage you to check out at www.globalpackagegallery.com.
The Global Package Gallery is loaded with a wide range of great packaging images from around the world that are broken out into different product categories. A really neat feature is the ability to see each photo in up to three resolutions, allowing you to really view the smallest package details with a great deal of clarity. You can also download images for presentation purposes, sort of like the popular iStockphoto image gallery, which I absolutely treasure.
One stickler is that in order to view more than five high-resolution images, you must be a paying member, but the $395 annual fee is nominal and well worth the investment. However, the ability to view small thumbnails is available for free to those who opt not to purchase a membership.
Coming from a well-rounded design background, with an emphasis in package design, I really think the Global Package Gallery is onto something, not to mention that I could not find anything else of this caliber online.
The most amazing part about the Global Package Gallery is the international exposure that is being offered at our fingertips. We would only be naive to think that all good package design is in the U.S., when that is the furthest thing from the truth. The ability to view global design trends is, at least in my opinion, a powerful resource to be able to tap into with the simple click of a button. Industry awareness, both domestically and internationally, is a must-have to remain a competitive and competent designer. The GPG might just be that extra something you were searching for.
Kevin Saladyga is the founder of the Point of Purchase Online Network, which offers listings, events, calendars, links, forums, and news for professionals in the packaging, display, retail, and printing industries. Saladyga is also the creative director at a packaging and display company with 15 years of experience, 20 industry design awards, and multiple design patents.