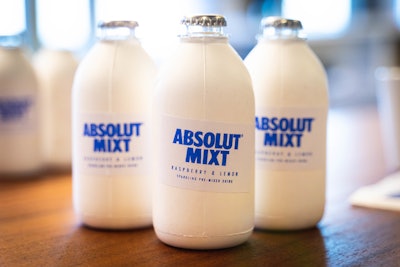 Packaging World:
Does The Absolut Company's sustainability goals mirror those of its parent company, Pernod Ricard, or have you tailored them specifically for the brands under Absolut?
Karin Ekroth:
As part of the Pernod Ricard Group, our sustainability and responsibility strategy is aligned with the 2030 roadmap, Good Times from a Good Place, which was launched in 2019. The essence of Good Times from a Good Place captures an idea that sits at the heart of our heritage as company—a simple commitment to do the right thing, whether it is for each other, our consumers, our business, our society, or the environment. This strategy covers four big ambitions: Nurturing Terroir, Valuing People, Circular Making, and Responsible Hosting. While these strategic pillars are all relevant at different stages of our business, we are focusing on Circular Making, demonstrated by our ongoing commitment to a truly circular economy and ecosystem.
Regarding packaging, The Absolut Company's 2018/19 sustainability report includes goals such as increasing the use of recycled content in your packaging and using less cardboard. Do you have specific numbers attached to these goals?
Yes we have a variety of goals tailored to the brands within The Absolut Company. In April 2020, Malibu included 30% recycled PET plastic in our U.S. bottles, exceeding our goal and the commitment set by the Ellen MacArthur Foundation to achieve a target of 25% by 2025. We are excited and proud for this first step, but we won't stop there in our efforts to have a real impact. In the next one to five years, we will further increase the percentage of rPET use in plastic containers, as using rPET over virgin polymers drastically cuts carbon footprint.
---
See it Live at PACK EXPO Connects Nov. 9-13: Get Your Cartons to Market Faster with ADCO's Hand-Load Cartoners, by ADCO Manufacturing. Preview the Showroom Here.
---
Also, our goal for Absolut Vodka is to have an entirely circular process by 2040, and using recycled materials is part of that. The recycled content within our Absolut Vodka glass bottles is currently around 47%, and we plan to increase this 1% at a time to see how far we can get while maintaining the clarity of the glass.
We encourage using materials in a responsible way and encourage others within the sector to join us in this pledge. Not only does this mean rethinking and reducing the packaging we use, but also being conscious of the unintended consequences of any changes or actions we take as a business.
What are the challenges in using recycled content in a glass bottle? How have you overcome these challenges?
There are several challenges, one being the complexity. Impurities in recycled materials cause the glass to have a greenish tint, so we are working closely with our supplier, Ardagh, to increase our percentage while evaluating color and quality throughout the process.
Another challenge is sourcing the recycled materials. Not all glass is recycled, and not everything that is recycled can be used due to impurities or insufficient quality. Around 60% of all clear glass recycled in Sweden is reused in packaging, and the rest is for various building materials. We have a good system in Sweden, with 95% of glass being recycled by consumers. However for us to reach our goal of a circular process by 2040 and push the spirits industry further, we need consumers in other countries to start recycling their empty bottles more often.
Can you provide an update on the project Absolut is involved with to create a paper bottle?
We're hoping to create our preliminary batch of bottles, ready in September. So far, we have been working very closely with Paboco [a joint venture between paper packaging material developer BillerudKorsnäs and bottle manufacturer Alpla] and our community partners [Carlsberg, L'Oréal, and The Coca-Cola Company] to finalize our paper bottle prototype.
What is The Absolut Company's goal for the paper bottle?
The paper bottle initiative is a step-by-step journey to reduce and replace the need for polymers. In the long term, the paper bottle will become completely bio-based and biodegradable and, if successful, is something that we hope will spark a real movement for change—not just limited to the products within our own portfolio, but extending to all brands within the spirits industry.
---
Read these related articles from Packaging World magazine:
Paper Bottle for Diageo Spirits
100% Recycled PET for Diageo's Whiskey
Companies in this article