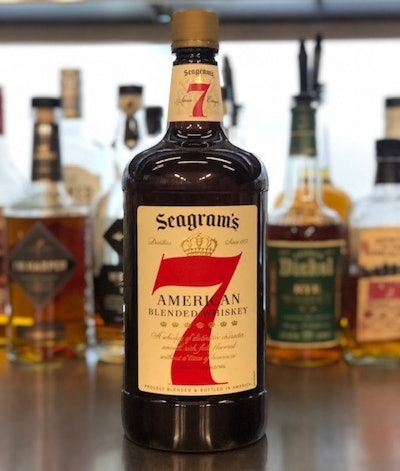 Building on a decade-long commitment to making its packaging more sustainable, Diageo North America will remove virgin plastic from Seagram's 7 Crown bottles across all its PET (Polyethylene Terephthalate) formats: 1.75l-L, 750-mL, 375-mL, and 200-mL. This change will reduce the use of virgin plastic by almost 1000 tons annually – the equivalent of removing 100 million 500-mL plastic bottles, which, if laid out in a row, would represent 11,957 miles--almost 5 trips between New York and Los Angeles.
The new bottles will be on shelf across the Seagram's 7 Crown range in the United States from the end of June 2020. A variety of the brand's formats in glass bottles will remain alongside the new recycled PET bottles. As stated on the product's label, Diageo encourages consumers to recycle so the material can be used again for bottles or other purposes.
"Great packaging is essential for our brands. Consumers expect our packs to be of the highest quality, while also being functional and sustainable," says Jason Sorley, Brand Director, Diageo North America."'We are very excited to have Seagram's 7 Crown move to 100% recycled PET, reinforcing our commitment to both innovation and minimizing its environmental footprint."
Ronald Holmes, Packaging Director, Diageo North America, shares Sorley's enthusiasm. "We continue to take an innovative approach towards delivering sustainable packaging designs and are proud that this move supports our goal to increase recycled content across our brands globally to 45%," says Holmes. "Using recycled materials to make packaging reduces the carbon footprint of our brands, raises awareness with consumers, and encourages the industry to follow."
Go here for a look at another path to sustainable packaging.
This innovation brings Diageo closer to its ambitious targets for use of plastics. Diageo is committed to ensuring that 100% of its plastic used is widely recyclable by 2025 and plastic bottles are made of 100% recycled content by 2030.
DIAGEO'S GLOBAL PLASTICS TARGETS FOR 2025
Ensure 100% of our plastic use is designed to be widely recyclable (or reusable/compostable), using plastics that allow for increased consumer recycling rates
Achieve 40% average recycled content in our plastic bottles--and 100% by 2030
Continue to invest in circular economy opportunities and other sustainable packaging breakthroughs
Accelerate our support for recycling by increasing collaboration, particularly where we have influence, and engaging with Governments, peers and consumers to facilitate improved recycling