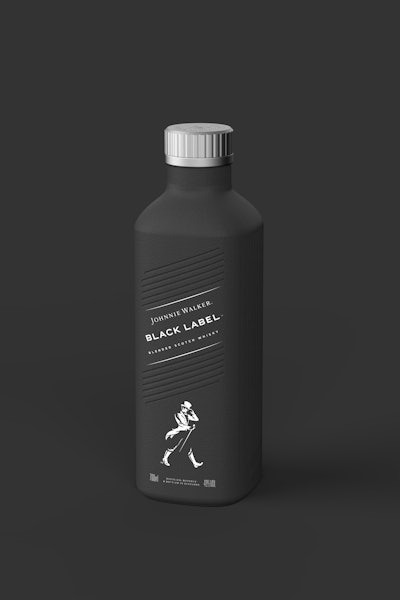 Not available just yet are details on bottle size, method of decoration, type of closure, moisture resistance properties, or the cost of the container relative to glass or plastic alternatives. What Diageo does say is that the bottles will be formed by pressurizing pulp in molds using highly advanced technology. The pulp containers are then cured in microwave ovens before being sprayed internally with specialized coatings designed to be compatible with the products they are holding. Diageo says the bottle will provide at least a 12-month shelf life and the cost to the consumer will be competitive within the Johnnie Walker portfolio.
Diageo is also announcing that it has launched a new partnership with Pilot Lite, a venture management company, to launch Pulpex Limited, a new sustainable packaging technology company. To ensure that the technology can be used in every area of life, Pulpex Limited has established a partner consortium of world leading Consumer Packaged Goods companies in non-competing categories, including Unilever and PepsiCo, with further partners expected to be announced later in the year. The consortium partners are each expecting to launch their own branded paper bottles, based on Pulpex Limited's design and technology, in 2021. 
Pulpex Limited has developed a "first-of-its-kind" scalable paper-based bottle designed and developed to be 100% plastic-free and expected to be fully recyclable. The bottle is made from sustainably sourced pulp to meet food-safe standards and will be fully recyclable in standard waste streams.
For another look at how paper is being pressed into service in the wine and spirits sectors, go here.
"We're proud to have created this world first," says Ewan Andrew, Chief Sustainability Officer, Diageo PLC. "We are constantly striving to push the boundaries within sustainable packaging and this bottle has the potential to be truly ground-breaking. It feels fitting that we should launch it with Johnnie Walker, a brand that has often led the way in innovation throughout its 200 years existence."
Richard Slater, Chief R&D Officer at UK-based Unilever, has this to say about the Pulpex Limited development: "We believe in tackling plastic waste through innovation and collaboration. We are going to halve our use of virgin plastic at Unilever, reducing our use of plastic packaging by more than 100,000 tons in the next five years. Joining forces to develop and test paper bottles is an incredibly exciting step forward, and we're delighted to be working together to tackle one of the biggest environmental challenges of our time."
Simon Lowden, Chief Sustainability Officer at Purchase, NY-based PepsiCo, is equally bullish: "Innovative solutions and partnerships are critical to driving meaningful progress toward a circular economy. The Pulpex consortium is well positioned to deliver sustainable packaging at scale and across industries, having impact beyond what any organization could achieve alone. We're proud to be a part of it." 
"We're thrilled to be working with global brand leaders in this consortium," adds Sandy Westwater, Pilot Lite Director. "By working together, we can use the collective power of the brands to help minimize the environmental footprint of packaging by changing manufacturing and consumer behaviors."