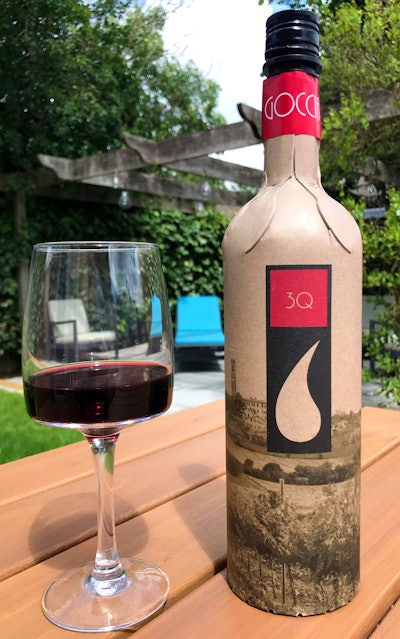 The 750-mL Frugal Bottle is made from 94% recycled paperboard that is assembled around a food-grade liner to hold the wine or spirit. The liner is described as similar to what might be used in a bag-in-box wine. The threaded closure is aluminum and the neck finish appears to be a rigid plastic.
The Frugal Bottle, which is comparable in cost to a labelled glass bottle, is the brainchild of British sustainable packaging firm Frugalpac, which creates and supplies recycled paper-based products with the lowest carbon footprint that are easily recycled again so they don't need to go to landfill. The Frugal Bottles for this particular wine are made at Frugalpac's facility in Ipswich, England, and sent to Cantina Goccia for filling. But Frugalpac's long-term plan is to put bottle-making machines into wineries or into contract filling facilities where multiple wine brands are filled. One Frugalpac machine can produce 620 bottles/hr.
Presumably, the paperboard is fed into the bottle-making machine in the form of flat blanks already printed by a converter. Weighing just 83 g, the paper bottle is up to five times lighter than a comparable glass bottle. An independent Life Cycle Analysis by Intertek found the bottle has a carbon footprint up to six times smaller than a glass bottle and more than a third less than a bottle made from 100% recycled plastic. Consumers can recycle it by separating the plastic liner from the paper bottle and putting both components in their proper recycling bins. Frugal Bottle also notes that the whole bottle can be put into the paper recycling bin and the liner will be easily separated in the re-pulping process. Using up to 77% less plastic than a plastic bottle, the Frugal Bottle also stands out because it allows for 360-degree branding across the entire bottle.
Go here to read about a flat wine bottle with a complementary case designed for e-commerce.
The Cantina Goccia Frugal Bottle will initially be available for purchase online from the winery and in Scotland from Woodwinters Wines & Whiskies retail stores and online. The Frugal Bottle is also under active consideration by a number of leading UK supermarket chains and hospitality groups keen to promote sustainable packaging. It will be available from other retail outlets across the UK, Denmark, and Holland over the next few weeks.
Ceri Parke, owner of Cantina Goccia, describes this container as "the most sustainable wine bottle in the world." She continues: "The Frugal Bottle is about achieving a considerably more sustainable form of packaging for an industry crying out for innovation. When some of our top hotel customers saw samples of it, there was no hesitation in their minds that this type of bottle would be well received in their dining rooms. The launch of the Frugal Bottle is a big leap in sustainability without compromising wine quality. It's much lighter than glass, easier to transport, and friendlier to the planet. Just as important, our wine still tastes as wonderful in a paper bottle as it does in glass. We passionately believe this is a real game changer for the wine industry, allowing us to sell and transport our award-winning wines in a much more sustainable way whilst still providing a beautiful bottle."