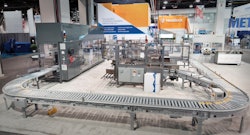 Photo 2
NOTE: E-Commerce wasn't the only area of interest at PACK EXPO. Click the links that follow to read more about innovations in:
Machinery   Materials   Controls   Pharma  Robotics
E-COMMERCE INNOVATIONS 
According to Jeff Chalovich, Chief Commercial Officer and President of Corrugated Packaging, the two clear stars of the WestRock lineup at PACK EXPO Las Vegas were both package right-sizing systems designed for fulfillment centers, DCs, and similar e-comm-oriented channels.
The first, Pak On Demand (1), is a corrugated pouch system that first 3D scans product as it approaches on a conveyor, then uses the scanned dimensions to create a custom, right-sized corrugated pouch on-demand and seal the package for shipment.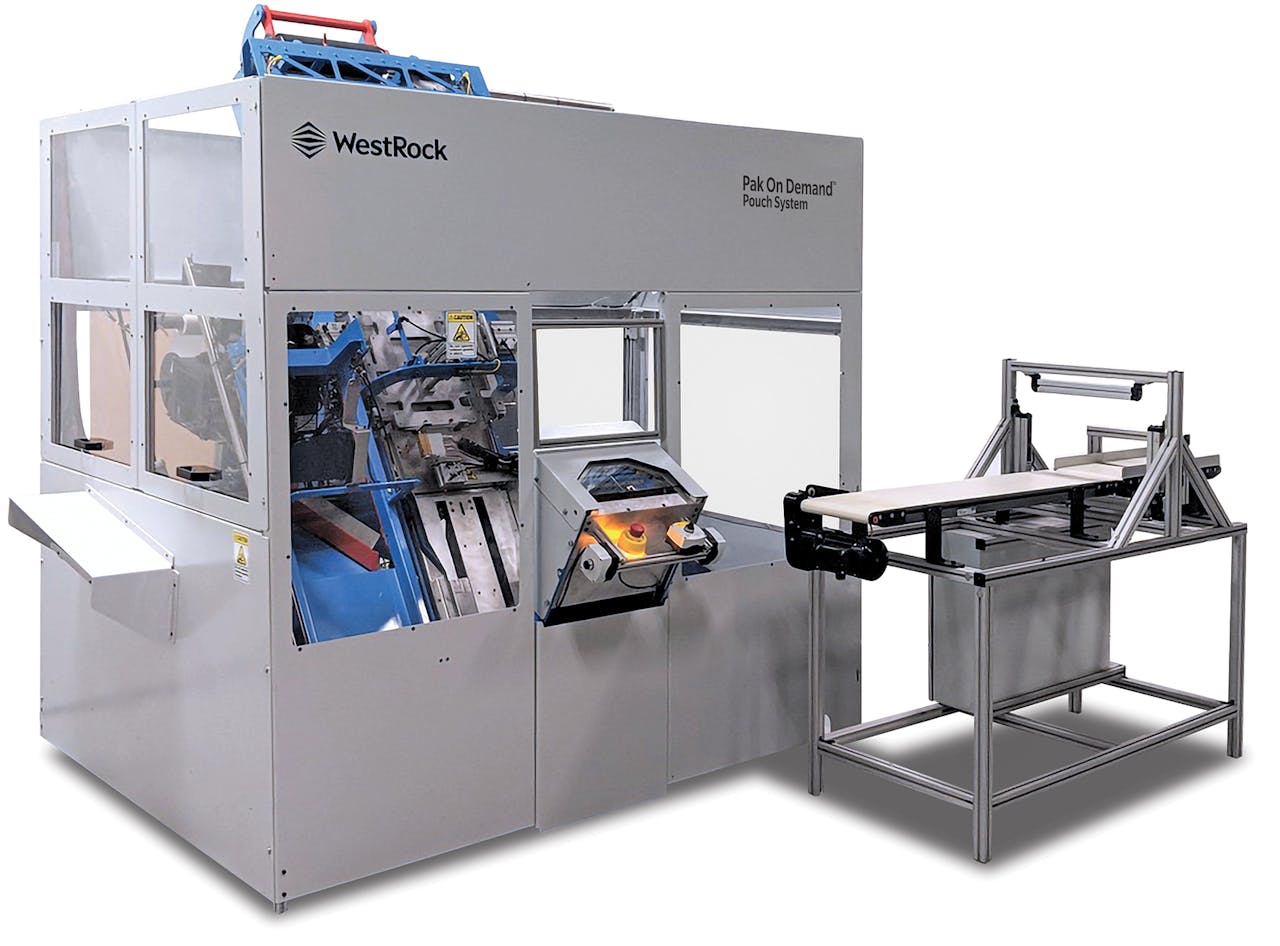 Photo 1
"The result is a highly protective package that is completely curbside recyclable," he says. "The Pak On Demand Pouch System eliminates unnecessary void fill and shipping charges, increases pack efficiency, and lowers labor costs by automating a previously manual process."
The system precisely cuts WestRock's innovative KD Fold corrugated for a system that's two to three times faster than manual packout, according to the company. The corrugated pouch carries an easy-tear strip, yet is secure during transit. For video of the pouch system in action, go to pwgo.to/5366.
For larger corrugated cases containing multiple, randomly sized products, as is common in a fulfillment center setting, WestRock offers BoxSizer (see lead photo). The system is a stand-alone e-commerce packaging machine that continuously right-sizes corrugated cases. It does so by slitting their corners and creasing them to create the top-closing flaps after the cases have been filled, just prior to closing and sealing. BoxSizer easily handles random and highly variable footprints and depths of cases.
Upstream of the BoxSizer, a case erector forms multiple and randomly sized corrugated cases, closing and sealing the bottom of each case, but leaving the top open for fulfillment center loading of random, loose product. No scores or slits are made to the top of the corrugated cases by the case erector, so no top flaps yet exist upon entering the BoxSizer.
After filling, the random-footprint corrugated cases are fed into the BoxSizer in whichever order they arrive. Prior to entering, the machine examines each case for overfilling—if product is overfilled, the system automatically engages an overfill reset, which diverts the overfilled box and resets the line.
BoxSizer then measures each case's outside dimensions and internal void space. It does so using four in-line, drop-down mechanical arms, oriented so one arm addresses each of the four corners of the open, unscored, uncut cases. These arms simultaneously measure the height of the contents within each case, and cut and crease the corrugated at the corners in such a way that they create flaps that close just above highest point of the cases' contents. After scoring, more mechanical systems fold inner flaps first, then outer flaps are hot melt glued and folded to close the case. Closed boxes are then tape sealed.
It does this dynamically on-demand without stopping for changeover, making it ideal for both B2B and B2C applications, according to the company.
"This process reduces movement of the cases' contents, takes out the headspace, and reduces the DIM weight of the case," Chalovich says. "The cases leave the machine perfectly matched to the size of their contents."
By ensuring optimal DIM weight, the BoxSizer platform can reduce total carbon footprint and improve sustainability. Additionally, right-sized packages keep products secure and neat while making packaging easier to open for end users. To see a video of the BoxSizer in action, go to pwgo.to/5367.
Stock bottles shaped by e-commerce
For Amcor the PACK EXPO Las Vegas show was an opportunity to introduce OmniPack, (3) a new stock bottle offering developed specifically for the co-packer whose role has grown dramatically with the rise of e-commerce. The idea is to transform the definition of stock packaging, specifically, injection stretch blow molded PET packaging for sauces, condiments, or beverages sold through e-commerce. Al Pizzuti, Food Segment Marketing Manager at Amcor, explains some of the thinking behind this intriguing initiative.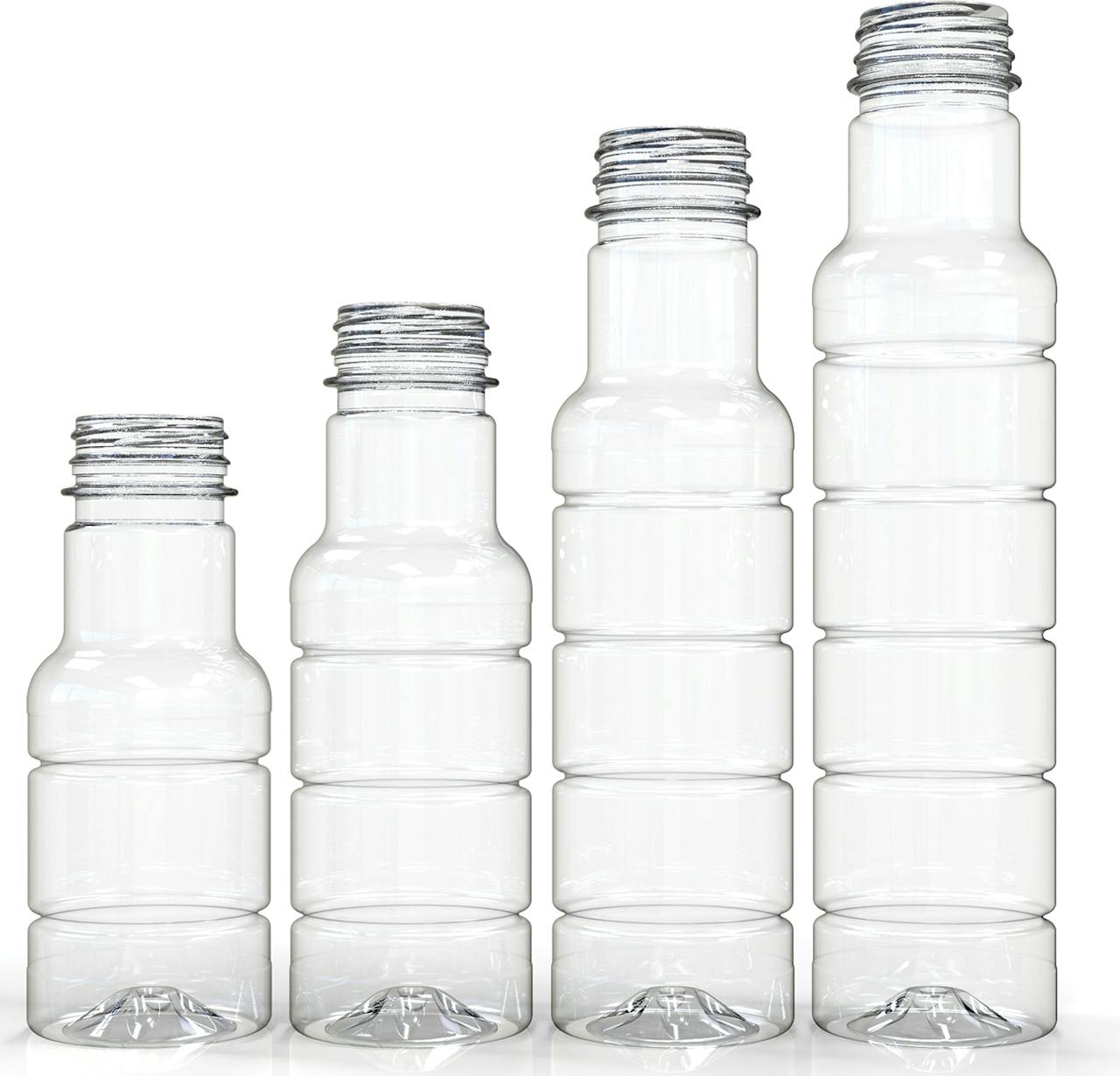 Photo 3
"If you look at the food segment overall, growth is not that impressive. What we're seeing is that tier two and three players are the ones driving growth, and in many cases they're doing it by way of e-commerce. It's no mystery why e-commerce would be so appealing to them, since e-commerce represents a lower barrier to entry, especially when many of these tier two and three firms don't even need to have their own manufacturing assets because they rely on contract manufacturing/packaging. When it comes to purchasing containers, these firms have to move as fast as possible, and they also have to have something they know will withstand the rigors of the e-commerce channel.
"OmniPack was developed with all this in mind. It's a range of PET containers in 8-, 12-, 16-, and 20-oz sizes and with continuous-thread neck finishes of 38 mm. Because the containers all have the same footprint, a tier two or three company can add a new size or switch quickly from one size to another without requiring their contract manufacturer/packager to adjust guiderails or other things that involve time and labor. You simply adjust the fill height. This is what these kinds of food companies need."
The other thing they need if they're going to sell by way of e-commerce is a package that thay know will function within that channel. Amcor thought of that, too. "Stock packaging in the past meant standard containers designed for retail," says Pizzuti. "This is different. This is packaging designed specifically for e-commerce, so we put it through that additional level of testing to get it e-commerce ready."
In other words, these containers are what Amazon refers to as SIOC—Ships In Own Container. Because they've been tested and certified, the need for secondary packaging is greatly reduced or even eliminated. For more on how important that is to Amazon, go to pwgo.to/5368.
Delivering multiple formats
A key challenge in the e-commerce space is creating packaging that is both durable and that enhances the consumer experience. A good example of this kind of thing was the new "bag-in-a-box" integrated line (4) from Hamer-Fischbein and Arpac—both members of the Duravant family of operating companies—that can deliver multi-format packaging solutions.
The new line provides right-size packaging that Hamer-Fischbein says helps lower return rates by preventing shipping damages, increasing brand identification, and improving customer satisfaction with frustration-free packaging. "Shipping bagged products like pet food, household and garden supplies, and other larger-format bagged items purchased through e-commerce can be extremely challenging," says Ed Pickens, Director of Engineering and Product Development for Hamer-Fischbein.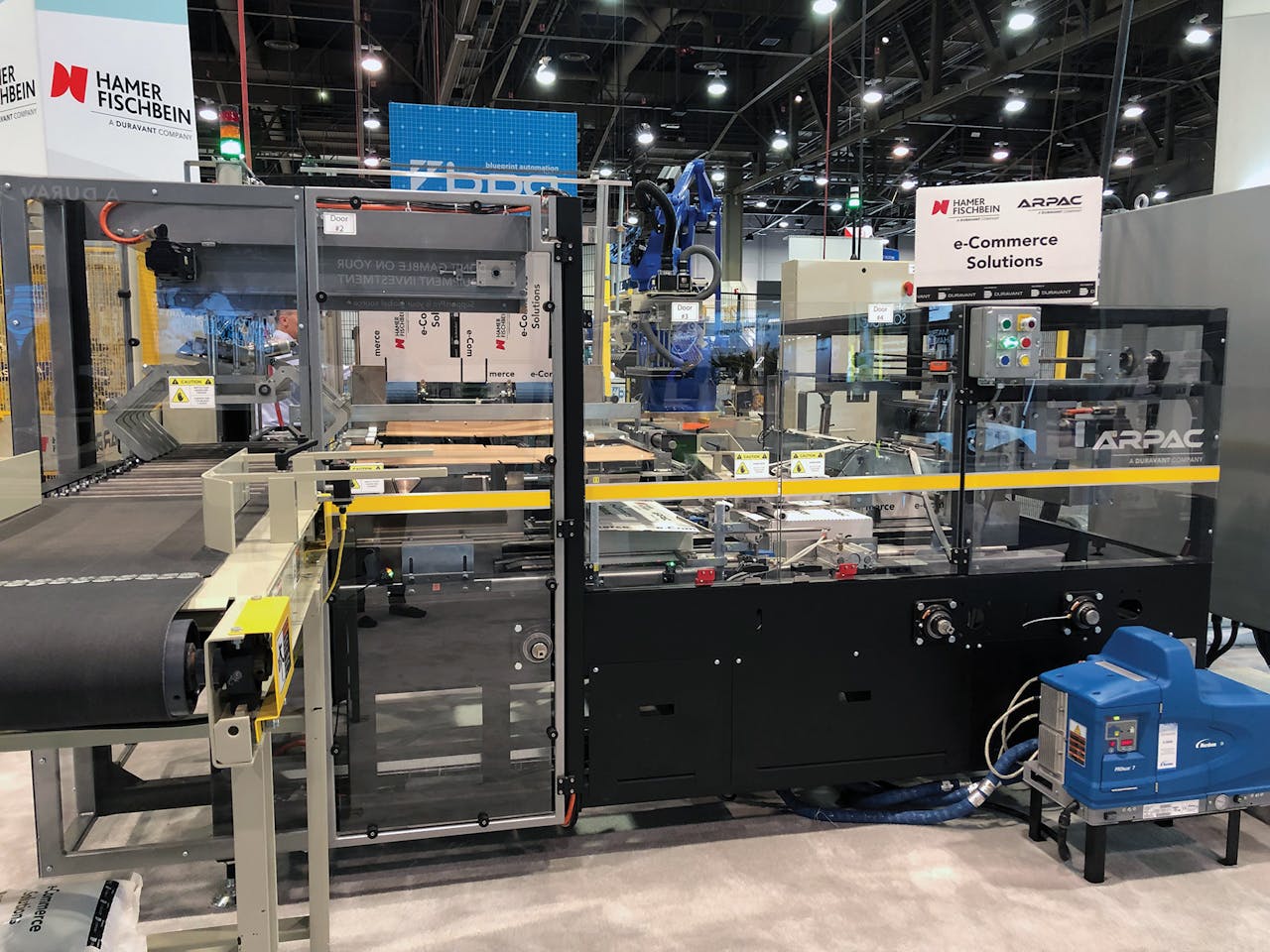 Photo 4
The system is designed to manage primary and secondary packaging in one system. Hamer-Fischbein's bagging technology fills and seals the bags, which are then directed onto conveyors for their secondary packaging destination. Those intended for retail shelves are diverted toward a palletizer. Those intended for e-commerce fulfillment are directed to Arpac's DPM motion wraparound case/tray packer, where they are packed in right-size corrugated packaging. At the end of the line, Hamer-Fischbein's robotic bag palletizer uses end-of-arm tooling that can simultaneously palletize both retail bags and case-packed bags onto two separate pallet configurations.
Says Mike Allegretti, Marketing Manager for Arpac, "We're excited to collaborate with Hamer-Fischbein on this bag-in-a-box e-commerce solution. Using secondary packaging to add corrugated is a great way to protect bags that are shipped to customers. We always strive to deliver creative and cost-efficient solutions, and with this system, we're able to give our customers the flexibility to package their products for multiple distribution pathways."
Integrated pairings for e-commerce
Signode saw PACK EXPO Las Vegas 2019 as the perfect opportunity to roll out a fresh rebrand and highlight its upstream and downstream reach. It demonstrated technology pairings that underscore its ability to seamlessly integrate optimized transit packaging solutions—pallets, stretch wrap, slip sheets, and other packaging that endures distribution channels—that improve product integrity, enhance packaging efficiency, and increase worker safety.
"Customers benefit from our global footprint, investments in innovation, and understanding of the market trends that are affecting their businesses," says Joe Albert, VP of Sales & Marketing, Stretch Technologies at Signode. "Our featured technologies have been delivering rapid ROI with our European clients and we're thrilled to show current and prospective North American customers how collaborating with our packaging specialists can meet their challenges, particularly in fast-growing e-commerce."
The first transit packaging combination was composed of the H. BOHL orbital stretch wrapper and Little David Case Sealer SP-304 (5). Widely specified in e-commerce applications in the EU, the orbital wrapper secures products to corrugated trays and the case sealer enables proper closure and sealing of the protective box.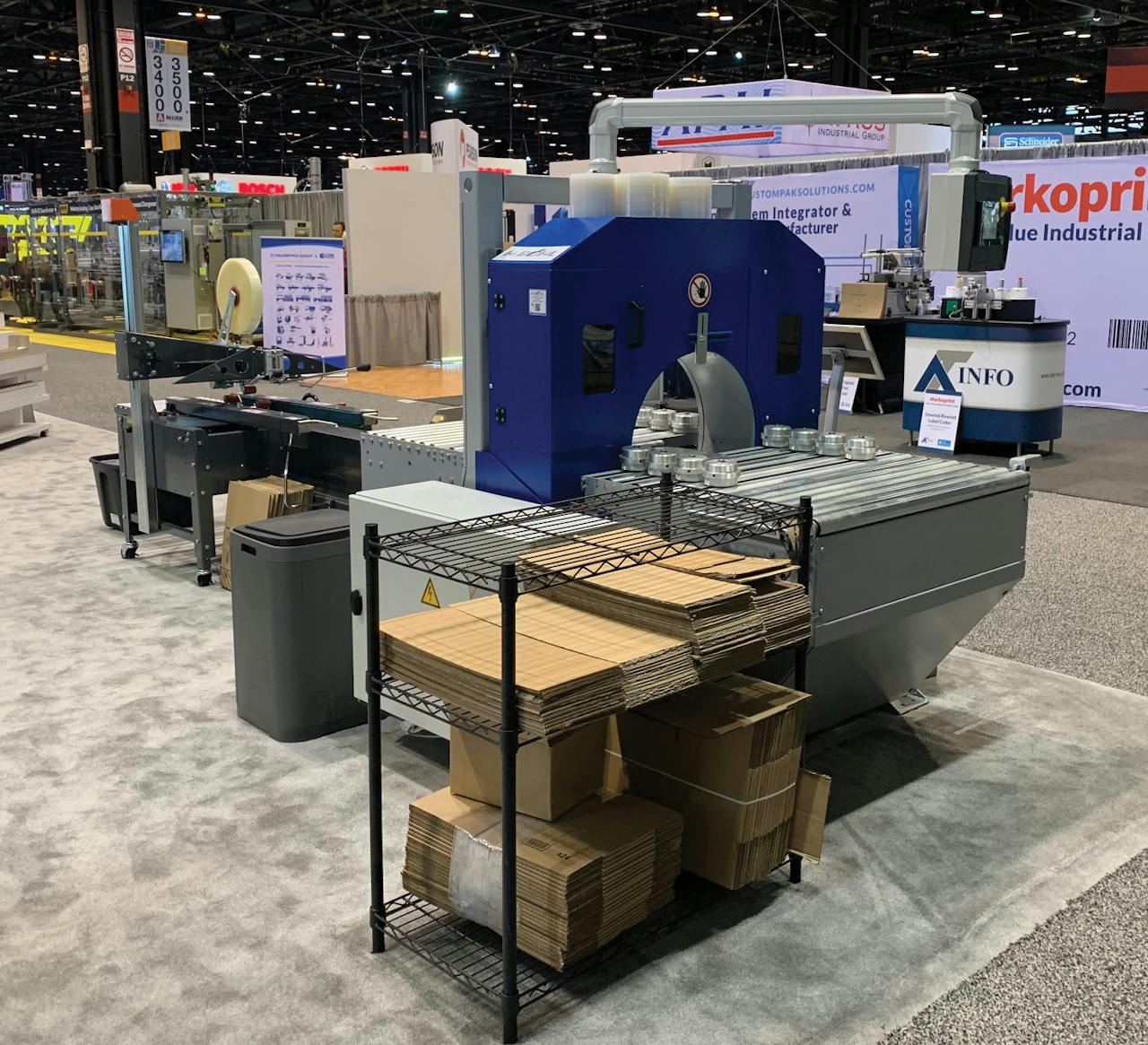 Photo 5Recently introduced in North America, the H. BOHL orbital stretch wrapper eliminates loose-fill packaging material by providing superior load stability. The product is first manually placed on a corrugated tray whose material spec is determined by product. Product and tray then go into the wrapper. The unique orbital design wraps the stretch film over and under the tray, tightly securing product to the tray. Then the operator puts the wrapped product plus tray in a corrugated shipper and sends the shipper into the SP-304 sealer. After the product is placed in the corrugated case it is safely secured, minimizing or in some cases eliminating additional product protection or dunnage.
Coupling the SP-304 with the tray-wrapping system delivers optimized results. Engineered for a range of uniform cases and industrial environments, the SP-304 reduces labor costs associated with manual case sealing. Its automated three-flap folder, with universal bottom flap folding bars, provides fast and uniform closure while automated taping seals the case. Equipped with interchangeable tape cartridges and top squeezer rollers, the Little David Case Sealer SP-304 features an automated Caselocker ST™ tape cartridge that requires no lubrication and helps avoid the twisting motions known to cause carpal tunnel syndrome. The tape cartridge's knife guard system means that workers are not exposed to the blade as it is only exposed when the rollers have been depressed.
The second transit-packaging pairing features the Octopus™ Compact 20 automatic rotary ring stretch wrapper working in concert with StorFast, Signode's cart-based, high-density automated storage and retrieval system.
The Octopus Compact 20 automatic rotary ring stretch wrapper is versatile for a variety of applications and environments. Compact and intuitive, the technology is engineered for manufacturers looking to increase productivity without compromising space or budgets. The modular design of the machine further allows for customized options to solve a host of pallet unitizing challenges.
The benefits of the Octopus Compact 20 are multiplied when combined with StorFast, Signode's high-density automated storage and retrieval systems (AS/RS). Widely used in the EU and increasingly in demand in North America, StorFast offers a full range of material handling solutions. It possesses cost and performance advantages when compared to other traditional automation systems. The modular, scalable AS/RS system can also be expanded as capacity requirements and SKUs increase, doubling building capacity for some clients.
Innovation Stage Focus: Signode and Transit Packaging
Mike Stein, Global Marketing Director at Signode, spoke to the crowded Innovation Stage audience at PACK EXPO about optimizing transit packaging. Stein presented Signode's Packaging Optimization Curve, and suggests manufacturers find the sweet spot between packaging investment and packaging value. Stein said manufacturers don't want under-packed products during transit, which can cause handling concerns, product movement, and damage, nor should products be over-packed, which causes unnecessary dunnage costs and waste, with limited benefits.
Stein's first step to optimization is to assess one's packaging requirements, operating requirements, and cost factors:
Packaging Requirements—what is it you're shipping?
• Packaging method
• Shipping modes
• Handling considerations
• Load type and dynamics
• Storage location
Operating Requirements—how do you want this end-of-line packaging to behave from an operational perspective?
• Capacity/production rate
• Material handling/automation
• Productivity/maintenance
• Labor considerations
Costs—how do you measure?
• Capital Requirements
• Minimizing claims
• Cost per unit
• Theft prevention
The second step is to recommend packaging optimization and make trade-offs with different solutions; from pack to bundle to pallet to warehouse and finally transport. What combination of products is going to offer the lowest level of investment that will fully protect the product?
Step three is to validate or test, and Stein recommends using an ISTA certified testing laboratory, although other testing sites are available. Rough handling, impact tests, and environmental chambers are all available tests through ISTA, and Stein said it's worth testing the recommended solution before investing in equipment or switching consumables or configurations. (ISTA also has research topics to eliminate over-packing, research transit damage scenarios, and test protocol for e-commerce shipping systems. For more information go to ista.org/.)
And finally, step four is to implement a coordinated execution with a commissioning plan, training and implementation, performance monitoring, and support and service.

Companies in this article