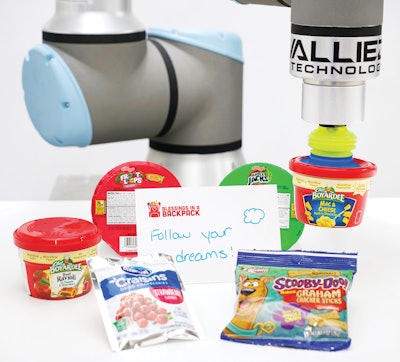 NOTE: Robotics weren't the only area of interest at PACK EXPO. Click the links that follow to read more about innovations in:
Machinery Materials Controls Pharma E-Commerce
ROBOTIC INNOVATIONS
The use of robots in packaging grew nearly 48% among food and consumer packaged goods companies (CPGs) from 2017 to 2018. The latest PACK EXPO Las Vegas and Healthcare Packaging EXPO found a great way to showcase robots in action for a worthy cause. PACK for a Purpose: Robots Fighting Hunger featured exhibitor-supplied robots picking and packing food for children in the Robotics Zone in the North Hall of the Las Vegas Convention Center.
The collaboration between show producer PMMI, The Association for Packaging and Processing Technologies, and Blessings in a Backpack successfully filled more than 6,000 bags of kid-friendly, nutritious food for children facing food insecurity.
Robot suppliers were tasked with picking six different food items (see lead photo) randomly oriented on a moving conveyor, then placing each of those items into the same pouch. With items ranging widely from packs of Craisins to cans of ravioli, it was an opportunity to show off how robotics technology is able to address the ever-increasing need for flexibility within the packaging space to meet consumer demand.
"Random picking is quickly becoming one of the most sought-after automation tasks from industries such as e-commerce, fulfillment centers, and warehousing," says Stuart Shepherd, regional sales director for Universal Robots' Americas division.
For its part in the Blessings in a Backpack project, Universal Robots teamed up with machine builder and system integrator Allied Technology to demonstrate how UR collaborative robots (cobots) can be quickly deployed in a compact, modular system—including vision-guided conveyor tracking, robotic pick and place, bag dispensing, bag loading and unloading, bag sealing, case erecting, case loading, and robotic palletizing.
"We want to show how simple it can be to not only deploy cobots at different stages, but also show how multiple robots can seamlessly work together to complete an entire end-of-line packaging process," says Matt Halley, general manager at Allied Technology.
The line featured four UR e-Series cobots equipped with products from its UR+ platform, which certifies grippers, vision cameras, software, and other peripherals to work seamlessly with UR's cobot arms. Piab's new Kenos KCS vacuum gripper was showcased on a UR5e guided by a vision camera from UR+ partner Cognex.
The six different food items were fed onto a conveyor and through the vision enclosure equipped with an infrared camera. The camera detected the product's location on the belt, while an encoder tracked the conveyor's belt speed and product position. A UR5e cobot received the encoder signal and camera information, using it to pick the product off the conveyor and place it into a bag at the bag-loading station.
Once a bag had two breakfast items, two dinner items, and two snacks, a second UR5e would remove it from the bag holder and seal the bag. The filled and sealed bag was placed on a pedestal for the next cobot to pick.
A third robot, this time a UR10e, would pick a tote from a stack and erect it using a mechanical end-of-arm tool. The UR10e then picked a filled, sealed bag from the holding pedestal and placed it into the empty tote.
After the tote was filled, it would travel down the roller conveyor to the palletizer. Equipped with another UR10e, Allied Technology's Robotic Palletizer picked filled totes from the conveyor and placed them onto a pallet.
"We have a very compact, modular design, so all of these components are tightly packed," Halley said. "But thanks to collaborative robots, we can still have human intervention feeding in there."
Allied Technology also included a side demo, adjacent to the roller conveyor, where the same UR10e would pick two small boxes at a time off a modular belt conveyor. Just as before, the palletizing robot would pick and place in a standard palletizing pattern, this time on a separate pallet. The robotic palletizer alternated palletizing totes and boxes onto their respective pallets to demonstrate the versatility of the equipment and technology. See the UR/Allied line in action in the Robotics Zone at pwgo.to/5374.
Other participants in the Blessings in a Backpack project included Bosch Packaging Technology; Chicago Electric; Fanuc America; and ProMach Performance Services with ABB, Soft Robotics, and Cognex. The 6,000+ filled bags were donated to Blessings in a Backpack programs in Las Vegas, Chicago, and Reston, VA, to feed school-aged children over the weekends.
"In this line of work, it's not often that we actually get to do a project that makes you feel good from the heart," said Gregg Buell, senior engineer for Fanuc America, who volunteered to design and build the work cell for the robotics manufacturer.
It was a natural fit to have robots pack the bags of food at this year's PACK EXPO, says Brooke Wiseman, Blessings in a Backpack CEO. "It was all in the 'hands' of the philanthro-bots, and we are so grateful for their partnership," she said. "The impact on these communities is immense and we look forward to working with PMMI and PACK EXPO at their upcoming event in March."
Following on the success of the PACK EXPO Las Vegas collaboration, PMMI and Blessings in a Backpack will again collaborate at PACK EXPO East, taking place March 3-5 in Philadelphia.
Quick pick and place operation
Festo's Linear Gantry EXCT system (2) uses two servo motors to speed pick and place operations. The system is programmed to reach 90 picks/min. The system provides an energy-efficient alternative to conventional serial solutions, as it uses a single-belt kinematic system, which reduces dead weight. EXCT also promotes short cycle times because of its high dynamic response. To read about how one packaging machinery OEM leveraged the features of this gantry technology, go to pwgo.to/5382.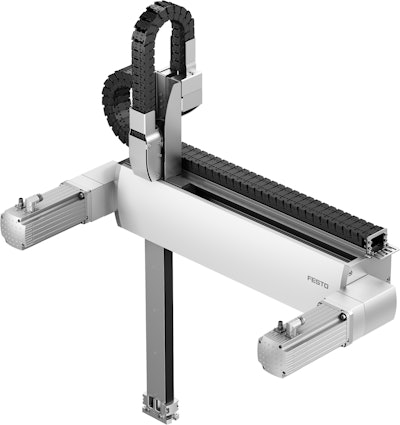 Skid-based palletizer uses smart software
From Quest, a ProMach company, the Boxed Bot Series palletizer is available as a modular or skid-based solution with additional options available to produce countless application possibilities. Modular engineering allows for quality control and complete flexibility in machine design. No costly customization is required. The space-saving skid-based robotic palletizer features a footprint starting at just 8 ft. x 10 ft. Boxed Bot palletizers feature a long-reach robot that provides higher stack patterns, which better maximize tractor-trailer loading for more efficient shipping.
"One of the major features of the Boxed Bot is the amount of intelligence on it," says Don Wickstrom, Quest. "Our Q-Box software for pallet pattern editing is unique in the world because it's fully intuitive, fully customizable, and has click, drag, and drop capabilities when building a pallet pattern. Changing box sizes is easy with a box-data on the bottom of the interface. The software restructures the pallet pattern based on new box sizes, in order to get the most efficient and effective pattern that optimizes product density on the pallet. And any configuration you can build, you can then save, so you can build recipes off of it as well."
Why is this important? Typically, a pallet pattern change involves calling a service tech or a programmer. "We've gotten rid of all that," Wickstrom adds. "Within 20 minutes, we'll have your operator building custom pallet patterns from the ground up, and the onboard intelligence will help optimize for the ideal pattern. We have customers with as many as 265 recipes on this system, but the average time it takes to build a recipe is less than three minutes."
On the business end of the palletizer, a FANUC robot (the demo was running 60-lb boxes, but the system can handle up to 400-lb box applications) picks product from the infeed and places it on the pallet. What's unique about the system is what Quest calls its under-over system, where empty pallets are fed on a floor-level plane toward the picking station. Once aligned with the picking station, they are lifted to a roughly waist-level plane where the picking and loading occurs. As the now waist-level pallet is loaded, another empty pallet is moved on the floor-level plane underneath to replace it. The fully loaded pallet is then conveyed back out of the picking station, parallel to and above the infeed of empty pallets. "That allows continuous operation of the system, increasing productivity and increasing utilization of the robot," Wickstrom says.
Robotics: film sealing, case closing, cartoning
Schubert demonstrated its lightline Flowpacker, combining a Pickerline and a Flowmodul flow wrapper with pick-and-place robotics (3). Aimed at the baking and snack industry, the machine features Schubert's patented sealing technology for packaging heat-sensitive products gently into flowpacks.
According to Julian Conway, Sales Account Manager, Schubert North America, the lightline Flowpacker on display at PACK EXPO was a commercialized machine designed for a family-run baked goods manufacturer in Canada. The machine efficiently automates the bakery's end-of-line process, packaging freshly baked croissants and Danish pastries into flowpacks. During the show the machine ran a demo that packaged chocolate biscuits in a two-by-two formation into flowpacks.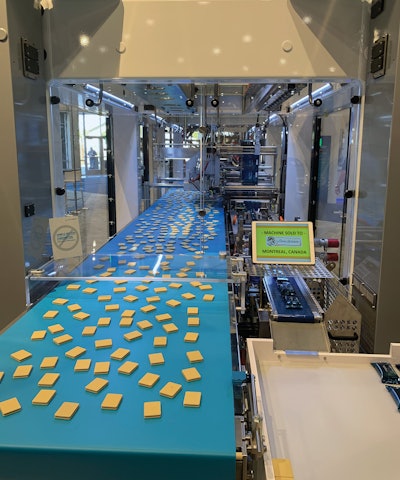 This Flowmodul was equipped with Schubert's latest, patented sealing technology. To seal heat-sensitive products like the croissants and Danish in this application, first an ultrasonic sealing system must close the flowpack's longitudinal seam. Then, a heat-sealing system with a flying cross-sealing unit is used. The flying cross sealing unit adapts to the variable speeds of the upstream pick & place robots and therefore ensures high sealing quality with constant sealing times.
"Unique features of this machine include an ultrasonic fin-seal along with a walking beam end-seal that allows film speed to be seamless when ramping up and ramping down, without affecting seal quality" Conway says.
Schubert's state-of-the-art pick & place robots guarantee flexible and gentle product handling. Thanks to Schubert's system modularity, the robots can be seamlessly combined with other modules to integrate several packaging processes into a single system.
The EOAT on the delta robots will include both vacuum grippers for lighter products and mechanical tooling for heavier products. The machine also integrates Schubert's 3D image recognition system to detect the product position, orientation, height, and quality, ensuring that the robots pick up only flawless products.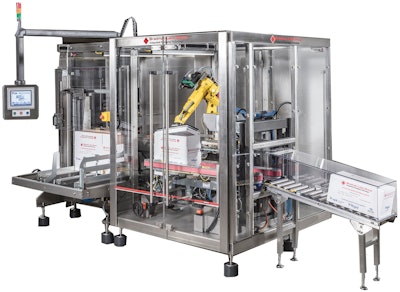 At the Bradman Lake booth, a small-footprint top-load case packer featuring a Fanuc M10 six-axis robot was especially intriguing (4). The robot not only collates the products but also preconditions the cases for repeatable carton loading. Minimal mechanical components are needed because when collated cartons are loaded into the case, the cleverly designed end effector on the robot is manipulated in such a way that it ensures case flaps are open enough to receive the cartons with no need for any kind of mechanical case-flap management system. The robot is also used to complete the closing process by tucking in the rear top flap, once again eliminating a mechanical component that is ordinarily required on comparable equipment.
Especially suitable for applications in the pharmaceutical industry, the compact machine is said to be aggregation-, serialization-, and 21CFR-compliant for full product and operator traceability. Both robot and glue systems directly interface with the Rockwell Automation ControlLogix "PAC" using pre-loaded customized add-on instructions. The same PAC unit is used to control the multi-axis case handling system, resulting in what Bradman-Lake describes as a lean yet powerful control architecture with no black boxes. And when the ZX600 is integrated with other Bradman Lake equipment either downstream or upstream, the system is set up with a single point of access with remote connectivity for online fault diagnostics and FactoryTalk® ViewPoint for system data collection.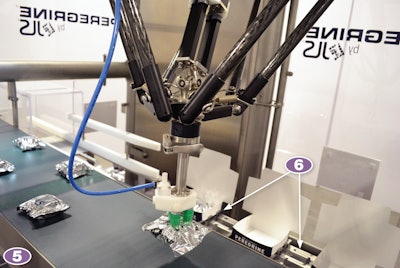 FactoryTalk ViewPoint is utilized for the local connectivity to link each machine, providing system control and performance data locally at each of the machine's HMIs. FactoryTalk Analytics is utilized for the remote connectivity to transmit real time data remotely to a secure machine cloud. This data can be viewed remotely from anywhere around the globe. Bradman Lake says it's another example of how its packaging machines incorporate the latest integrated connectivity Industry 4.0 technology to communicate seamlessly over a common network and protocol. For a video of the machine in action, go to pwgo.to/5375.
As for robotics and cartoning, a sophisticated example of it was on display at the booth of JLS Automation, where president Craig Souser unveiled the Peregrine cartoning system (5). Notably, it uses ACOPOStrak (6), the new linear track technology from B&R, as a lynchpin component of a high-speed, highly flexible system. According to the company, it might be the world's most flexible cartoner yet it remains a high-speed device.
"With the track system, we have the ability to actually change the carton size on the fly," Souser says. "Conceptually, we could do two different carton formats at the same time, thereby doing two different SKUs on the same machine at the same time, continuously. In addition to that, the carton management system that the track allows us to use is very positive in nature and maintains very good control of the carton the entire way through the delta robot loading system, so we don't have all the complex conveyor systems and algorithms for control. We just simply do it with the track and the capabilities that it brings."
By using the track alone to accomplish this, JLS is able to shrink the overall footprint of the machine and reduces the need for buffering or accumulation.
"All that extra size, and all the part and management systems that we once had to deal with, all of that is gone with the Peregrine cartoner system."
For a video demonstrating the Peregrine system in action, visit pwgo.to/5376.
Robotic top loader for retail-ready cases
At the Douglas Machine booth, one especially intriguing machine on display was the TriVex® SL top loader, a machine designed specifically for putting pouches into retail-ready cases. According to Steve Lipps, Senior Director of Product Management, a Douglas-made SCARA robot is deployed in a way that simplifies machine design by eliminating the need for a separate robot controller and the need for additional mechanisms. Controls are all from Rockwell.
"Yes, it's a SCARA robot, but it's with Rockwell's ControLogix controller, Rockwell's Panelview as the HMI, and Rockwell drives and motors," says Lipps. "Benefits accrue to us because machine design is simplified, but the most meaningful benefits are enjoyed by our customers because complexity is out, footprint is minimized, and they're already well accustomed to the Rockwell controls."
Operating at up to 25 cases/min and suitable for such things as frozen vegetables, bakery mixes, and confectionery products, the machine relies on two robots each equipped with a bucket-like end effector. Each robot positions itself in front of an infeed conveyor to receive the appropriate number of pouches and then pivots to deposit the pouches into a waiting case as the other robot moves its bucket into positon. If need be the end effector bucket can be replaced with a vacuum cup pickup end effector. For video of the TriVex SL, go to pwgo.to/5378.
Mobile and collaborative robots
If there's one theme that appears in packaging almost everywhere you go it's the need for flexibility. Much of the flexibility demonstrated at the latest PACK EXPO Las Vegas came in the form of robotics, especially autonomous mobile robots (AMRs) and collaborative robots (cobots). Although cobots make up a very small percentage of the robotics market today, they're expected to account for more than a third of robot sales by 2025.
In its booth, Fanuc showed its new CR-15 cobot performing a logistics order fulfillment application, with the ability to pick up random items from a bin. The company's new 3DV/600 area scanner enables the cobot to find objects in three dimensions, pick them from the totes, and place them somewhere else, says Wes Garrett, Account Manager for Fanuc. With two speeds, the robot can operate as fast as 1,500 mm/s but will slow down to 800 mm/s if a human worker is nearby.
A robot doesn't have to actually be a cobot to be collaborative. ABB Robotics showed how its standard IRB 460 palletizing robot could incorporate SafeMove2 to make it a collaborative operation, enabling occasional interaction between robot and humans. As part of the demonstration, a camera system developed as a result of ABB's acquisition of Spanish startup NUB3D provided information for the robot to create a more flexible environment.
"What we have is a system where the robot receives information from the cameras as to the next box to be palletized," says Alan Spreckley, global industry segment manager for food and beverage at ABB Robotics. "The real value here is that we can now depalletize mixed pallets of products, which is particularly useful in e-commerce and warehouse distribution environments."
In another palletizing example, Columbia/Okura partnered with Universal Robots (UR) to develop miniPAL, a mobile collaborative system that can address a range of applications in machine tending, palletizing, and packaging. The mobile setup makes it easy to move and redeploy the cobot to new processes.
In separate show news, UR upped the flexibility of its cobot lineup by adding a model that can lift up to 16 kg. The higher payload of the UR16e was developed after talking with OEMs and end users to better understand their needs—rather than the company's typical push of product into the market, notes Jürgen von Hollen, UR's president.
On the mobile side of the robotic equation, Mobile Industrial Robots was showing off its range of AMRs, including its new MiR1000. With a payload of 1,000 kg, it can handle twice the weight of MiR's previous models. The MiR1000 can automatically pick up, transport and deliver pallets and other heavy loads through dynamic environments. Like its predecessor, the MiR500, the MiR1000 is a collaborative, safe, and flexible alternative to forklifts on the factory floor.
At MiR's booth, the company also featured ROEQ's new TR1000 Top Roller conveyor, which shows how load and unload operations can be automated on the MiR1000, MiR's largest and highest-payload AMR. Besides showing ROEQ's technology, it also highlighted MiR's growing MiRGo partner program, which incorporates different types of top modules for MiR AMRs.
"This company provides different conveyor top modules, but also shelf solutions for our customers for moving not only pallets but also carts or individual totes," notes Nic Temple, a sales director for MiR. "The automation solution is very flexible and scalable as a result of our open communication protocols. We have an API and also Modbus TCP/IP as communication to our robot for any kind of top module accessories."
At its own booth, ROEQ highlighted its new Docking Station Precision, which can be mounted to floors, walls, or machinery. With a repeatability of ±1 mm, the docking station works in tandem with ROEQ's cart solution C300 for MiR's AMRs.
As levels of automation increase in operations, there is a growing demand for high accuracy, according to Peder Grejsen, technical sales manager for ROEQ. "In a packaging cell, for example, where we increasingly see robots handling products, it is imperative that the product delivery happens exactly where the robot is instructed to pick up the part," he notes.
Some robotics suppliers have started combining their mobile and cobot technologies to create even more flexible manufacturing and improved operational efficiency. Omron, for example, at its booth was showing off what it calls an autonomous mobile manipulation solution—it integrates self-navigating LD mobile robots with Omron's TM series cobot arm. It's a proof-of-concept demo that lets cobots move easily to wherever they need to be, making it useful for tending and resupply of things like materials or cases.
"You can have the flexibility of a mobile robot, which is able to navigate in standard situations with different people and different environments using a safety scanner. And by putting the collaborative on top of that, we can take the flexibility of being able to do things like machine tending, replenishment, and also interacting with different parts of the plant and different people in a collaborative fashion," says Keith Kersten, industry marketing group manager for Omron Automation Americas. "So by putting both of these together, you get flexible manufacturing, you have it in a safe way, and you also are able to do it without making big changes in your plan or in your environment." To see the Omron concept in action, go to pwgo.to/5377.
KUKA Robotics has taken a similar approach, mounting cobots on top of mobile robots and setting them to work together in a collaborative system. Its KMR iiwa combines its LBR iiwa lightweight robot with a mobile, (7) flexible platform. As demonstrated in KUKA's booth, the system adapts easily to changing manufacturing processes to optimize production. The robots can communicate with each other to more easily work together as a complete system.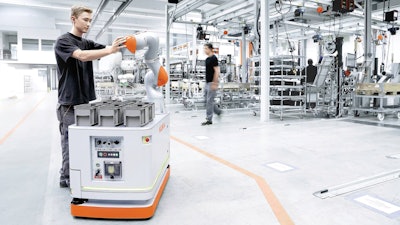 Companies in this article
Videos from B&R Industrial Automation