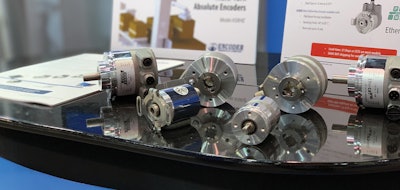 NOTE: Controls wasn't the only area of interest at PACK EXPO. Click the links that follow to read more about innovations in:
Machinery Materials Pharma E-Comm Robotics
CONTROLS INNOVATIONS
Two PACK EXPO Las Vegas exhibitors a few aisles apart in the Lower South Hall featured analytics platforms that provide better real-time visibility into the manufacturing process.
From Oden Technologies comes The Oden Platform (1). It's a comprehensive industrial Internet of Things analytics platform that provides employees at each level of a manufacturing plant with clear visibility into multiple data sets pertaining to the manufacturing process. Oden helps manufacturers monitor their production process and improve operational efficiency in real time by diagnosing problems that otherwise would have been missed. Oden helps users track performance metrics of multiple assets and accurately predict downtime based on historical data. In addition, by utilizing the platform, manufacturers can reduce bottlenecks at each stage of production and can save costs by eliminating quality issues, waste, and downtime.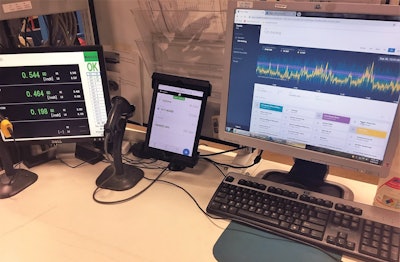 This platform is designed to help manufacturing units attain the best performance out of their manufacturing assets and leverage artificial intelligence (AI) and machine learning (ML) algorithms to empower prescriptive analytics. This allows employees on the floor to diagnose and mitigate issues as soon as they arise or offer alerts to avoid issues.
In a connected manufacturing environment, companies need real-time accurate insights to improve the productivity and efficiency of their production lines. While manufacturers are increasingly willing to adopt manufacturing analytics practices, legacy equipment and limited technical know-how among machine operators are holding them back. In addition, employees on the floor are unable to make the most of the analytics tools at their disposal and are simply not achieving the expected impact on their profitability. The Oden Platform analyzes millions of data points, allowing manufacturers to diagnose and mitigate performance issues cost-effectively in their production lines.
Notably, the Oden Platform is designed to integrate seamlessly into both modern and legacy production equipment. This is important because legacy equipment is what is found in most manufacturing environments. In addition, most analytics solutions face issues in retrieving data from legacy devices, which creates visibility gaps. The Oden Platform addresses this issue because the firm's principals have developed a knowledge base of expected device behaviors based on its deployments across a wide range of environments.
The ability of The Oden Platform to serve everyone in the manufacturing enterprise, including machine operators as well as line managers, allows customers to carry out connected deployments on a holistic level. In addition, employees with limited data science knowledge can leverage the solution, helping customers to include more employees in their digitization efforts while maintaining a shorter learning curve.
One more note on a specific component in The Oden Platform, an AI-powered recommendation engine called Golden Run that uses data to find the optimal conditions for production. As the Golden Run looks at how a manufacturer previously made a product, it identifies the best sections of each run and uses those insights to create perfect run settings. With the Golden Run, there is no need for human analysis or input—the calculation is all done through the algorithm.
For example, if an operator ran a stable production for two days and the process ran at optimum efficiency for just 15 minutes, the Golden Run engine would define the perimeters of that time. Using these new settings, operators could replicate the same optimal conditions for the full duration of their next run. In other words, instead of running at maximum efficiency for a short burst of time, they can now do the full run using these "golden" optimum settings. The more historical data users have for a product, the more there is for the AI algorithms to crawl through, providing better insights.
Meanwhile, from Tosibox, a global provider of network infrastructure that provides secure agnostic communications for industry, comes Lock 150, the latest addition to the secure Tosibox infrastructure platform. It provides a nearly 70 percent increase in encrypted throughput while continuing to provide Ethernet and WiFi connectivity. Like the firm's other Lock products the Lock 150 will continue to enable true point-to-point Layer 3 and Layer 2 VPN connectivity natively. Cellular support via USB will continue to be offered with the product, with options that ensure the Lock 150 can connect world-wide. The Lock 150 will work seamlessly with all other products within the Tosibox system, including other Locks, Keys, and Central Lock products. Tosibox Lock 150 is perfectly suitable for simultaneous remote access (up to 10 concurrent connections) and data applications for the latest Industry 4.0 and IoT initiatives.
Tosibox observes that success in the IoT era is simply a matter of connections, and connectivity is the core of IoT. Today the need for reliable connectivity is greater than ever, because reliable estimates predict that by 2020 more than half of major new business processes and systems will incorporate some elements of IoT. Secure connectivity is essential for remote access, remote maintenance, continuous monitoring, real-time data collection, and data logging. With Tosibox it's possible to create a fully secure remote connection within minutes, and without special IT skills. Users can build and manage networks and IoT infrastructures with an easily expandable and timeless solution, while taking advantage of centralized real-time management of devices and access to controls that help generate cost savings. With Tosibox, adding new devices or users into the network is simply drag and drop, whereas with old-fashioned IT networks completing the same task took days or weeks. The Tosibox solution consists of modular components that offer unlimited expandability and flexibility. All products are compatible with each other. The technology can also be integrated into OEM devices. Tosibox Lock is an industry router sharing access to devices. Tosibox Key is its counterpart, a dongle used to access the network.
Tosibox believes it has taken connectivity and made it simple. That's why the firm believes that its solution, now used in more than 120 coun- tries worldwide, is a game changer for secure IoT connectivity, remote maintenance, reliable data collection, and easy network management.
Digital twin technology
ABB Robotics has launched the third generation of PickMaster, its robotic software for vision-guided random flow picking and packing applications for the digital Factory of the Future. On display at PACK EXPO, the new PickMaster Twin software was equipped with digital twin technology for the first time, to shorten commissioning times from days to hours and cut changeover periods from hours to minutes, according to the company.
Digital twin technology allows customers to test out robotic configurations on virtual production lines before physical lines are built. When using digital twin technology, the simulated twin can be directly connected to production operations, which allows the picking process to be optimized virtually at the same time as the process is being implemented. For customers, PickMaster Twin now offers more flexibility and visualization of all complicated robotic maneuvers designed for flow wrapping, tray loading, case and carton packing, and handling applications.
Enabling offline programming of picking and packing tasks means users can create, simulate, and test a complete robot installation in a virtual environment without having to disturb their actual production line. This not only helps customers mitigate costly and time-consuming risks but also shortens the time to market for new products, as product lines can be installed faster.
PickMaster Twin also condenses and enhances the advanced application experience with new intuitive interfaces built on ABB's Ability™ Zenon Operations Data Management, providing vibrant and colorful dashboards for easy data visualization. In addition, PickMaster Twin complies with the OMAC PackML (packaging machine language) standard, which makes it ideal for modern packaging machines. The latest PickMaster software also features online visual tuning of the workspace in both X and Y directions in order to maximize output and increase overall equipment effectiveness (OEE).
PickMaster Twin is available in a multitude of configurations and can work seamlessly with all ABB robots, and a range of virtual and physical machines. Coupled with user-friendly software, the PickMaster Twin is best-suited for factories and production lines where higher output, faster response times, and quick changeovers are vital.
"These upgrades to ABB's PickMaster technology will help our customers take high-speed picking and rapid applications to the next level, whether it's to boost picking and packing efficiency or to reduce the cost of integrating robotics into production lines," says Steven Wyatt, Head of Portfolio and Digital for ABB Robotics & Discrete Automation business.
Next-Gen iTrack from Rockwell
During PACK EXPO Las Vegas, Rockwell Automation provided a sneak peek of its next generation iTrak intelligent track system based on independent moving cart technology.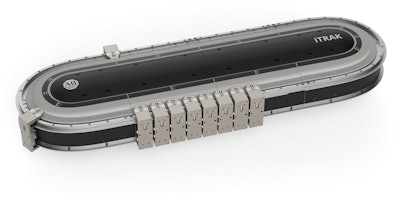 The iTrak 5730 (2), which was officially announced at Rockwell's Automation Fair in November, is designed for the smallest possible dimensions to maximize flexibility and minimize machine footprint. It has higher voltage motors capable of more force and speed compared to similarly sized systems, and it can achieve a higher bandwidth with Kinetix servo algorithms and tuningless motor control.
The next-generation communication set up bypasses the gateway so that motion and safety is integrated. There is also increased integration with Studio 5000 software for simplified programming and high-speed diagnostics. Having a single programming environment, fewer components, and better diagnostics results in faster servo loops, tuning, and feedback, company officials say, noting that the benefit of independent cart technology is the ability to create flexible machines with high throughput. Rockwell says the iTrak 5730 will be available in February 2020.
Predictive maintenance feature
During PACK EXPO, Mitsubishi Electric debuted its Melservo-J5 total drive solution. The system is currently available in Asia, but will become available in Europe and the U.S. at the end of January 2020, according to Mitsubishi. The version of the system that will debut in the Americas will have added features and functions that CPGs and machine builders in this region have requested, such as predictive maintenance capabilities.
"After the machine has been used for two or three years, it starts to get fatigued," says Sloan Zupan, Mistubishi Electric's Senior Marketing Manager. "Through our motors, we are measuring the conveyor belts and how much tension is in the machine. Through predictive maintenance algorithms built into this motor, we make changes through the motor to compensate for the wear and tear and we notify the control system that we made that change and to the maintenance engineering staff."
The system also has Time-Sensitive Networking (TSN) capabilities built into it, which according to Mitsubishi, is first of its kind for servo motors.
More machine analytics
Other exhibitors were keenly interested in offering analytics that pave the way to predictive maintenance. Among them was Wintriss Controls, which demonstrated its new ShopFloorConnect® Version 6.0 (3) at PACK EXPO. ShopFloorConnect® OEE and Shop Floor Data Collection Software collects downtime and production efficiency data from every machine in the manufacturing operation, displays it in real-time, and produces indispensable manufacturing reports, including detailed OEE reports in a variety of formats. The software can significantly increase manufacturing capacity and profitability by identifying and quantifying excessive production losses and bottlenecks.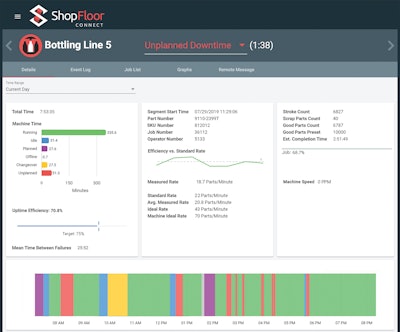 Wintriss says that ShopFloorConnect® Version 6.0 has a fresh new design format for fast, easy access to all data, offering several new features for more robust, user-friendly reporting and dashboard customization, flexible scheduling capabilities, and machine interface enhancements—all of which are critical for OEE. For even better production analysis, users can now improve the OEE of their machines by tracking the reasons for scrap. Version 6.0 also allows users to manually enter good and bad part count data, vital for OEE calculation, when machines with batch processes make it impossible or impractical to automatically count the parts as they are being produced. And to better serve customers in North America and across the globe, this latest program version can handle multiple languages and time zones.
Enhanced user interfaces and versatile scheduling capabilities are also available in ShopFloorConnect® Version 6.0. Users such as production supervisors, manufacturing engineers, and job schedulers with different information requirements can now customize the display of data on their dashboards. In addition, flexible scheduling enables the next five jobs to be sent to the ShopFloorConnect® Machine Interface (SMI-2), allowing users to view and switch to other high-priority jobs in the event that unforeseen circumstances prevent starting the highest priority job.
Also, enhancements made to the SMI-2 include the ability to place downtime reasons in user-defined categories for faster selection, immediate Mean Time Between Failures (MTBF), and OEE displays, as well as improved status displays.
"Our ShopFloorConnect® software provides a fast, easy-to-use, versatile and efficient data collection solution that can reduce machine downtime by up to 70%," said Keith Magnant, ShopFloorConnect Sales Manager. "We looking forward to demonstrating the latest capabilities of ShopFloorConnect® 6.0 software at PACK EXPO this year".
ShopFloorConnect® is a scalable and flexible production monitoring system and is well-suited for manufacturers in a variety of industries, including packaging, food, beverage, discrete manufacturing, metalforming, and metal fabrication. The program provides superior OEE calculations that accurately report overall equipment effectiveness for even the most complex manufacturing environments. The production tracking software provides machine downtime and manufacturing efficiency reports via a web browser and email, and it integrates with existing ERP systems.
Also highlighting analytics was Schneider Electric, which featured its EcoStruxure Augmented Operator Advisor (AOA). An IIOT solution for machine and/or line-based maintenance solutions, it makes real-time information available whenever and wherever it is needed. The custom application improves operational efficiency with augmented reality, enabling operators to superimpose the current data and virtual objects onto a cabinet, machine, or plant. New at PACK EXPO was news that AOA has been expanded so that OEMs can now see considerably more content, such as more videos or more pages on how to set up their machines or conduct a changeover.
Also new at the Schneider booth was an IIOT product called EcoStruxure Machine Advisor, a cloud-based services platform for machine builders that makes it possible to track machines in operation worldwide, monitor performance data, and fix exceptional events, while reducing support costs by up to 50%. It lets the OEM create a machine profile online and store into that file documentation as well as additional analytics that gauge the health of the machine. "We can monitor up to 10 variables that are used to define the mathematical model of the application and what is considered its 'normal' behavior," says John Partin, Packaging BDM at Schneider. "Then the cloud-based AI will be able to identify anomalies and inform the appropriate people of any deterioration in the machine's performance."
Another new tool is Schneider's Pocket Service Advisor. "This is geared mostly to our OEM Field Service Team and higher-level Plant Maintenance Members," says Partin. "This is an App that resides on a Smart Phone and that can monitor and change parameters in our High Performance Motion offer PacDrive-3. The same WIFI connection that is required with our AOA can be utilized with our Pocket Service Advisor tool. A Program Library is needed in the SoMachine Motion programming environment to support the Pocket Service Advisor Tool."
Smart pallet experience
ADLINK's IoT Solutions and Technology division debuted the Edge IoT Smart Pallet Experience during PACK EXPO Las Vegas 2019 featuring a game-like exhibit where attendees got hands-on with Edge IoT technology that makes pallets "smart" and robots "come alive."
"Our Edge IoT solutions can help make conveyors smart, find missing inventory, automate bin picking, determine fill levels, connect robots, and more—all in real-time," says Daniel Collins, ADLINK IoT director for North America. "By bringing AI to the edge we're helping to automate warehouse logistics in a quick and cost-effective way that increases productivity and employee ergonomics. One of our customers decreased the time it takes to build a pallet by 41%, increasing total daily throughput by 200% without disrupting the way employees are used to working."
The immersive experience demonstrated machine vision, AI, and robotics technology for warehouse distribution and manufacturing with partners Amazon Web Services (AWS), Intel's IoT group, and robot maker Rover Robotics. Attendees could interact with ADLINK Edge™ and ADLINK Vortex DDS™ to experience first-hand how to quickly solve AI and vision-based IoT challenges.
Adding artificial intelligence to control logic
What if a robot could automatically adjust its grip based on the size and shape of the object? In other words, a robot that could fine-tune how it is holding an object so as not to drop it, much in the same way humans do. According to Siemens, it's quite possible, and it all comes down to artificial intelligence (AI) based on neural networks. Neural networking is a technology that mimics the human brain in that it is able to recognize complex patterns. With that in mind, Siemens says that by adding AI via neural networks to traditional control programs—which were designed to execute a set task—the capabilities of the system can be extended to change based on the parameters of the product or process. Bottom line: machines become naturally flexible.
In 2018, at the SPS/IPC/Drives show in Nuremberg, Germany, Siemens announced a module that will integrate AI capabilities into the company's Simatic S7-1500 controller and the company's ET 200MP I/O system. This past year at PACK EXPO Las Vegas, Siemens introduced the offering in the U.S., setting the foundation for a future portfolio that will enable AI across all levels of Siemens' Totally Integrated Automation (TIA) architecture, which is a combination of hardware and software that links everything together seamlessly. The goal with TIA is to apply AI within applications ranging from Siemens' MindSphere, a cloud-based Internet of Things (IoT) operating platform, out to the industrial edge and even to the controller and field devices.
With the release of the S7-1500 TM neural processing unit (NPU) module for the Simatic S7-1500 controller and the ET 200MP I/O system, Siemens has brought AI directly to the controller. The S7-1500 TM NPU module is appropriate for use on the field level at the machine—and wherever reliable, fast, deterministic decisions are required—as it enables the transfer of human expertise to the machine through training, the company said.
"With artificial intelligence we are able to train, recognize, and adjust to allow more flexible machinery," said Colm Gavin, Factory Automation digitalization specialist at Siemens during a press conference at PACK EXPO (5). "Because, do we want 10 machines to package 10 different types of products, or a tool that accommodates different packages and different sizes and automatically adjusts to the new format?"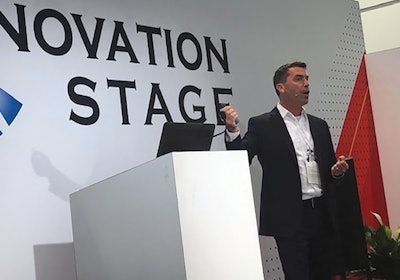 The S7-1500 TM NPU module operates using a trained neural system on an SD card. Users can connect Gigabit Ethernet- and USB 3.1-compatible sensors such as cameras and microphones to the module's integrated interfaces. CPU data transmitted by the backplane bus can also be used as input data. The processing results then are evaluated in the CPU program.
In packaging, for example, bottles are coming down a conveyor belt quickly. If the system is trained for pass/fail, the moment something goes out of tolerance, it will fail. But by using AI to train neural networks to recognize a billion pictures of every possible combination, a vision system will be able to figure out the rules on its own.
According to Gavin, the benefits of the S7-1500 TM NPU module are:
• Flexibility: It makes handling unknown objects easy without resource-intensive programming.
• Quality: Expert knowledge for fast and reliable quality checks is transferred directly to the module thanks to the higher-level training of a neural network.
• Greater efficiency: Machines can respond flexibly and automatically to situations that once required manual intervention, which reduces downtime and increases availability.
• Cost-effectiveness: The module makes it possible to detect problems in production early on and avoid the cost of having to rework or even discard the product.
Applications in the areas of robotics, quality assurance, and condition monitoring are especially suitable for the TM NPU module. But applications are limited only by the user's imagination. At PACK EXPO, Siemens was demonstrating a robot with "flexible grasping" using AI, which looks at a shape and calculates the optimal point the gripper can pick it up (see video at pwgo.to/5364). Once it understands the best grasping point the AI tells it where to go. "You don't need to program the robot as AI makes it possible to grasp arbitrarily shaped and positioned objects," Gavin said, adding that the ability to mimic the human hand in manufacturing has the potential to be a very big business.
Encoders with Profinet Communications
Encoder Products Co. showcased its new Model A58HE and Model A58SE, which are multi-turn, Ethernet-ready absolute encoders designed for harsh factory and plant environments (see lead photo). In addition to EtherCAT® Deterministic Communication, the models A58HE and A58SE now offer PROFINET® communication protocol as well.
These encoders are particularly suited to applications where fieldbus connectivity is required, and the encoder has to retain absolute position information after power-off events. The Model A58HE is a 58-mm encoder in a blind hollow bore construction, and the Model A58SE is a 58 mm shaft encoder available with either a clamping flange or synchro flange, in both compact and heavy-duty configurations. The compact version is the most compact EtherCAT or PROFINET-capable encoder available.
"Both the A58HE and A58SE encoders are easily designed into a wide variety of applications," says Sarah Walter, electrical engineer and EPC Technical Applications Manager. "And with the new heavy-duty model and the new compact model—which is the most compact unit available on the market—they are incredibly versatile mechanically. What really sets our encoders apart, however, is the high accuracy. These absolutes will give you accurate motion feedback, every time."
Introducing MaaS
Last year, Pearson Packaging Systems tested blockchain technology in a pilot project that experimented with new ways for customers to pay for its end-of-line packaging equipment. That idea came out of necessity, as customers sometimes lack access to capital, but still need the machines. Customers said, "If you are willing to provide us with the equipment, we'll pay on the successful output," recalls Michael Senske, president and CEO of Pearson Packaging.
It was a good concept. The problem, however, was that it was very difficult to keep track of the performance of the machine and tie it into a real-time payment process. But then Senske found start-up company Steamchain Inc., an automated business process engine that leverages the Internet of Things (IoT) and blockchain to access the data from industrial machines and use it as a way to execute financial transactions. Blockchain, commonly associated with the cryptocurrency Bitcoin, is a secure and immutable digital ledger that logs machine output and calculates transactional payments.
The technology has worked so well that at PACK EXPO Las Vegas, Pearson officially announced this new purchasing method, known as Machine-as-a-Service (MaaS). MaaS will allow manufacturers to use Pearson case erectors, sealers, and compact palletizers as part of their operation, but without the upfront equipment investment. Instead, Pearson retains ownership of the machines, while customers pay for output.
Senske says MaaS is an ideal option for companies who prefer to pay for automation incrementally, or who have an immediate need for end-of-line machinery, but don't have approved funding. By eliminating the upfront expense of machinery, manufacturers can devote their resources to other projects that improve operations or differentiate their businesses, such as new product development, he says.
Pearson will ship MaaS equipment to customer facilities, offer installation and start-up support, and train operation and maintenance personnel as part of the package. Machine users pay an established price per case, with the option to purchase the machines outright at any point during the contract term if their circumstances change.
MaaS users can access data beyond basic case counts, including information relating to fault types and counts, and uptime and downtime durations. This data is useful in identifying month-over-month trends, proactively spotting potential issues before unexpected downtime occurs, or highlighting the need for additional operator training. In addition, troubleshooting efforts will be facilitated and response times can be executed more swiftly with MaaS as automatic notifications are sent to Pearson's service department, alerting them when excess faults, network outages, or other performance issues occur.
"This is by no means the perfect option for every manufacturer," Senske says, "but customers have told us time and time again about the challenges they face obtaining funding for automation projects, and this offering was specifically designed to give those customers more flexibility in regards to financing."
The company chose to unveil the MaaS offering at PACK EXPO as it is one of the largest shows in the industry. "People come to this event looking for what's new," says Pearson product manager Tim Hill. "Pearson has always differentiated itself from the competition by thinking outside the box and taking risks, and we'll continue to do that to ensure our offerings meet the needs of our customers."
Greater network connectivity
As part of its global focus on factory automation, Parker-Hannifin added an expanded range of network connectivity options to its valve platforms with the addition of an easy-to-configure, cost-effective Ethernet node. The company displayed its new capabilities during PACK EXPO Las Vegas 2019 along with an IIoT demo incorporating Parker drives, pneumatics, and a central controller that gathered data in real time. Designed with Industrial Ethernet connectivity in mind, the P2M Industrial Ethernet network node (6) allows for an inexpensive means of connecting the H Series valve, the Moduflex valve, and the H Micro valve families to the Industrial Ethernet network, according to Parker. In addition, the P2M network node is safe power capable, meaning auxiliary valve power can be supplied by a safety device in support of the European Machinery Directive. The P2M Industrial Ethernet Node is offered with 2 M12 ports for network in/out and 1 M12 connection for power.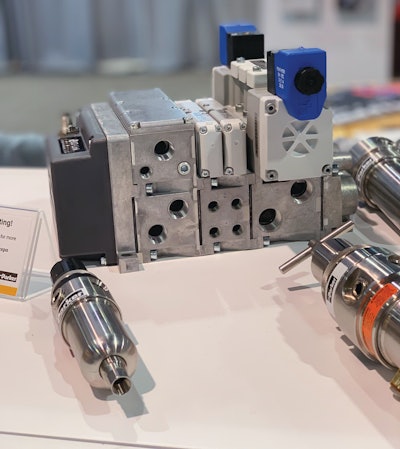 Integrated image processing
PC-based control specialist Beckhoff has expanded its established, highly successful TwinCAT product range to include TwinCAT Vision, an integrated image-processing solution (7).
TwinCAT Vision follows the Beckhoff philosophy of open control technology. First, it is hardware-neutral: TwinCAT Vision works both with line-scan and area-scan cameras with GigE Vision Interface. (GigE Vision is an interface standard introduced in 2006 for high-performance industrial cameras. It provides a framework for transmitting high-speed video and related control data over Ethernet networks.) Second, TwinCAT Vision supports software extensions, allowing users to access raw camera data and incorporate their own image processing algorithms easily.
Because Twin CAT Vision is integrated into the TwinCAT control platform, it can connect directly to TwinCAT IoT and TwinCAT Analytics. This ensures easy communication with the cloud, enables access to cloud-based services, and streamlines Industry 4.0 applications.
Integrating the PLC, motion control, robotics, high-end measurement technology, and machine vision capabilities on a single platform enables superior real-time application performance and significant gains in machine efficiency. It also avoids unnecessary delays in motion and robotics.
TwinCAT Vision is directly integrated into the TwinCAT Engineering environment. Cameras can be added and configured easily under the new Vision node, and they can be calibrated there as well. It is also possible to capture a camera image stream and to feed in the recording instead of live camera images. Alternatively, images in a range of formats can be loaded. This means that, even without camera access, users can still develop and implement image processing procedures.
The sequence of image processing is programmed directly in the PLC, in PLC programming languages and using the extensive library of image processing algorithms provided. Integrating image processing into the PLC means that the analysis chain executes in the TwinCAT runtime system, enabling communication with other processes running on the PLC, such as motion control, without latency. All debugging options known from PLC programming are available. Intermediate results can be displayed in the engineering environment or in TwinCAT HMI at any time.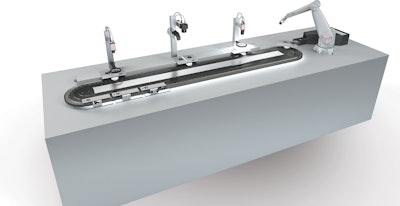 Apart from motion control and I/O configuration, TwinCAT Vision also enables cameras to be configured in TwinCAT Engineering. GigE Vision cameras can be integrated under the new TwinCAT Vision node to be configured according to the GenICam standard. (GenICam, or Generic Interface for Cameras, is a generic programming interface for machine vision/industrial cameras.) Here, all camera settings can be defined and the results can be directly reviewed in the camera live image. Moreover, cameras can also be calibrated in the engineering environment. Users can choose from a range of calibration patterns, including their own user-specific patterns. Again, they can review the results directly. TwinCAT Vision is fully integrated with TwinCAT and Visual Studio. All known features such as docking windows and sourcecode management systems are supported.
Image analysis is programmed in the PLC itself. An extensive library of function blocks and functions is available that includes contour detection, color recognition, key-point feature extraction, and measurement functions. Additional information such as embedded lines or text can be inserted into images in the PLC. The intermediate status at any point along the analysis chain can be viewed as an image in the engineering environment or the TwinCAT HMI. Users can also work with the usual debug options supported by the PLC (to monitor variable and set breakpoints, for instance) and make online changes to the code in image processing algorithms.
Because the image processing algorithms are executed within the same environment as PLC, motion control, and robotics, all tasks can be easily synchronized. Image Capture timing is defined precisely—using triggers, for instance—and is easy to coordinate with the position of an axis or robot at a given point in time.
Integration of image processing into TwinCAT also simplifies the engineering process. A single tool can be used to configure and program all tasks with ease. Integration also enables machine builders to keep their image processing expertise inhouse. Since all image processing algorithms are executed in the same runtime and in a synchronized manner, delays that would otherwise occur in communication can be completely eliminated. Overall, these enhancements enable substantial process optimizations.
While TwinCAT vision made its debut at PACK EXPO Las Vegas 2019, Beckhoff also featured its XTS linear transport system. Go to pwgo.to/5365 for a video of both in action.
Remote diagnostics
Epson demonstrated its Moverio Assist (8) remote assistance and inspection technology at PACK EXPO Las Vegas, announcing that it is now available and has a new end user, Encotech, Inc.
Encotech, a provider of environmental products, systems, and services, is now using Moverio Assist as part of its environmental remediation business for troubleshooting, site walk-throughs, customer support, and service calls.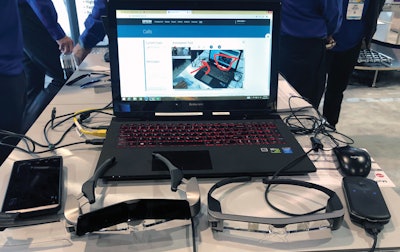 Using Moverio smart glasses with Si-OLED display technology enables enterprises to address difficult repairs and work tasks out in the field in a cost-effective manner. Moverio Assist enables "see-what-I-see" real-time collaboration between remote experts and on-site personnel. Field technicians are able to view instructions, photos, PDFs, and videos in high quality while communicating with remote company personnel in real-time. This collaboration accelerates repairs with fewer mistakes and without an expert having to travel to the site.
"Previously, phone conversations with field teams would sometimes stretch into hours," says Jason Lalli, vice president of Encotech. "This has practically been eliminated by using Moverio Assist."
Moverio Assist offers an affordable, hands-free remote assistance and inspection solution for small, medium, and large enterprises. Unlike using handheld tablets or smartphones, field technicians wearing the Moverio BT-300 or BT-350 ANSI smart glasses with a built-in camera have their hands free to make repairs while collaborating in real-time with company experts using the Moverio Assist app.
"We have tried handheld screens in the past, but having two hands available for work is game-changing for us," Lalli says. "Jobs and support that might have taken entire days can be done in hours or minutes, and we can focus on revenue generation while keeping our customers happy."
Moverio Assist is available now with monthly subscription plans based on minutes starting from as low as $29.99 a month per pair of Moverio glasses. For environments that require safety glasses, the Moverio BT-350 ANSI model includes indoor and outdoor safety shields that meet ANSI Z87.1 safety certification requirements.
Also pushing the boundaries in the area of remote diagnostics and machine monitoring is Nordson, which used PACK EXPO Las Vegas as an opportunity to incroduce its ProBlue Flex hot glue melter with BBconn controls. The ProBlue Flex incorporates intelligent technology that the company says enables ultra-precise dispensing accuracy. It is complemented by Nordson's new BBconn Controls, which allows for remote operation, more visibility, real-time oversight, and the data and analytics needed for continuous improvement.
"With ProBlue Flex, we're introducing our first product with the BBconn controls platform, which is built from the ground up for connectivity, so you can operate it many different ways, from a PLC, from a phone, or from a remote touch screen. It provides a lot of flexibility in terms of how to operate and monitor the system," says Scott Means, Product Line Manager for Adhesive Dispensing Systems, Nordson.
In addition, the company introduced the BBconn cloud connectivity, which allows brand owners to register their equipment, to program it and set it up, while Nordson can remotely monitor the equipment and the event history of the entire system.
Wireless IO-Link Master for remote motion control
SMC showcased a sample of the next generation of its traditional wireless base modules (9) during PACK EXPO 2019. The next iteration of the wireless base takes up 50% less space and has a remote antenna that can be mounted onto a control panel. This antenna has an IP66 washdown rating so it can be exposed to harsh conditions.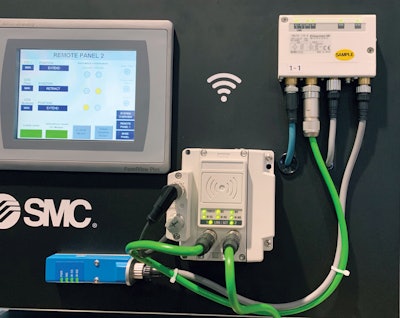 While this is just a concept for SMC, the company expects this technology to be available for purchase within the next four to six months.

Companies in this article
Videos from Nordson Corporation