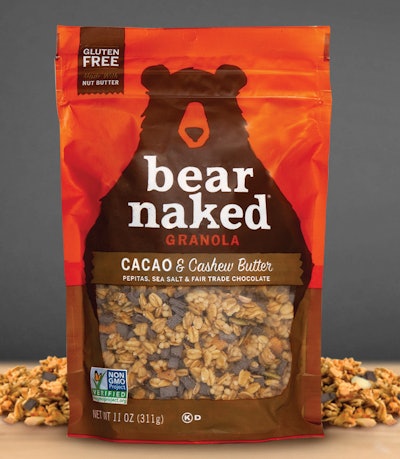 NOTE: Materials weren't the only area of interest at PACK EXPO. Click the links that follow to read more about innovations in:
Machinery Controls Pharma E-Commerce Robotics
MATERIALS INNOVATIONS
Considering how hot the topic of sustainable packaging has become in the last few years, it's no surprise that some of the most interesting innovations in the packaging materials realm we uncovered at PACK EXPO Las Vegas 2019 were aimed at minimizing packaging's carbon footprint.
We begin with multipack can carriers, like the CanCollar concept (1) WestRock demonstrated. The system uses wet-strength CarrierKote™ paperboard material that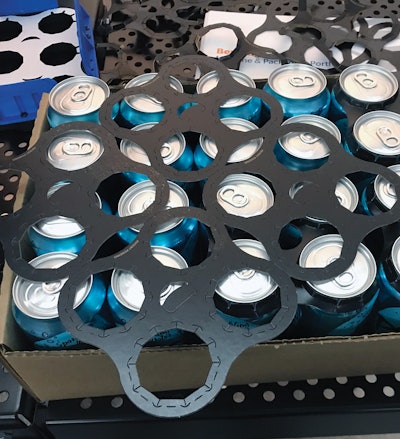 is laminated to reinforce the pack against the moisture and rough handling in beer supply chains and use occasions. The surface can be printed or embellished for merchandising or brand storytelling to elevate the consumer experience. The company says consumers love the stylish design and find it comfortable, easy to use, eco-friendly, and "surprisingly strong," while brewers love the storage efficiencies and its quick & easy application.
CanCollar is recyclable, but its laminated structure limits this to where facilities exist to recover poly-coated paperboard products. This means that disposal claims such as "recyclable" are highly dependent on local guidance and availability of local infrastructure to collect and process the product. The company cautions breweries using the system to review the relevant local guidance for their markets before determining the appropriate claim.
That said, the system uses 95% less plastic than current polymer can handle options, WestRock says, and 86% of the can handle is purely fiber-based and 15% of that is postconsumer material. Also, recognizing the public concern over the wildlife impact of plastic rings if they inadvertently fall out of the appropriate recovery stream and into an actual stream or other ecosystem, CanCollar requires 30% less force to break the rings than leading alternatives.
The CanCollar includes a semiautomatic can handle application device to apply the six-pack handles. For video showing the system in action, go to pwgo.to/5379.
Elsewhere at PACK EXPO it was Graphic Packaging demonstrating its KeelClip 1600 paperboard can handle application systems (2). Associated application machinery is highly flexible with regard to product orientation and diameter, with core formats ranging from 2x2 to 2x6, and capability to handle 12-oz six packs, 16-oz. four packs, and any other practical configuration.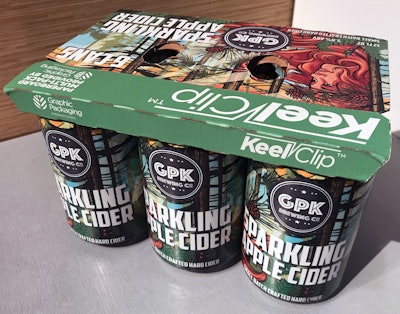 The environmentally responsible paperboard packaging solution replaces polymer alternatives that face headwinds in Europe and other regions. It offers the benefit of a spacious billboard area for strong storytelling and in-store merchandising and a comfortable carrying handle alongside the aforementioned orientation flexibility.
The equipment is scalable, from craft brew needs up to high volume production in excess of 400 ppm. For a video demonstrating the system, visit pwgo.to/5380.
That's not to say that polymer can carriers are about to fade away anytime soon, especially since some of them have their own sustainable packaging bona fides to tout. ProMach's Roberts PolyPro, for example, offers injection-molded HDPE #2 handles that in addition to being 100% recyclable are also downgauged so that they use up to 30% less plastic than competitive injection-molded handles. Plus they have a striking appearance, superior holding capabilities, a practical tab design, and are available in 32 standard colors and with optional color matching in any PMS color. The open top eliminates moisture from accumulating between the can top and handle.
The tab design allows fast and easy application, either manually or with a semi- or fully automated applicator like the ICHA180 or the higher volume THA240. The ICHA180 (3) inline applicator made its debut at PACK EXPO Las Vegas. It's an economical, fully automated solution handling speeds to 180 cans/min. Compared to manual and semi-automated applications, it minimizes labor and achieves faster speeds, but isn't so large and pricey as to be unattainable for craft brewers.
"The growing craft beer and distilled spirits markets are competitive, and our attractive multi-pack handles help products stand out on crowded retail shelves. When
choosing a way to apply them, small producers need a high-quality system that fits their budget. The ICHA180 hits that sweet spot–it's a fully-automated solution at a great price," says Roy Tetreault, Vice President and General Manager at Roberts PolyPro. "Craft brewers and distillers are passionate entrepreneurs who want to make beer and spirits, not worry about machinery. The ICHA180's plug-and-play design makes it a snap to install. It's simple, easy to use, and gets the job done."
The ICHA180 is a space-efficient solution with a footprint that's only 24 in. wide and 60 in. long (61cm wide and 152 cm long). The applicator, installed inline after the can seamer, features a two-lane conveyor that transports cans side by side. As cans enter the ICHA180, a sensor detects the presence of 12 cans and an air-activated flow gate extends across the conveyor. With 12 cans in position, the system applies either two sets of six-pack handles per cycle or three sets of four-pack handles per cycle. Then the flow gate releases the multi-packs, which are discharged to downstream case or tray packing.
To change between four- and six-packs, the ICHA180 requires only a simple adjustment to the handle magazine and swapping out the handles, which can be achieved in less than three minutes without tools or change parts. When changing between 12- and 16-oz cans, no system adjustments are needed since the applicator stroke automatically accommodates either size can. The ICHA180 runs for approximately five minutes at 180 cpm before the handle magazine needs to be refilled.
Recycled content and source reduction
The PACK EXPO Las Vegas news at HLP Klearfold was the introduction of their new KlearfoldR RPET100 clear plastic folding cartons made from 100% post-consumer recycled PET. Until now, 30% RPET had been the limit. This new capability is possible because HLP Klearfold began a vertical integration program in 2009, investing in custom extruders designed to make premium-quality, box-grade plastics exclusively. Having these extruders has enabled the company to produce RPET with 30% PCR that is indistinguishable from virgin PET. Today, thanks to this capability, combined with carefully and locally sourced postconsumer PET waste, HLP Klearfold is able to produce box-grade RPET with 100% PCR, with no meaningful sacrifice in quality or performance, and without compromising the high marketing appeal of Klearfold cartons.
While 100% recycled content is certainly newsworthy, sometimes a strategy based on source reduction is the way to go. One good example of this talked about at the HLP Klearfold booth was a package redesign executed recently for Warren, MI-based McKeon Products Inc. The firm's LunaGuardTM Nighttime Dental Protector bite guard is now sold in retail channels using HLP Klearfold's patented KlearfoldR Keeper package (4).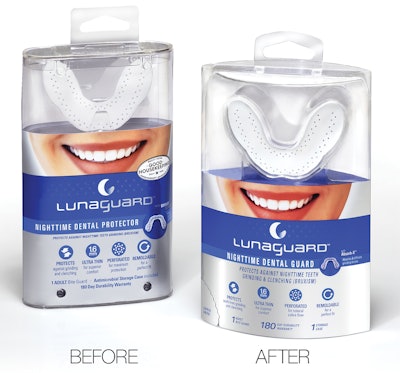 LunaGuard is a bite guard that provides exceptional protection from bruxism, or grinding of teeth. Selling for about $25, it's made from a strong thermoplastic that helps to diffuse and absorb grinding forces, and its ultra thin and lightweight design allows for total comfort while sleeping.
When LunaGuard was launched in 2015, a primary packaging goal was to develop a visual package that would display the unique guard prominently, giving consumers the opportunity to clearly see its unique slim shape while providing a premium look on the shelf. The original package accomplished all this, but it used more material than necessary, was expensive, and was a very complicated design that was cumbersome to hand load.
This former package consisted of six components: a .012 printed PVC sleeve that's offset-printed and side-seam glued to form a sleeve, a PVC thermoformed fold-over tray, and four injection-molded components: two end caps, a shelf, and a clip to position the bite guard. In addition, a plastic hang tag was adhered to the top end cap, and clear plastic tape-like "wafer seals" were added at top and bottom to secure the end caps to the sleeve. Assembling these components and filling the package was complicated and inefficient.
For the redesign, McKeon chose the patented Klearfold Keeper package from HLP Klearfold. The Keeper is a unique visual package system that combines just two components. The outer component is a .014 PET sleeve printed on a flexo-combination printing press and creased using Klearfold's proprietary RF scoring technology before being die-cut and glued to form a sleeve. The inner component is a locking tray thermoformed from .020 PET. The end result is a secure and premium-quality package with great shelf presence.
Klearfold Keeper offers significantly more efficient hand-filling than the original package. Instead of assembling six packaging components, the bite guard and the protective case are loaded into the Klearfold Keeper inner tray, the tray is folded over and sonically sealed, then this sub-assembly slides into the clear plastic sleeve. In-folded tabs on the sleeve engage a specially designed flange on the inner thermoformed tray, locking the two components securely together without the need for wafer seals. The inner tray has an integrated hang tab, so no separate hang tab need be applied. And thumb-notch perforation in a corner of the clear plastic sleeve provides a unique, easy-opening feature. Removing the thumb-notch also removes the lock, allowing the tray to be easily disengaged from the clear sleeve. In addition to simplifying the loading, the Klearfold Keeper package brought a 29% source reduction by weight.
Devin Benner, CEO of McKeon Products, was pleased at how the redesign panned out. "Our goal was to reduce the amount of plastic by at least 25%, and we surpassed that by 4%. One of the main challenges was keeping the overall brand impression of the original packaging while reducing the 6 parts down to 2. The other challenge was retaining the clear product display area that so nicely staged the product to the consumer. Both had to be accomplished in a way that did not compromise durability. There was even a cost savings for the packaging itself."
Kashi collaboration
It's widely accepted that, compared to rigid packaging, flexible packaging comes with certain built-in sustainability benefits related to source reduction: less material going into landfills, fewer trucks on the road to transport packaging to the manufacturer who fills it, and fewer greenhouse gas emissions.
But creating a consumer-friendly circular path with recyclability as part of the process has been an obstacle to flexible packaging largely because it is frequently multi-layered. That has led most people to throw stand-up pouches in the trash, since the multilayer material is verboten in curbside recycling.
Now that's starting to change thanks to the emergence of an alternative to traditional curbside recycling: front-of-store drop-off by consumers who bring their multilayer flexible packaging for recycling along with their T-shirt-style plastic grocery bags. Dow's RecycleReady Technology is at the center of this initiative. The Sustainable Packaging Coalition (SPC) plays a role, too. Dow and SPC are promoting this new front-of-store option for recycling of PE-based multilayer pouches. Even more significant, Kellogg-owned Kashi of Solana Beach, CA, has successfully launched Bear Naked Granola in a standup pouch (see lead photo) that demonstrates how this circular-economy packaging concept works. The pouch was one of five developments to win a PMMI Technical Excellence Award at PACK EXPO Las Vegas 2019.
There's a lot of moving parts to this new recycling concept. Perhaps the best way to understand how a pouch made of multiple materials can be considered compatible with a PE recycle stream is to begin with the makeup of the Bear Naked granola pouch. The rollstock from which it's made is Berry Global's nine-layer Entour™ blown film coextrusion. Without identifying each and every layer in the nine-layer structure, Berry's Senior Technical Director Paul Wolak says it's essentially high-density polyethylene, which brings excellent moisture barrier to the table. But also included is EVOH for gas barrier purposes as well as various tie layers and a sealant that activates at low temperatures.
"Historically, EVOH is not compatible with a PE recycle stream," says Wolak. "Unless you use a compatibilizer technology from Dow called RETAIN."
According to Dow, pelletized barrier film scrap containing polar polymers such as EVOH or polyamide will not finely disperse into the polyolefin matrix for recycle or reuse. Numerous attempts to find an adequate compatibilizer have resulted in poor processability and suboptimal optical properties. But with the development of RETAIN Polymer Modifiers, these problems are addressed. According to Dow, its "innovative recycle compatibilizer technology is based on a reactive, ultra-low viscosity compatibilizer. Reactive groups 'coat' the polar components, encapsulating them into micro-domains to enable excellent dispersion. When blended at specified ratios with pelletized barrier film recycle streams, the RETAIN polymers allow converters to recycle barrier film back into film production without sacrificing optical or physical properties." Says Wolak, "It allows two incompatible materials to mix and distribute evenly."
Wolak says that fundamentally the Bear Naked pouch seems simple enough: PE/EVOH/heat sealant. But when you get into the details, it's pretty complicated. "It's a nine-layer coextrusion but there might be 18 different materials involved," says Wolak. "Because we're trying to drive everything from high clarity to high moisture barrier to oxygen barrier. Then there are the tie layers, and toughening materials, and things to control the slip so the material is machineable. So it's a challenge from a materials management point of view. Oh, and by the way, it has to be done economically." Wolak adds that the pouch material used formerly for Bear Naked, "a coated polyester laminated to a polyethylene and having a total thickness about the same as our Entour material," cost about the same as the new material that has replaced it.
Two other key providers in bringing this innovative pouch to the market were Colormasters and Fresh-Lock. Colormasters takes rolls of Entour film from Berry and runs them through a flexo press. Also, Colormasters' registered matte finish reinforces Bear Naked's brand image and provides extra heat resistance so the package is more machineable. The material then goes to Hearthside Food Solutions, a contract manufacture and packager, where a horizontal form/fill/seal system forms and fills the bags and applies a Fresh-Lock recolsure zipper style 8113.
"Our zipper is already low-density polyethylene, so it's recyclable," says Chuck Ditter, Sales Manager, North America, at Fresh-Lock. "The key, though, is these film structures and the way our zippers seal to them. We had to do some optimization of our zippers to make sure they worked with this film and sealed well and sealed within the temperature and pressure and time parameters of their process."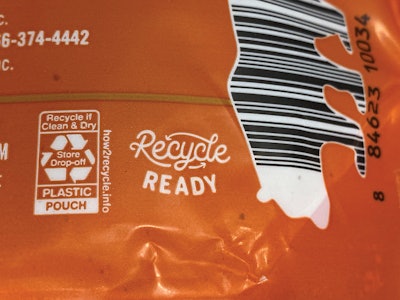 Kashi is approved by SPC to include on the back of the pouch SPC's How2Recycle logo, which gives consumers two important pieces of information: the pouch is "Recyclable if Clean & Dry" and it is suitable for "Store Drop-off." Right beside this logo is a "Recycle Ready" logo (6).
Looking back at the highly collaborative process by which this unique pouch was developed, Fresh-Lock's Ditter believes the project represents a big step in the right direction where recycling is concerned. "At least now there is an emerging infrastructure and an emerging stream where consumers, once they're educated, can figure out that they can have the best of both worlds," says Ditter. "They'll realize that they can get that wonderful stand-up pouch that we liked so much, and the brand can still get the properties they need out of the film in the package. Ultimately, the consumer can feel good about being able to bring this back to the store drop-off." To hear Berry Global's Wolak describe the award-winning package, go to pwgo.to/5381.
Separate from the Bear Naked launch, Dow announced at PACK EXPO Las Vegas 2019 that it has joined with Mespack, a member of the Duravant family, to form a partnership to develop and commercialize recyclable, monomaterial film pouches.
Under the partnership, Dow will showcase Mespack's horizontal form/fill/seal machine at its Freeport, TX, location of Pack Studios, where the line will help accelerate and support projects for recyclable stand-up pouches with customers and brand owners in North America. Says Mespack, with 86 billion stand-up pouches produced every year, this new recyclable flexible packaging solution is an on-trend, customer-driven innovation that will play a key role in the circular economy. The technology map for the recyclable pouch covers applications that include baby food, condiments, detergents, shampoos, body lotions, and more.
"It is important to Mespack that we support our customers in the adoption of recyclable, compostable, and biodegradable materials to the flexible packaging industry, which is why we are so excited about this collaboration," says Guillem Clofent, Managing Director for Mespack. "Mespack has a strong drive to reverse the environmental impact plastics and other non-biodegradable materials have on our planet. By partnering with leaders like Dow, Menshen, Velcro, and Venvirotech, we hope to create a revolution in packaging sustainability."
Dow Pack Studios brings together equipment manufacturers, packaging designers, and prototyping specialists to drive the commercialization of new and improved packaging innovations. Mespack's 180 FE hf/f/s machine will be installed at the Freeport Pack Studio in the first quarter of 2020, where it will be ready to test customer film and showcase the environmentally-friendly solution.
"The wonderful thing about this solution is that with the appropriate engineering, our installed base of equipment can be retrofitted to utilize this new recyclable material," said Santi Alberich, Marketing Manager for Mespack. "Every day another CPG company is committing to utilizing 100-percent recyclable material. We love that we are helping our customers and the environment at the same time."
Cross-team collaboration behind Bear Naked
Presenting at the Innovation Stage at PACK EXPO Las Vegas, Ashley Leidolf and Holly Dunnill of Dow, Shannon Moore of Kashi, and Paul Wolak of Berry Global explained how a cross-team collaboration between brand and suppliers made Bear Naked's packaging more recyclable and sustainable.
When the brand was launched in 2002, Kashi chose not to use bag-in-box, becoming the first granola brand to be offered in a pouch. Sustainability was important to the brand owners, so the packaging changed from 2008 to 2018 and was offered in a pouch that could be upcycled by TerraCycle—it was the number-one selling brand with 500,000 units recycled. Shannon Moore, Lead Packaging Engineer at Kashi, said that a few years ago the brand owner started asking what would it take to "go beyond" TerraCycle and get to curbside or store drop-off recycling.
Because recycling is also important to the brand's consumers (most of whom are under the age of 40), Moore said that the number one customer comment has been, "How do I recycle this bag?" When the decision was made to change to a more sustainable package, Moore said the brand wanted to keep the same look for the consumers, so it was important to maintain the production speed and clarity of the package to keep the print enhancements such as matte coating on the surface.
The brand was having trouble finding a good solution for a hermetically sealed bag, which is necessary due to the number of whole nuts and dried fruit in the product. Kellogg and Dow already had a partnership in place, so Moore engaged the internal team to find a solution by working with Dow.
"The first thing we did as a team," said Moore, "is walk them through our entire manufacturing network to see how we operated, so that each supplier could work together."
Paul Wolak, Senior Technical Director at Berry Global, said that when working on the project and taking shelf life into consideration, they "focused on how to deliver a better moisture barrier and better oxygen barrier as a starting place." The team landed on a recycle-ready nine-layer structure that satisfied all of the necessary properties.
Said Holly Dunnill, Marketing Director at Dow and the moderator of the presentation, "What we've created here as a team is really a multi value-chain effort to create a package that can be fully recyclable and be used in applications that need barrier."
Paperboard tray for MAP
At the Proseal booth it was no surprise that tray-sealing equipment took center stage, since that's pretty much the UK-based firm's bread and butter. But the real showstopper from Proseal might have been the demonstration of the Halopack tray, described as the first fully hermetic paperboard Modified Atmosphere Package. Some background first, and then on to news about the first commercial application of this sustainable packaging technology in the U.S.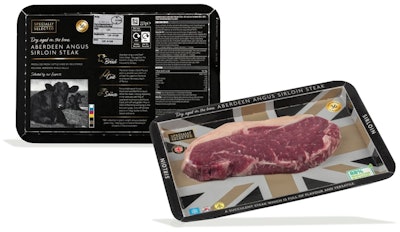 Halopack is a Dutch firm that holds the patents to this technology. Some time back Halopack partnered with packaging machinery OEM Proseal to boost the commercialization of a more sustainable packaging format for frozen meats or MAP ready meals. The key goal, of course, was to come up with something more environmentally friendly than the CPET trays that have been ubiquitous for a decade or more. By 2018, a number of food manufacturers were putting their products in the Halopak package. They still are, as the concept appears to have taken off in Western Europe. These applications can be one of seven different formats, though MAP and vacuum skin pack might be the most recognizable. Included here is a photo of a VSP offering (7) and a photo of an MAP offering (8) now in Marks & Spencer supermarkets in the UK.
As of this past September, when Proseal set up its booth at PACK EXPO Las Vegas, it had two key Halopack offerings. For commercial suppliers of trays, the Model SK2 can produce up to 120 trays/min. For food manufacturers, however, whose volume requirements are considerably lower, there's the SKR. Running at about 50 to 60 trays/min, it lets a food manufacturer vertically integrate where tray supply is concerned. The four-station rotary machine performs the following:
• picks flat paperboard blanks from four magazines;
• erects the blanks into trays in specialized tooling;
• applies by way of vacuum a layer of film that is a five-layer coextrusion of PE/tie layer/EVOH/tie/PE that clings tightly to the bottom, sidewalls, and flange of the tray;
• neatly discharges film-lined paperboard trays in nested stacks.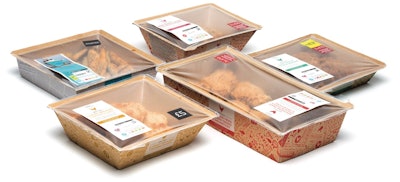 Especially intriguing is the bit where the film liner is applied to the inside of the tray. Halopack CEO Remi de Olde describes it this way. "We heat the film in the top tool, which introduces energy into the film. This energy allows the adhesive properties in the film to become active. We then pull vacuum through the base tool to pull the heated film down against the board. Then atmosphere is introduced to push the film down securely onto the board."
Worth noting here is that, in Western Europe at least, food manufacturers using Halopack include in the package graphics a reminder that the film liner can be easily removed so that the paperboard can slide seamlessly into the well-established recycle stream for paper.
Now for the U.S. application of Halopack (9). It's unfolding at Homestyle Foods of Twin Falls, ID, a family owned supplier of thoroughly cooked frozen ready meals shipped to consumers who only need to thaw and then heat them in a microwave or conventional oven. In 20 states the meals—all entrees are $6.95 not including shipping and handling—are licensed by the Department of Health and Welfare and are Medicaid approved.
When CEO Cody Griffith of Homestyle Direct walked into the Proseal booth at PACK EXPO, he was looking primarily for additional tray sealing equipment for the CPET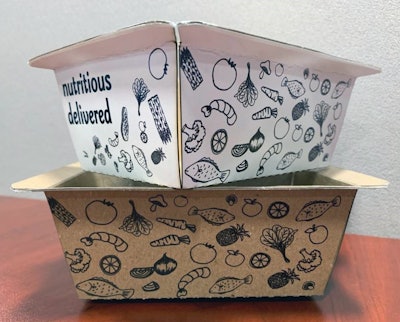 trays his firm had long relied on. But when he discovered that Proseal had an alternative that is so much more environmentally friendly, he decided to give it a try. In addition to installing a Proseal Model SKR to form flat blanks into film-lined trays, he also purchased from Proseal a pair of D10 tray denesters mounted on an OC-Twin Conveyor that leads into a Model GT4eX-Twin Tray Sealing Machine. This tray sealer heat seals a lidstock coextrusion of PA/EVOH/PE to the flange of the paper/plastic Halopak tray.
Homestyle Foods sources the tray blanks locally according to specs provided by Halopack. This part of the whole Halopack proposition is crucial because if the geometry, scoring, and die cutting are not perfect, the flat blanks won't set up properly in the four-cavity tooling of the Halopack rotary machine. One final observation on the paperboard trays is that Halopack, which owns the intellectual property behind the Halopack concept, charges a royalty per tray.
Material specs for the paperboard tray, the inner film liner applied to the tray, and the lidding material that gets heat sealed to the tray flanges can vary considerably. But in the case of Homestyle Direct, the paperboard is an SBS that is about 0.5 mm thick.
Gari Wyatt, CEO of Proseal America, says the Halopack concept drew considerable interest at PACK EXPO Las Vegas. Amcor, it appears, will be installing a Model SKR tray former. And a second installation of a Model SKR is going to food manufacturer and contract packager Hudson Blaise of Twin Falls, ID.
A more sustainable pouch material
Like other suppliers of packaging materials exhibiting at PACK EXPO Las Vegas, Scholle has identified a movement in the spouted pouch market from aluminum foil-based laminations to transparent laminations and, ideally, to a transparent and recyclable option.
In their PACK EXPO booth in the Lower South Hall, Scholle IPN featured a solution for transparency and recyclability through the introduction of RecShield™ film for spouted pouches (10).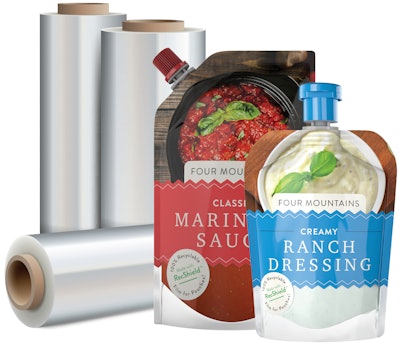 Pouches made from RecShield deliver the product protection and long shelf life required for applications such as applesauce, but they can also be recycled along with other polyethylene films. RecShield's transparency allows brands to design labels around the attractive colors of aseptically-sterilized or hot-filled products. Through the utilization of RecShield, pouch products do not have to compromise on barrier protection to provide an environmentally conscious alternative for packaging, says Scholle's Chad Mueller Vice President and Chief Technology Officer.
RecShield is a nine-layer coextrusion with EVOH at the core and various combinations of polyethylenes ranging from plastomers for good heat sealing properties and puncture resistance as well as HDPE to provide added heat resistance and stiffness. Surface printing and a heat-resistant overprint varnish are included. Customers interested in RecShield can order pre-made pouches from Scholle or order rollstock to make their own pouches. But Mueller suspects the earliest applications will be of the pre-made pouch variety.
Labels getting greener, too
At the Sleever International booth, a main focus was that firm's LDPET shrink sleeve label (11). Because it assists significantly in the successful recovery of valuable food-grade rPET, it was one of five PMMI Technology Excellence Awards given at the show. But the only way to understand the significance of this development is to review how a conventional PETG shrink sleeve label—heretofore the most common material in commercial use—moves through the recycle stream and what its shortcomings are.

First, plastic bottles go through Near-infrared (NIR) optical scanners that separate clear PET bottles from all other plastic varieties based on the optical signal given by the PET. The clear PET bottles are then compacted and baled along with PP caps and whatever labels the bottles might have on them. Bales are then broken apart and the bottles are ground into flake. The flakes are washed in a hot water and sodium solution and then the flakes enter a flotation tank. Here the PP that's in the mix (from caps) floats to the top so it can be separated. The PET and PETG flake that sinks to the bottom is sent for extrusion and granulation into rPET.
The shortcoming to this is that the presence of PETG in the PET compromises the purity of the PET and renders it unfit for use in food-grade applications. That's why some converters have switched from PETG film to various PE-based films that, in the flotation tank, float at the top along with the PP, which in turn means that both the PP and the label material can be separated from the pure PET that sinks. But there are two shortcomings to this alternative to PETG. The first one reveals itself during bottle sortation. When the NIR scanner sees a full-body shrink sleeve label made of a PE-based film rather than PETG, the optical signature it reads is that of PE. So it sends that valuable PET bottle into the PE stream rather than into the PET stream where it actually belongs. The second shortcoming is that if the PE label is not a full-body shrink sleeve label, the optical signal read by the scanner is that of PET, so the valuable PET bottle does indeed go into the PET stream. But when that label gets ground into flake along with the bottle and then moves into washing, the inks on the label bleed into the PET and contaminate it.
Against this backdrop it's easier to understand the value proposition of Sleever's LDPET material. When the NIR optical scanner encounters a PET bottle decorated by a full-body LDPET shrink sleeve label, the optical signal it reads is that of PET. So the valuable PET bottle goes into the PET recycle stream where it belongs. Later, in the flotation tank, because the LDPET label material has a density of 0.95 g/cm3, it floats to the top with the PP material, leaving only pure PET to sink to the bottom. And because the LDPET labels are printed with exclusive ink solutions designed to resist bleeding in caustic washing water at 190ºF for 15 minutes, the quality of the rPET is not compromised.
Elsewhere in the labels arena, UPM Raflatac unveiled its RAFNXT+ pressure-sensitive paper label range during PACK EXPO Las Vegas 2019. These materials feature UPM Raflatac's Forest Positive lifecycle approach, benefitting nature and the environment as a whole, the company says. New RAFNXT+ paper labels are suitable for a wide range of applications, including food, home and personal care, retail, logistics, and home and office.
"We've been on a journey for the last few years to come out with something that was truly a sustainable label compared to what else was out in the marketplace," says UPM Raflatac's Jeff Buchanan, Director, Paper Laminates Business, Americas. "The obvious place to start is downgauging, of course, which we've certainly done. But we also made sure that not just the label material but the release liner, too, is FSC-certified."
These label materials provide a competitive edge for printers and brand owners alike in terms of both sustainability and efficiency, says UPM Raflatac. They use less energy and water and generate less waste. RAFNXT+ laminates also potentially need fewer reel changes, deliver savings in downtime and start-up waste, lower packaging and transportation costs, and increase storage capacity for both raw materials and finished stock.
Buchanan notes that a number of suppliers, both of release liner material and paper label material, partnered with UPM Raflatac in bringing RAFNXT+ to the marketplace. "It was a matter of working with our paper suppliers to develop a face material and a release liner material that would perform just as reliably as our standard materials but at a more sustainable basis weight."
GeoStrap and PET for pasteurized beer
Highlighted at the Amcor booth was the PET bottle for Nestlé's Coffeemate natural bliss Cold Brew coffee (12). Its GeoStrap™ technology won a Gold Award for Packaging Innovation in the annual competition sponsored by Dow.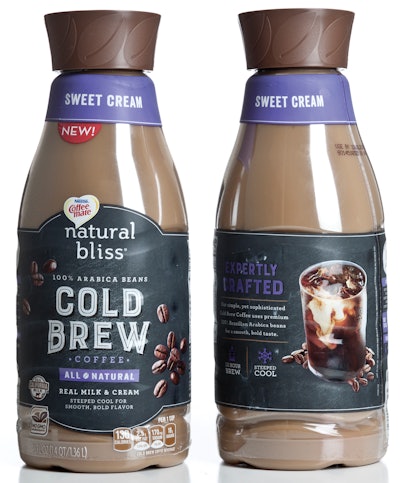 This 46-oz offering of refrigerated coffee is filled on an ESL (Extended Shelf Life) system. When it was first launched, Nestlé learned that the coffee product absorbed oxygen in the headspace. This produced an internal vacuum that in turn caused denting at the shoulder. While it might have been possible to address this issue by making the sidewalls heavier and/or introducing ribs to the structure, those options would have meant more cost and would have resulted in a container inherently less sustainable.
The GeoStrap solution Amcor came up with borrows from two hot-fill bottle base technologies the firm already had in its portfolio: PowerStrap™ and PowerFlex™. With PowerStrap, internal vacuum pressure is absorbed through the base because it moves dynamically thanks to "straps" (13) designed into the bottle that go through the heel and roll into the base, thus allowing it to flex upward. PowerFlex also brings flexibility to the base of a PET bottle, but it does so not through straps but rather by way of a geodesic pattern.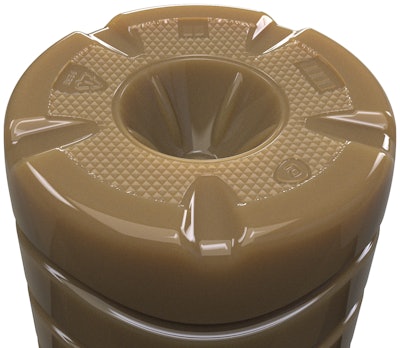 In the Nestlé Coffeemate bottle, elements of both PowerStrap and PowerFlex were combined to neatly address the denting issue that had previously marred the bottle's shoulder. Amcor injection molds the PET preforms and stretch blow molds the preforms into bottles. Completing the package is a full-body shrink sleeve label and a 38-mm closure.
On store shelves nationwide since early 2019, the bottle when empty weighs just 53 g. "Our GeoStrap maintains the container's light weight, which keeps the Cold Brew container 4 to 8 grams lighter than comparable products," says Eric Roegner, President of Amcor Rigid Packaging. "The new design also improves performance and consumer appeal of the container."
Worth adding is that a second Nestlé product in a GeoStrap bottle was launched July 22. Actually it was a Starbucks/Nestlé launch, as this coffee creamer in four flavors came out of the Starbucks/Nestlé global coffee alliance formed in August 2018. The 28-oz PET bottle, decorated in a full-body shrink sleeve label, is also filled on an ESL system for an extended refrigerated shelf life. Why is a vacuum-absorbing base required for coffee cream? Because filling is done at a high elevation, so as the bottle passes through the distribution chain and enters different elevations, internal vacuum can form.
Finally, there's Amcor Rigid Packaging news from South America. That's where Amcor has adapted its technology to develop the first PET bottles for pasteurized beer in Brazil. The company designed custom 600-mL containers for beverage maker New Age Bebidas of Leme, São Paulo, that feature the beauty of a glass-like, champagne-style base combined with the convenience of lightweight and shatter-resistant PET (14).
Amcor says it uses a one-step blow molding process and delivers bottles to the brewery. The bottles feature a crown metal cap, replicating the standard glass bottle. The PET containers are a replacement for glass and go through the same cold-filling, capping, and pasteurizing processes. During pasteurization, the bottles need to withstand a maximum temperature of 60 degrees C for 15 minutes. CO2 inside the bottles expands during pasteurizing. This exerts stress on the bottle, which, if not for the customized champagne-style base, could cause deformation of the bottle. Pressure-sensitive neck, front, and back labels are printed flexographically.

"As the craft beer market grows, we are partnering with brewers to achieve attractive designs and cost savings with PET bottles, while also meeting shelf-life requirements," says Felipe Salles, Business Development director for Amcor in Brazil.
"PET bottles offer design advantages over glass while being lighter weight, more easily and safely portable, and unbreakable," says Rodolfo Salles, Research and Development Manager for Amcor in Brazil. "Plus they provide the required barrier protection,"
Amcor uses an oxygen scavenger barrier additive to prevent oxygen ingress and egress, providing up to four months of unrefrigerated shelf life. The bottle is compatible with existing recycling streams and is 100% recyclable. The lightweight containers also significantly reduce transportation costs as well as energy and CO2 emission along the supply chain.
"Innovation and differentiation are the name of the game in the craft beer market in Brazil," says Fabio Violin, President of New Age Bebidas. "The flexibility of PET packaging allows us to develop a unique replacement for glass that will deliver broad consumer appeal throughout Latin America."
Zipper reclosure for fresh English muffins
A PACK EXPO highlight at the Upper South booth of Amcor was a package of English muffins from Dave's Killer Bread (15), a firm based in Milwaukie, OR.
Unlike most if not all products in this fresh refrigerated English muffin category, these muffins were intended for nationwide distribution from a single location. Consequently, shelf life needed to be more than the 12 days or so that competitive items in the category have. So a modified atmosphere format was chosen.
More noticeable to the consumer, however, is the zipper reclosure feature on the package. According to Amcor, this is the first package in the fresh refrigerated English Muffin category to have a zipper reclosure.

Details about the package from Dave's Killer Bread are not available. As for Amcor, the folks at the PACK EXPO booth describe the packaging material as a pretty standard multilayer structure that includes a coextrusion including EVOH for gas barrier purposes that gets laminated to a reverse-printed polyester. The zipper, from Zip-Pak, is applied in-line on a flow wrapper from an unnamed machine builder.
Companies in this article
Videos from Graphic Packaging Intl.