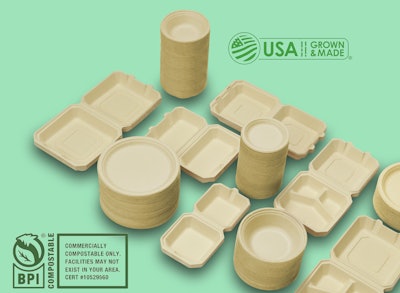 Compostable packaging is the material of the future. At least that's according to nearly 400 CPG brands and retailers who were surveyed last year on their expected packaging material usage over the next decade. The survey and resulting report, "The 2023 Packaging Compass," produced by PMMI – The Association for Packaging and Processing Technologies and AMERIPEN, was one of several discussions on compostable packaging held at the FRESH Food, Packaging & Sustainability Summit, held at Clemson University, in September.
Compostable packaging refers to packaging made from organic materials, such as wood fiber or bioplastics, that biodegrade naturally in a specific time frame under certain conditions, such as those found in home or industrial composting facilities, into non-toxic, natural elements.
According to the Compass report, compostable packaging is projected to see a significant jump around 2027, with a CAGR of 15% to 17% through 2030. This is in contrast to traditional plastics, at around 3.5%, and paper, at 3.8% (global CAGR growth).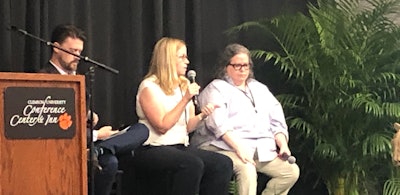 The finding, shared Rebecca Marquez, director of Custom Research for PMMI, who took the stage at FRESH 2023 with AMERIPEN Program Director Kyla Fisher, was an unexpected one. "I was really surprised by compostables," said Marquez. "When we did the study about a year ago, we found that CPGs are really hanging their hats on compostable materials. And, from data collected recently at PACK EXPO Las Vegas, we learned that compostables are still the leading choice for replacement material by CPGs by a pretty substantial margin.
"I think one of the drivers is that compostable gives the idea that you just put the package into the ground, and it goes away, which we all know is not true. But I think a lot of CPGs would love to have it that way—to be able to create a package that you can just put in the ground and it returns to the earth, you don't have to worry about it anymore. But that's not the case, we need infrastructure to handle these materials."
With only 12% of U.S. households currently having access to curbside or drop-off collection programs for industrial composting, lack of infrastructure is most certainly a major hurdle. But there are many others, as was enumerated by another panel at FRESH 2023, "Compostable Packaging: What Does Success Look Like?"
Among the challenges discussed were a lack of consumer education, false labeling resulting in contamination at composting facilities, the difficulties of replicating with compostable materials many of the functional properties of traditional plastics, and—one of the biggest drawbacks—composters' refusal to accept compostable packaging that does not meet their criteria. Given these factors, the question becomes, is compostable packaging really the best replacement for fossil-based packaging materials moving forward?
Composters want your food, not your packaging
The idea that compostable packaging can be returned to the earth at its end of life (through a home or commercial composting system) is an enticing one, especially when contrasted with the mountains of discarded single-use plastic packages littering the environment. But for composters, not all compostable packaging is alike, nor is it all desirable. Composting is a manufacturing process that turns organic waste such as food scraps and yard clippings into a salable product in the form of nutrient-rich soil for customers that include farmers, topsoil producers, and landscapers. Some compostable packaging may not contribute effectively to this process.
In the "Compostable Packaging" session, panelist Aspen Hattabaugh, R&D Environmental Specialist from composting company Atlas Organics explained that in compost manufacturing, compostable packaging is a carbon source. "For composting, the carbon-to-nitrogen ratio is extremely important," she said. "That powers your microbes. If your ratio is off, then you don't have enough of one thing for the microbes to utilize the other, so they can't break down anything.
---
---
"Carbon is something we typically have in excess, whereas nitrogen, not so much. So if we're just getting packaging from your kid's Barbie doll that is compostable for whatever reason, we don't necessarily need that carbon. We need the carbon that's been soiled."
Margaret Eldridge, certification director for the Biodegradable Products Institute (BPI), the leading certification body for compostable products and packaging in the U.S., reiterated this point, saying, "compostable products are really the vehicle to get composters what they want [i.e., food soil]—it's almost like the tortilla chip that brings the salsa to your mouth."
BPI's role, Eldridge shared, is to protect composters as well as guarantee the compost they generate won't harm the environment. "We have eligibility criteria to where we only certify materials that are associated with the desirable feedstocks composters want," she said. "Our job is to ensure they have a salable product, because they're actually manufacturing compost—they're not a dumping ground for all the discards.
"We have people who want to certify dental picks, and tennis shoes, and Amazon mailers, and all these things that technically can pass the ASTM compostability standards, but they don't achieve the goal of getting organics to composters. So we've got really stringent eligibility criteria for that reason."
With this in mind, what packaging applications are suitable for compostable material? Advised Eldridge: "Things that are a small size that are not able to be correctly separated out at a MRF [Materials Recovery Facility] are a good fit. Multi-material items like flexible packaging where in order to recycle it, you need to separate all the different materials—no problem with it being compostable. And then food-soiled materials—whereas for recyclers, that's a nightmare, for composters, that's a dream."
Contamination: composters' biggest challenge
If certification is the answer to getting composting businesses the materials they need, false claims by packaging producers are their biggest challenge. According to Hattabaugh, the greatest struggle her company faces is the number of materials coming through the door that say "compostable" but are neither certified nor compostable.
"The state of things for us is that we just accept them," she says. "Depending on your pre-sorting technology, you might do visual inspections of incoming loads. You might have a sort line, as we do at a couple of sites. Or, you may not have the capacity for that at all, so anything that comes in gets composted."
The issue is, essentially, garbage in, garbage out. "With compost, the materials that come in are ideally right back out the door 60 or so days later doing good in some soil somewhere. So what's coming in is really very important," Hattabaugh explained. "If you have contamination coming in, contamination's going to go out, whether it's in a microplastic that you can't see, or larger, visible ones that you can see that got through the screeners.
"As a passive receiver, we should not have to be the ones that have to pull out every bad item that comes to us in a stream. Can we pull out some? Yes. Do we want to? Definitely. PFAS [Per- and polyfluoroalkyl substances]? I don't know how to remove those from incoming feedstock streams. Heavy metals? I do feedstock assessment and usually can say no, we're not taking that because this is an environmental concern. But as a receiver, we want to make sure we are bringing in the most environmentally responsible things we can with the power that we do have to say yes or no."
---
---
As a producer of sugarcane-based molded-pulp compostable foodservice packaging, panelist and President of Tellus Products Asem Mokkadem shared that while the BPI certification process is an arduous one, it is a necessary step to create consumer confidence and ensure contaminants do not make their way into the environment.
"For us, having molded fiber that is certified is essential because PFAS is so ubiquitous in molded-fiber items, and once that ends up in compost and then in the environment, it's there," he said. "So contamination is not only the visible, but it's also the invisible but environmentally really negatively impactful items, such as heavy metals and other toxins, that can be in these products."
According to BPI's Eldridge, reducing contamination will depend on greater standardization around labeling and claims and stricter penalties for false claims, especially as the Federal Trade Commission revamps its Green Guides, which are a set of guidelines developed to help marketers avoid making unfair or deceptive environmental marketing claims.
Said Eldridge, "BPI is really hopeful there will be much more clarity and restriction around claims of biodegradation and claims of compostability, so people will know what should actually happen to that product, and what will happen if it ends up in a compost facility."
Compostable packaging not always fit for use
The theme permeating the session that not all applications lend themselves to compostable packaging was also supported by panel member Brent Greiner, vice president of Technology for cast and blown flexible film producer Charter Next Generation (CNG), who shared his challenges working with brands to engineer compostable films for their products.
According to Greiner, brands are looking for compostable packaging almost overnight that has the same properties that have taken decades to hone with traditional films. "Polyethylene has had 50 years of development to achieve the packages that are very successful today," he said. "Consumers have an expectation of shelf life, freshness, convenience, and use. Now what's happening is everyone says, 'Well, we want all those attributes that took 50 years to develop and design in polyethylene. Can you just solve that today in compostable raw materials?'
He noted that while there are materials that will meet and achieve all of the compostable standards, the challenge is to match those with the fit-for-use for whatever their customer is putting into the package. With polyethylene, CNG can create stiffness, thermal resistance, heat sealability, and abuse resistance, whereas compostable raw materials aren't necessarily there yet.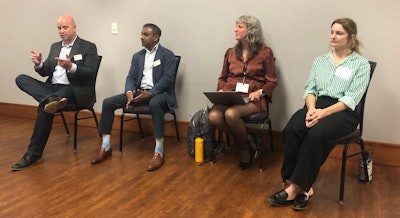 "And then the hard conversation is that the product that's in the package might not be the most suitable product for compostable film. Composters want the food, they want the organics, just a dust cover that's compostable doesn't generally meet the solution at the end. It's a great story, but it doesn't necessarily come with a product they [composters] want."
He added that if an application requires more than one compostable polymer for durability, then the solution is a composite film, with the design and validation falling to CNG and the whole value stream, "which takes extra time, costs extra money, and is just a little more complicated than 'here's your 2-mil sealant film, go package whatever you'd like as long as it meets your line speed.'"
However, he noted, raw materials suppliers, and in particular compostable raw materials suppliers, are rapidly recognizing the need for materials that are not only compostable, but also fit for use. "It can't just be, as I call it, a wand in a box," he said. "It won't just be one polymer or one compostable material. It will be composites that bring the solution. And that gap is closing at a speed that has never been seen before.
"But for CNG, what you'll hear is that compostable is a solution, it's not every solution. There are a lot of other small steps we suggest that you can take [for more sustainable packaging], depending on where you are in your journey as a company. Steps like downgauging and using PCR are important, and we're still not sure which one will win. There's still a lot to learn."
Who's responsible for consumer education?
Lack of education around compostable packaging—both by brand owners and consumers—was also mentioned as another gap hindering the successful adoption of the compostable materials. However, noted Greiner, CNG's film customers have a much better understanding of compostable packaging today than they did five or so years ago.
"Originally, we spent as much time educating and starting from ground zero," he said. "The great thing now is that we're not starting from ground zero. People have a very real interest in understanding what compostable means and what limitations it has, and the conversation starts from a much more constructive place. That's a gap that's closing on education because we're talking about it in the right way."
When it comes to educating consumers on what items are compostable, Hattabaugh said it's an issue for the entire system. "Who provides that education? Who does that fall on? On composters? On the receiver, the producer, the municipality? And then, who's going to listen to it?" she asked. "Consumers, the general public, they don't want to read. And it's also just confusing. I'll stand in a grocery aisle and Google things on my phone to make sure a product I'm buying is what the label says, but that's because it's the industry I'm in.
---
---
"Attention spans are low, and compostable education is long and in-depth. People need to understand the difference between biodegradation, which sounds fancier, and compostability, which for being a very ancient practice is a very young industry as a whole."
Hattabaugh added that Atlas provides a list of accepted items on the bucket used for its residential pickup program. But, she added, it's not an exhaustive list.
"Composting is kind of detrimental to itself; people want everything to be compostable now, which is not necessarily the best use," she said. "And that education between what should be compostable, what is compostable, and what we can accept based on our permit and regulations is another thing, which differs highly from state to state."
BPI offers educational resources on its website in the form of reports and article on topics such as "Biodegradable vs Compostable," "Organics in Landfills," and "Labeling," as well as an online catalog of certified compostable products. The database is searchable by SKU and includes 21,200 products. However, as Eldridge noted, she believes it's standardization in labeling that will really reduce consumer confusion, lookalikes, and contamination.
The future course for compostables
Circling back to the issue of the lack of composting infrastructure in the U.S. to accommodate the huge growth in compostable packaging identified by PMMI and AMERIPEN, the issue remains that only 12% of households have access to these services, and, according to Eldridge, only 5% of wasted food is being composted.
"There is a huge opportunity with huge climate implications to get that stuff out of landfills," she said. "According to the United Nations, food waste is the third leading creator of greenhouse gases, if it were a country, after China and the U.S. So again, we need to get food waste out of landfills, and compostables are a great vehicle to make that happen."
Key to building that infrastructure, she added, are policies and legislation to help fund and expand infrastructure to make composting available to more people.
In the PMMI/AMPERIPEN presentation on the Compass report, Kyla Fisher explained that for AMERIPEN, understanding the trend toward compostables will help the association in its efforts to guide policymakers and will help investors plan for the future.
---
---
"That's where AMERIPEN really came in as we said, 'Okay, PMMI, show us what the data is,' and now we're going to take a look at this from a policy perspective. How do we get ahead of policy? How do we start to plan for the future right now?" she said. "This study helps policymakers; if we've got a rise in compostables, but we've got a problem getting compostables accepted, then we need to start having that conversation right now. The other side is that it's really beneficial for investors. If we can start to have this discussion of where we're going to go in the next decade, as EPR is coming into America, having this kind of data really helps those who are investing into the system start to plan not for investment in the system as it is today, but investment in the system as it needs to be for tomorrow."
Yet, Fisher admitted, the outlook on compostables could change moving forward, as more CPGs realize, as noted above, that not all composting facilities want their materials. "They certainly don't want compostable packaging that doesn't have food in it," she said. "So we're pushing for compostable packaging, but we have nowhere to put it. So is this going to shift in a couple of years as that starts to become the conversation?"
Speakers in the "Compostable Packaging" session were fairly unanimous in their belief that compostable packaging presents a massive opportunity, but not for all products. Eldridge advised that when designing packaging, CPGs need to consider whether compostable packaging is the right fit, rather the fact that it provides the newest and "sexiest" end-of-life story.
"It needs to work," she concluded. "It needs to work from a technical perspective to protect the product that's in it, and it needs to have a workable, end-of-life solution." PW
Companies in this article