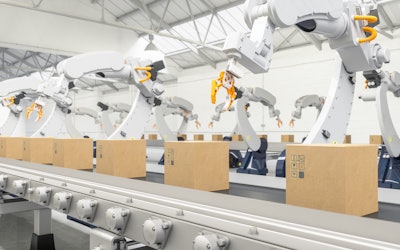 Getty
The repetitive tasks and constant movement demanded by secondary packaging are ideally suited for the deployment of robotic solutions. Feeding secondary cartons, pick-and-place case packing, and a variety of palletized configurations all require a high level of precision and speed, making them well-suited for modern robots.
Secondary packaging is the first area to see significant deployment of automation technology at many manufacturers. Of the respondents to the report "Secondary Packaging Trends," 67% said their end-of-line operations are already heavily automated, though 21% said that some of their operations still rely on human labor. A challenge of the ongoing manufacturing labor shortage is pushing many companies to seek innovative and cutting-edge automation solutions, with significant room for expansion of automated technologies.
---
---
Faster and shorter production runs caused by SKU proliferation and the growth of the CPG industry means manufacturers will need even more automation to meet future production goals, with 85% of participants stating that they are still looking to expand their current portfolio of automation solutions in secondary packaging.
Nearly 65% of CPGs stated that they would like to achieve faster changeover through automation upgrades to keep up with the pace demanded by production schedules. In addition to improving changeover efficiency, manufacturers are also looking to modernize their quality control systems, with 45% of participants planning to implement automated vision inspection systems.
Applications where robotics will be deployed in the future:
• Case packing
• Palletizing
• Loading and unloading
• Printing
• Vision inspection
• Pick-and-place
• In-feeding products
• Cartoning
• Harvesting
• Lifting
Download this FREE report below.
Source: PMMI Business Intelligence, "Secondary Packaging Trends"
PACK EXPO Las Vegas and Healthcare Packaging EXPO (Sept. 27-29, Las Vegas Convention Center) will reunite the packaging and processing community. With over 1400 exhibitors, no other event in 2021 will bring together a more comprehensive gathering of suppliers offering new products, technologies, and solutions. Attendee registration is now open.