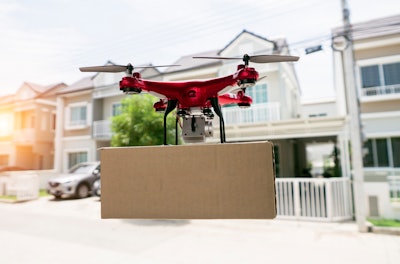 An evolving dynamic market space is pushing secondary packaging beyond the stereotypical plain corrugated box, according to the PMMI Business Intelligence report "Secondary Packaging Trends." As e-commerce and SKUs expand, and consumer demands drive change in the marketplace, secondary packaging is also expanding to accommodate these new channels.
Retail Model
Protecting a product during distribution with the ability to conveniently break down and display in a retail setting has been the traditional model for secondary packaging. Product is typically shipped on pallets, with a short distribution through the supply chain and few touches along the way. The primary concern for secondary packaging under this model is to provide a trackable and convenient way for retailers to get the product off the pallet and onto the shelf. The evolution of this model includes demand for sustainable packaging materials, cases that can easily be broken apart, shelf-ready displays, and case coding that is readable for traceability and product security. Big box stores are also asking for unique pallet configurations and front-facing product on shrink-wrapped pallets to move directly to the retail floor.
E-commerce Model
According to a report by Digital Commerce 360 in June of 2020, e-commerce business revenue was up 76.2% in the U.S. when compared to June of 2019. eMarketer predicts this growth will slow to an 18% overall growth for the e-commerce sector by the start of 2021, and while e-commerce has seen rapid growth, it still accounts for a small portion of the overall retail market. In the first quarter of 2020, eMarketer reported that e-commerce accounted for only 11% of all retail sales in the U.S. and is slated to reach 14% by the end of the year.
---
---
E-commerce distribution (when a manufacturer ships items to a third-party e-commerce distributor) still relies primarily on pallets. And since products for e-commerce distribution are usually repackaged and then shipped to the customer instead of being placed on a shelf, the primary concern for e-commerce secondary packaging beyond product protection is easy breakdown and repackaging, or bulk totes for easy access to more durable individual items that will need to be repackaged and shipped.
DTC Model
The growth of e-commerce means consumers now expect quick and trackable delivery, so many retailers have been pushed toward a direct-to-consumer (DTC) model, shipping items directly from their own warehouses.
Sixty-six percent of CPG companies interviewed reported that they do some form of DTC shipping, up from only 28% in the 2018 PMMI report E-Commerce: Think Inside the Box. While this represents a significant expansion of this business model across the CPG industry, DTC shipping is still only a tiny fraction of CPG businesses, with some participants stating that it comprises 5% or less of their total sales. Many CPGs, however, believe there is enough foreseeable growth in DTC to consider a dedicated line in the future.
DTC products do not need to travel through the business-to-business distribution supply chain, eliminating the need for bulk cases and pallets. The need for a lightweight but durable secondary package that can protect the product while traveling directly to the consumer's doorstep creates additional processes and challenges for manufacturers, who must contend with a variety of carton sizes and customized labeling for each shipment.
Download this FREE report below.
Source: PMMI Business Intelligence, "Secondary Packaging Trends"