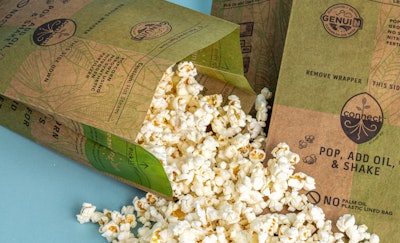 Berkeley, Calif.-based Connect Snacks has an interesting backstory. The purveyor of whole grain popcorn was launched by eco-friendly fertilizer startup Pivot Bio to connect consumers with those farmers who are growing food with synthetic-free nitrogen fertilizers. Following the successful launch of its popcorn kernel product in October 2021, Connect Snacks turned its attention to developing a microwavable popcorn option. Given its better-for-the-planet mission, however, it knew it needed to find a packaging solution that was more sustainable than the per-and polyfluoroalkyl (PFAS)-lined popcorn bags currently on the market.
PFAS is a man-made class of plastic chemical compounds commonly used in microwavable popcorn bags. It is also used in packaging such as cardboard takeout containers, pizza boxes, fast food packaging, and pet food bags. PFAS is added to microwavable bags to keep the oil that pops the corn from soaking out and to prevent the bag from burning.
Connect Snacks CEO Karsten Temme notes that the PFAS liner provides two other functions as well. "First, it seals in a metal susceptor, which improves heating to pop the kernels. And second, it helps seasoning not stick to the bag," he explains.
---
---
The drawback to PFAS compounds, which have a tendency to leach into the product, is that they are classified as "forever chemicals," designated as such because they break down very slowly, accumulating both in the environment and in the human body. One report from the U.S. Centers for Disease Control and Prevention's (CDC) National Health and Nutrition Examination Survey (NHANES) found PFAS in the blood of 97% of Americans. Interestingly, a 2019 study found that people who regularly eat microwavable popcorn have significantly higher levels of PFAS in their blood; for those who consume it daily, their levels were up to 63% higher than average.
Bioaccumulation of these compounds can seriously impact an individual's health. A recent CDC review outlined a host of negative health effects associated with PFAS exposure, including cancer, liver damage, decreased fertility, and increased risk of asthma and thyroid disease.
Removing the PFAS lining from popcorn packaging is not easy though, and alternative options also typically carry with them a higher price tag—up to three times higher, in fact, according to Temme. To address the challenge, Connect Snacks used several strategies. "We solved it by using the highest quality popcorn that's also sustainably grown using no chemical nitrogen fertilizer," he shares. "We also ask consumers to add their own oil to their popcorn rather than including it in the bag, and we invested in a lot of research and development to create delicious flavors from natural ingredients that wouldn't stick to the bag."
---
---
While information on the exact material used for Connect Snacks' microwavable popcorn bag and on the material supplier is proprietary, Temme does share that the bags are made from "FDA-approved, grease-resistant PFAS-free papers that were engineered for microwave popcorn packaging."
Of the importance of developing such a bag, Temme cites how ubiquitous plastic-coated packaging is in the lives of consumers, adding that it's also often hidden. "Coffee cups, sandwich wrappers, and paper takeout containers often have a plastic liner," he says. "We want to do our part by removing the plastic coating in our microwave popcorn—and this means no more microwaving your popcorn in plastic, too."
Connect Snacks' Better for You Microwavable Popcorn was introduced in October 2022 and is available on the brand's website as well as on Amazon in four flavor varieties packaged in 3-ct cartons.