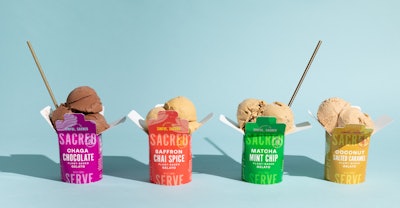 Sacred Serve, a four-year-old company producing handcrafted, plant-based gelato, is on a mission to prove that "all food can, and should, be more healing than harmful to both our bodies as well as the planet." As part of its credo to protect Mother Nature, the company is extremely conscious of the environmental impact of the packaging it uses as well. In February, Sacred Serve became the first to offer a 100%-recyclable, plastic-free ice cream carton that is also biodegradable and compostable.
---
---
The new packaging is a more sustainable version of the unique carton style the Chicago-based company has used since launching its vegan gelato line. Sacred Serve founder and CEO Kailey Donewald describes the paper-based package as a "cross between a noodle-box top and a traditional ice-cream tub bottom, with an integrated one-piece closure style." The unusual style was chosen, she explains, to mirror the distinctiveness of the company's product versus other plant-based frozen treats on the market.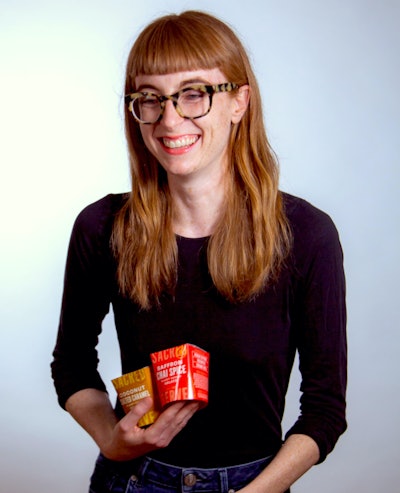 Among its novel features, Sacred Serve gelato uses functional ingredients, such as superfoods, adaptogenic herbs, and medicinal mushrooms, it is sweetened with unrefined, low-glycemic coconut sugar, and it gets its rich and creamy texture from the fiber of young coconut meat, rather than from high fat-to-sugar ratios or gums and stabilizers.
Donewald says the one-piece carton was also chosen because the design reduces the amount of packaging versus a traditional pint container, as it eliminates the need for a separate lid. As is standard for paper-based packaging for frozen products, the carton for Sacred Serve's ice cream originally used a polyethylene coating to protect it from moisture and withstand freezer temperatures, making the packaging non-recyclable.
"I first learned there were no plastic-free, sustainable options when I was sourcing our very first packaging," Donewald explains. "I worked tirelessly to find an alternative. I wound up finding various solutions that were plant-based or contained less plastic, but nothing truly plastic-free. I also struggled at the time as our old packaging supplier was unwilling to work with the upgraded paperboard I was wanting due to our limited quantities as an emerging brand."
She adds that while she looked at other options besides a paper-based package, she didn't feel comfortable using an all-plastic container, regardless of its recyclability. "It's no secret what plastic waste has done to our environment and the health of all those who inhabit it, including humans," she says. "Microplastics are becoming a huge environmental and health concern as well, and I believe it's extremely important to remove this from the supply chain entirely. The bulk of plastic found in the environment is from CPG packaging waste."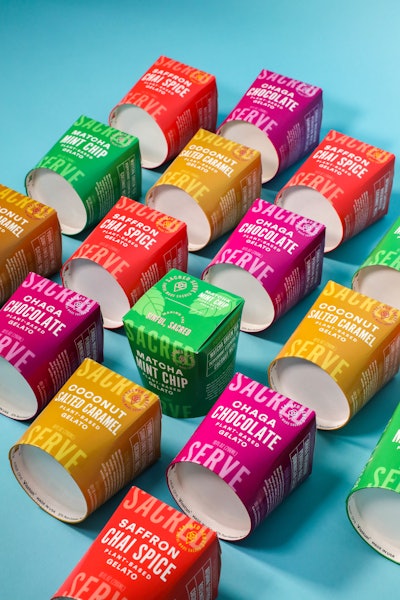 Her search for a plastic-free alternative led her to Delipac, a U.K.-based packaging producer that spent eight years researching and developing plastic-free, paperboard packaging for food and beverages. A variation on the Delipac Cup, Sacred Serve's new 10-oz carton is made from a 100% virgin-fiber, food-grade paperboard, with a food-safe, water-based barrier coating. The material is certified as being 100% recyclable in any waste stream, 100% compostable in both home and industrial environments, and 100% biodegradable in marine and soil. It is also certified as being free of any harmful or toxic substances, including PFAS (polyfluoroalkyl substances), and the paper is PEFC- (the Programme for the Endorsement of Forest Certification) certified and carbon-balanced.
Sacred Serve worked with Midland Paper Co. to source the Delipac container in the U.S. Shares Donewald, the carton is multicolor offset-printed by a "Swedish-owned international paperboard specialist based in the U.K."
---
---
Having made the switch to the 100% recyclable ice cream carton, Sacred Serve is committed to educating consumers on the sustainability of its carton and the non-recyclability of traditional ice-cream containers. On-pack communications advise consumers to recycle or home-compost the package, and Sacred Serve shares these messages on social media and on its website, as well.
Donewald says consumers are extremely excited about the new packaging, and retail buyers have been quick to embrace the company due to this innovation. Sacred Serve gelato, in Matcha Mint Chip, Chaga Chocolate, Coconut Salted Caramel, and Saffron Chai Spice varieties, is sold across the Midwest and Southeast and in California, in Whole Foods Market, Erewhon Market, Plum Market, Earth Fare, Sunset Foods, and independent grocers. Nationwide shipping is also available from the Sacred Serve website.
---
PACK EXPO Las Vegas and Healthcare Packaging EXPO (Sept. 27-29, Las Vegas Convention Center) will reunite the packaging and processing community. With over 1400 exhibitors, no other event in 2021 will bring together a more comprehensive gathering of suppliers offering new products, technologies, and solutions. Attendee registration is now open.
Companies in this article