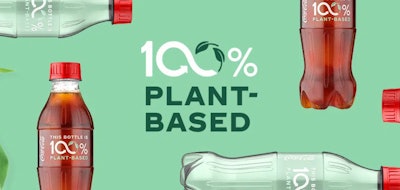 Since 2009, when The Coca-Cola Company announced the launch of the first PET bottle made partially from plants, the race has been on among beverage brands to crack the code on developing a commercially viable, 100% bio-based PET bottle with the same functionality as a petroleum-based bottle. Earlier attempts by other drinks companies to use bioplastics— specifically corn-based polylactic acid—for beverage bottles had proven disappointing, as the material lacked stability and contaminated PET recycling streams. So, when Coca-Cola's PlantBottle, made partially from a "drop-in" bioplastic having identical properties to virgin PET, including recyclability, came on the scene, it was a game-changer.
The first PlantBottle was 30% bio-based, using Braskem's sugarcane ethanol; the other 70% used petroleum-based chemicals. At the time of the launch, Coca-Cola made it known that its vision was to continue innovating to achieve a bottle made with 100% plant-waste material while remaining completely recyclable.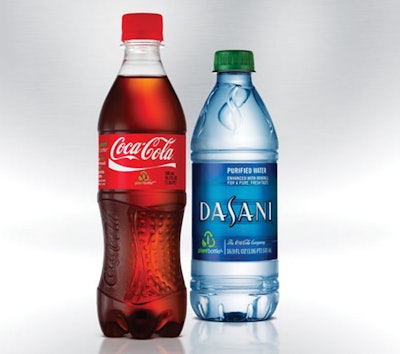 In 2011, PepsiCo announced it had developed a prototype "green PET bottle," which it said was the world's first PET plastic bottle made entirely from bio-based raw materials, including switchgrass, pine bark, and corn husks. Its goal was to commercialize the packaging by 2012, but news of the initiative quickly faded.
In 2018, PepsiCo joined The NaturALL Bottle Alliance, a research consortium formed one year earlier by Danone, Nestlé Waters, and bio-based materials development company Origin Materials to accelerate the development a bio-PET bottle. Since then, there has been no news from the alliance, although in early 2022, Origin announced plans to invest $750 million in a biomass manufacturing facility in Louisiana.
---
---
In 2012, Japan-based Suntory Holdings Limited, whose more well-known brands include Orangina, Schweppes, Ribena, and Lucozade, became the new challenger when it entered into a strategic partnership with bio-sourced chemicals company Anellotech to develop and commercialize a cost-competitive, 100% bio-based plastic beverage bottle. In 2013, it introduced its own partially plant-based PET bottle, 30% of which was derived from molasses.
Now, more than a decade after the first PlantBottle hit retail shelves, and after years of research, pilots, prototypes, and investments, both Coca-Cola and Suntory have unveiled 100% plant-based PET bottle prototypes, each through different partnerships and technologies, ready for commercial scale-up.
Coca-Cola innovates and refines
PET consists of two molecules: mono-ethylene glycol (MEG) and terephthalic acid (PTA), which respectively make up 30% and 70% of the polymer by weight. PTA is produced by the oxidization of an aromatic chemical called paraxylene. For both Coca-Cola and Suntory, the route to finding a bio-based replacement for MEG was a short one. The road to developing a cost-competitive, commercially viable plant-based replacement for PTA, which required the development of bio-based paraxylene (bPX), was much longer.
Coca-Cola's journey also involved several detours before the company found the best path to a bPET (biomass PET) bottle. In 2015, after its PlantBottle had been on the market for six years, Coca-Cola unveiled its first 100% bPET bottle prototype, produced at laboratory scale, at the World Expo in Milan. The bottle was made from two renewable feedstocks: sugarcane-based MEG from Braskem, and bPX made using sugar from corn from Coca-Cola partner Virent. The prototype proved a fully bio-based PET bottle was possible, but it was not ready for commercialization.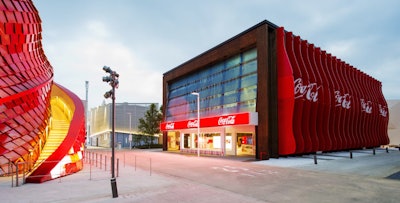 With its recently unveiled bPET bottle, Coca-Cola has moved from sugarcane, which is also used to produce bioethanol, to wood-based biochemicals to produce bio-based MEG (bMEG). Explains Dana Breed, Global R&D Director, Packaging and Sustainability for The Coca-Cola Company, "The inherent challenge with going through bioethanol is that you are competing with fuel. We needed a next-generation MEG solution that addressed this challenge, but also one that could use second-generation feedstock like forestry waste or agricultural byproducts. Our goal for plant-based PET is to use surplus agricultural products to minimize the carbon footprint."
The technology behind the production of the bMEG was co-developed by Coca-Cola and Changchun Meihe Science & Technology and is based on feedstock that cannot be used as a food source—specifically hardwood taken from sawmill side streams and forest thinnings. According to Coca-Cola, "The technology takes a sugar source and removes the step of creating ethanol as part of the conversion process to produce plant-based MEG. This means the process is simpler than incumbent processes and provides flexibility in feedstock choice," hence the hardwood feedstock.
The technology was validated at demonstration scale in 2017. Currently, Finland-based paper producer UPM is building the world's first biorefinery to produce wood-based biochemicals using this jointly developed technology. The biorefinery will utilize beechwood from regional forests, as well as residues from the sawmill industry, to produce a range of biochemicals, including bMEG. The facility is expected to be operational by year-end 2022, with a total annual capacity of 220,000 metric tons.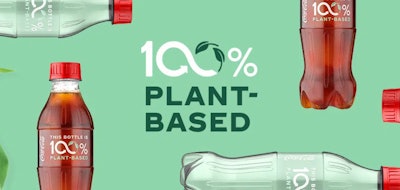 The bPX portion of the bottle prototype is made using the same material Coca-Cola employed for its 2015 bottle: Virent's BioFormPX. Coca-Cola's relationship with Virent dates back to 2011, when the beverage giant announced multi-million dollar partnerships with three biotech firms, one being Virent, to accelerate the development of bio-based plastics.
In 2014, Coca-Cola made an additional investment to support an expansion of Virent's demonstration plant capability in order to help scale-up the separation and purification steps of the BioFormPX production process and produce larger quantities of the material.
BioFormPX is produced through the company's patented BioForming catalytic process, which converts aqueous carbohydrate solutions into mixtures of drop-in hydrocarbons. The process has been demonstrated with conventional sugars obtained from existing sugar sources such as corn and sugarcane, as well as a wide variety of cellulosic biomass sources. The bPX for the Coca-Cola prototype was produced at Virent's facility in Madison, Wis., using sugar from corn that was then converted to plant-based terephthalic acid (bPTA).
---
---
According to Coca-Cola, Life-Cycle Analysis studies for the commercial production of Virent's bPX indicate up to a 75% reduction in carbon emissions compared to petroleum-based paraxylene, with the potential to achieve net-zero or better reductions in the future.
Alpek Polyester produced the bPET for the prototype bottles, which were manufactured and filled within The Coca-Cola System. Nine hundred bottles were produced in all. Said Nancy Quan, Chief Technical and Innovation Officer for The Coca‑Cola Company, at the time of the launch, "We have been working with technology partners for many years to develop the right technologies to create a bottle with 100% plant-based content—aiming for the lowest possible carbon footprint—and it's exciting that we have reached a point where these technologies exist and can be scaled by participants in the value chain."
Suntory comes in a very close second
In early December, 2021, just six weeks after Coca-Cola's announcement, Suntory revealed it had also successfully created a prototype bPET bottle, ready for commercial scale-up. The prototype was produced for the company's Orangina brand in Europe as well as its Suntory Tennesui mineral water in Japan.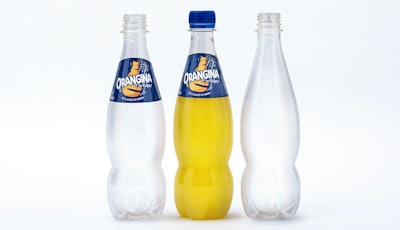 The bottle is the result of Suntory's 10-year strategic partnership with Anellotech, into which Suntory has invested $25 million. Anellotech's proprietary Bio-TCat thermal catalytic biomass conversion technology produces BTX aromatic chemicals—benzene, toluene, and xylenes, including the paraxylene needed for PTA—from loblolly pine wood chips.
Says Tsunehiko Yokoi, Senior General Manager Packaging Department for Suntory Holdings, "We saw two key competitive advantages in Anellotech's technology. First, it uses non-food feedstock such as wood chips, avoiding competition with the food supply chain. Second, compared to other technologies used by other companies, it includes a simple process of converting biomass to aromatics, such as paraxylene, in one step by using a single pyrolysis process and catalysts. The technology also has a competitive advantage in terms of cost, carbon emissions, and future potential."
According to Anellotech, an in-depth LCA conducted by Jacobs Engineering Group, Inc. of its Bio-TCat process revealed that the process has a CO2 emission-reduction potential of 70% or more when compared to petroleum-derived equivalents.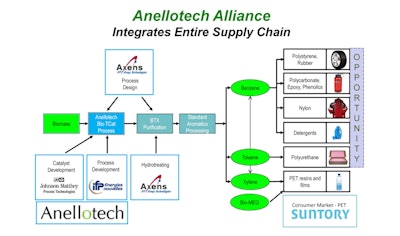 The first successful production of bPX by Anellotech was at its Silsbee, Tex.-based TCat-8 pilot plant in 2019. Along with its joint development partners, IFPEN and Axens, Anellotech processed the renewably sourced aromatics into high-purity bPX. At the time, the samples produced were found to meet all of the ASTM International specifications for downstream derivatives in conversion to PET.
In late 2021, the TCat-8 pilot plant produced the bPX used for Suntory's 100% plant-based prototype bottles. Suntory says the next step is to commercialize the bottle as soon as possible to meet its goal of using only 100% plant-based or recycled PET bottles globally by 2030. What's needed to move the project forward is a production-scale plant. Explains Yokoi, "In order to commercialize this technology, we will need an external partner to build a commercialized plant, and this requires time for thorough consideration."
In the meantime, Suntory has an exclusive license through Anellotech for a contracted period of time to use the bPX to make PET. "However, other companies will be able to use this for other applications, such as polyester and fiber," Yokoi says.
Why bio-based bottles?
When Coca-Cola first introduced the PlantBottle, sustainability in packaging was a different conversation, mostly focused on carbon emissions, climate change, and preserving limited natural resources. Back then, bioplastics were seen as a silver-bullet technology, the answer to decoupling packaging from petroleum. But times have changed, and so has the sustainability discussion. In the last several years, the focus has shifted dramatically to the damage plastic pollution has wrought on the environment, especially on the world's waterways. This has prompted brands to make commitments around decreasing their use of single-use plastics or eliminating them entirely, particularly virgin plastics.
With this new focus, enthusiasm over bioplastics began to wane, especially as questions emerged as to whether they actually were lower in GHGs and as the costs of virgin plastics stabilized. The slow adoption of the technology also meant a significant premium for those companies interested in using the materials for their packaging. But the news from Coca-Cola and Suntory that they are ready to pursue commercial scale-up of bPET bottles has brought the conversation full circle. As brands struggle to source the needed supply of recycled PET to meet their virgin plastic-reduction goals, bioplastics can provide a complementary path for them to meet their commitments.
---
---
Says Suntory's Yokoi, "From an environmental standpoint, our basic approach is to use as much rPET as possible, but since used PET bottles cannot be fully recovered due to reasons such as loss at the time of collecting and purifying back to food-grade level, we will always need to compensate that loss with an alternative sustainable material. Additionally, we recognize innovation in packaging technology is crucial to drive the industry towards a circular economy. Therefore, Suntory started the development of plant-based PET bottles as we believed that plant-based materials were the best alternative to rPET in moving away from using petro-based materials, and we plan to use plant-based PET for the remaining amount that cannot be covered by rPET.
"Based on our Plastic Policy established in 2019, we aim to use only recycled or plant-derived materials for all PET bottles used globally by 2030 to achieve zero use of virgin petroleum-based materials."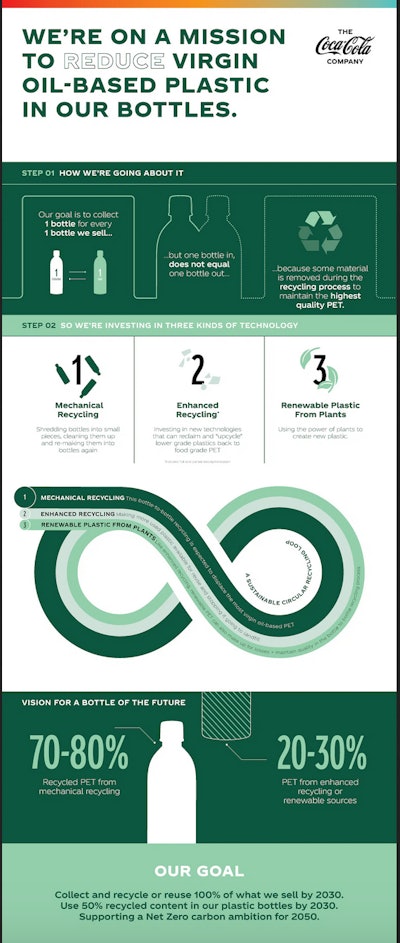 In the case of Coca-Cola, its World Without Waste vision, which includes a goal of using 3 million fewer tons of virgin plastic from oil-based sources by 2025, depends on a range of strategies. Among them, it shares, are new recycling technologies, packaging improvements, and alternative business models such as refillable systems, as well as the development of new, renewable materials. In Europe and Japan, Coca-Cola, with its bottling partners, aims to eliminate the use of oil-based virgin PET from plastic bottles altogether by 2030, using only recycled or renewable materials.
Says Quan of Coca-Cola's strategy, "We are taking significant steps to reduce use of virgin, oil-based plastic, as we work toward a circular economy and in support of a shared ambition of net-zero carbon emissions by 2050. We see plant-based plastics as playing a critical role in our overall PET mix in the future, supporting our objectives to reduce our carbon footprint, reduce our reliance on virgin fossil fuels, and boost collection of PET in support of a circular economy."
Companies in this article