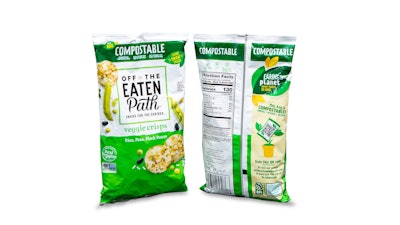 You may recall the infamous compostable, bioplastic bag launched by PepsiCo's Frito-Lay division in 2010 for its SunChips brand snack—you know, the one that caused an uproar among consumers due to its unprecedentedly loud crinkling noise? PepsiCo was ahead of its time, but it never gave up on its ambition to create a compostable material capable of replacing the plastic used for its single-use snack bags. In fall 2021, it realized this goal in the form of an industrially compostable bag made primarily from proprietary, non-food, plant-based materials for its Off The Eaten Path chip brand. Frito-Lay partnered with Printpack to develop the bag, which has earned the supplier Gold and Silver FPA Awards for Sustainability and Packaging Excellence, respectively.
Rest assured, with the new bag, Printpack made noise reduction a priority. Explains Mark Brogan, Senior Director of Marketing for Printpack, "It was observed early in the package development that the increased rigidity and stiffness of the bio-based material made the overall package more audibly distinguishable, that is to say, louder, during normal handling than the existing, non-compostable offering. To that end, special sound/frequency dampening technology was employed in the structure to reduce the overall volume and range of sound produced during product enjoyment."
---
---
Brogan notes that the OTEP bag is unique in that the entirety of the materials used—among them, the print web, barrier sealant webs, inks, and adhesive—had to meet current, often stringent, third-party certification requirements for industrial compostability. He shares that the proposed structure in its entirety underwent third-party certification testing over several months prior to receiving approval for final commercial launch.
Printing of the new bag material required a number of process enhancements, Brogan notes. "Due to the historically rougher printing surface of bio-based film materials coupled with the unique formulation of the compostable inks, graphic separations for the standard packaging structure were insufficient and had to be redeveloped," he says.
To ensure the highest level of graphic quality could be maintained with the sustainable materials, Printpack had to complete a "square one" press "fingerprint," including modified dot-gain compensation curves. Additionally, press run parameters had to be modified to allow for the reduced thermally stable bio-based materials to be processed acceptably.
According to Frito-Lay, which invested in the project as part of its pep+ (PepsiCo Positive) strategic end-to-end sustainable transformation, producing the materials used for the bags creates approximately 60% fewer GHG emissions than traditional packaging. To further the use of the material across the CPG industry, PepsiCo has made the technology available for license to other companies at no cost.
The industrially compostable OTEP bags were introduced in September in Whole Foods Market stores and in other select retailers. Consumers are alerted to the change via new copy on the packaging that broadcasts its compostability, a claim that is supported by an on-pack Biodegradable Products Institute (BPI) icon for Commercially Compostable Certification. A QR code advises consumers how to compost the bags: They can either sign up for TerraCycle's recycling program and mail the packaging to them using a prepaid shipping label, or they can locate a local composting drop-off location through an easy-to-use database.
Companies in this article