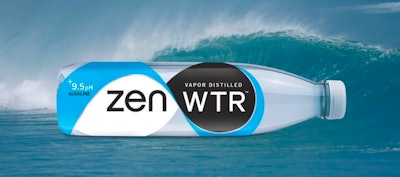 The use of ocean plastics for packaging is not new. In late 2011, Method was the first, with a liquid laundry detergent bottle made from 100% recycled polyethylene, 25% of which was retrieved from the Great Pacific Garbage Patch. Since then, companies introducing limited-edition or everyday packaging additions to their portfolio that incorporate ocean plastics have included Procter & Gamble, SC Johnson, and Dell. What is new is the use of ocean-bound plastics for a food-grade application.
---
See it Live at PACK EXPO Connects Nov. 9-13: How to Navigate the Growing Options for Coding & Marking, by ID Technology. Preview the Showroom Here.
---
While Coca-Cola introduced a sample beverage bottle in October 2019 made from 25% marine PET to show the potential of recycled ocean plastics, bottled water company ZenWTR has actually done it. Last February, the company launched its vapor-distilled, high-alkaline water in a bottle that uses 100% recycled ocean-bound plastic, certified by social enterprise OceanCycle. Ocean-bound plastic, or "ocean-diverted plastic," is plastic recovered from within 30 miles of a coastline, or collected from beaches, waterways, and coastal areas.
ZenWTR is a mission-led company formed by entrepreneur Lance Collins, the man behind CORE, NOS, FUZE, and Body Armor. According to company CEO Bryan Crowley, ZenWTR was inspired to use ocean-bound plastics because "the team feels there is a great responsibility for companies to play their part in innovating more-sustainable solutions that can contribute to helping solve global problems like pollution and climate change."
---
See: Method unveils bottle made from ocean plastic

See: Dell adds ocean plastics to its packaging
---
"When people think of plastic, inevitably they think of the plastic pollution issue in the ocean," Crowley continues. "So we set out to create a more-sustainable option that effectively helps to clean plastic from coastal environments, preventing it from reaching and polluting the ocean where the likelihood of its retrieval is low. There is plenty of plastic already in existence that can be recycled, and ZenWTR believes we should work to reuse what's already available as opposed to making new plastic."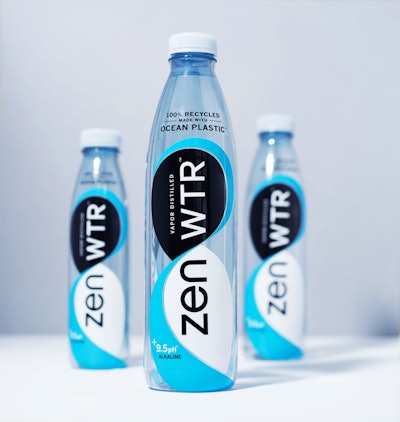 The ZenWTR bottle was in development for more than three years, due to the complexity of its operations. As Crowley explains, sourcing from global communities means it takes longer for the recycled plastic to reach the U.S. for production, recycled plastic is more expensive pound for pound than virgin plastic, and processing recycled plastic versus virgin plastic requires additional steps and takes more time.
"This means that timelines for production are longer, making the process more complex and costly than it would be if plastic was sourced locally or if we used virgin plastic," he says. "However, producing with recycled plastic versus virgin plastic uses about 84% less energy and cuts greenhouse gas emissions by 71%, and we're helping to contribute to the cleanup of coastal environments and prevent a lot of plastic from polluting oceans, so for us, it's worth it."
---
See it Live at PACK EXPO Connects Nov. 9-13:
eCommerce Order Fulfilment Poly Bagging is here to stay, by PAC Machinery. Preview the Showroom
Here
.
---
The plastic resin is sourced from CarbonLITE, a California company that specializes in processing used bottles into bottle-grade PET pellets that can be used to manufacture new beverage bottles and other products. Regarding the network of accredited supply partners employed to collect the ocean-bound material, as well as the manufacturer of the bottle, Crowley says the information is proprietary. Also confidential is the technology used to remove the haziness that results from the use of 100% recycled PET.
While PET is widely recycled, the labels, ink, and adhesives used for beverage bottle decoration often result in lower-grade recyclate that can't be used for food applications. With this in mind, ZenWTR created a proprietary label material that it says is more easily and widely recyclable than current industry offerings. Says Crowley, "ZenWTR's 100% recyclable labels are APR-approved for their PET-only material and washable ink system, making the recycling process significantly easier than standard PETG labels." The bottle is topped with a recyclable cap, as well.
---
See: P&G dish soap bottle comprises 10% ocean plastic, 90% PCR plastic

See: Coca-Cola Unveils 25% Recycled Marine PET Bottle
---
On the front and back of the bottle label is copy that advises consumers that the package is made from "100% Recycled, Verified Post Consumer Ocean Bound Plastic" and is "100% Recyclable." It also notes that up to five plastic bottles are rescued from coastal environments to create each bottle.
Says Crowley, the product has been fast-tracked by key retailers, including Whole Foods Market, that are eager to offer more-functional and sustainable bottled water. It is available in 16.9-oz, 23.7-oz, and 1-L sizes, with 1% of ZenWTR sales going to charities dedicated to ocean conservation and coastal cleanup. Based on current projections, the company says it's on track to rescue 70 million bottles from the ocean by the end of the year.
Companies in this article