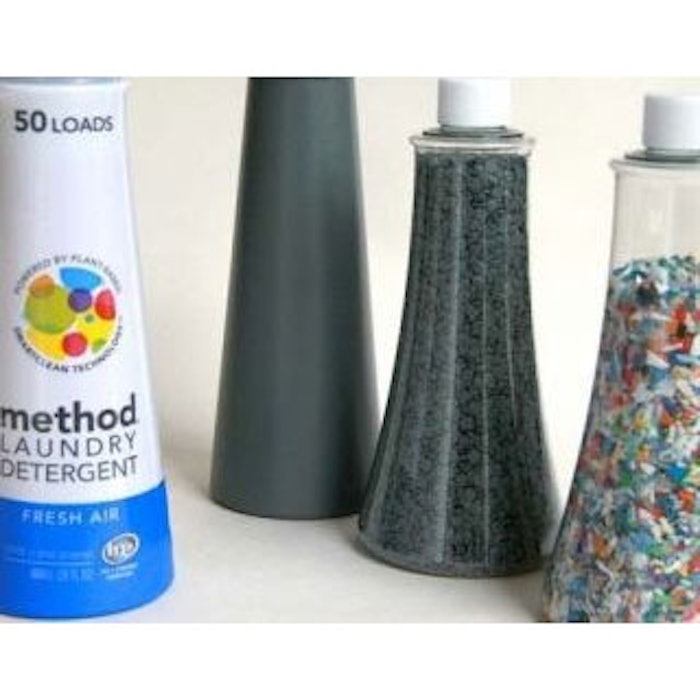 Eco-conscious household and personal care products maker Method, San Francisco, has unveiled its latest innovation in sustainable packaging: a bottle made out of plastic collected from the North Pacific Gyre, often referred to as the Great Pacific Garbage Patch.
Method's bottle is 100% post-consumer polyethylene, 25% of which is plastic collected from the Gyre. Partnering with U.S. recycler Envision Plastics, Method was able to make bottles out of what it calls a "novel and potentially profound new plastic material—Ocean PCR."
Together with Envision, Method has pioneered an integrated new recycling process to engineer Ocean PCR plastic that is the same quality as virgin high-density polyethylene. The process cleans the plastic, completely removes unwanted contaminants, blends the resulting plastic, and then remanufactures it into high-quality plastic.
"We've created a usable bottle from ocean plastic and upcycled it into something useful that can be recycled again and again," says Adam Lowry, Method co-founder and chief greenskeeper. "Our ultimate goal is to raise awareness that the real solution to plastic pollution lies in reusing and recycling the plastic that's already on the planet."
On hand to discuss the new package upon its introduction in mid-September were U.S. Environmental Protection Agency administrator Lisa P. Jackson; U.S. Small Business Administration administrator Karen Mills; U.S. EPA regional administrator Jared Blumenfeld; and San Francisco mayor Ed Lee.
"This innovation demonstrates what America, California, and forward-thinking companies like Method can accomplish when they combine strong business principles with responsible actions to protect our health and the world around us," said Jackson. "By transforming the trash in our oceans into usable products that are safe for our children, our environment, and our future, Method has proven that green business can grow our economy and create jobs."
San Francisco mayor Ed Lee declared September 15 as "Method Day," saying, "Today's announcement by San Francisco-based Method demonstrates our city's commitment to creative, innovative, and sustainable technology companies. By creating bottles made from ocean debris, they are demonstrating that San Francisco is a place for big ideas."
Method is focused on collecting enough usable ocean plastic to create a significant supply and turning it into bottles. The company collected usable plastic from several locations with volunteer organizations on Sept. 17, International Coastal Cleanup Day.
Companies in this article