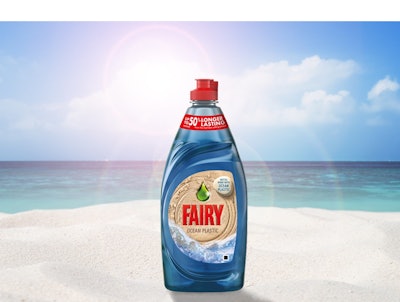 The Procter & Gamble Company has launched the Fairy Ocean Plastic bottle, for its U.K. Fairy brand dish detergent, made completely from post-consumer recycled plastic and ocean plastic. The project aims to drive awareness of the issue of ocean plastic pollution, and to inspire consumers to physically participate in beach clean-ups and recycle household waste.
"As the world's number one dishwashing liquid globally and a much-loved brand in the U.K., we want to use Fairy to raise awareness about the plight of our ocean and raise awareness about the importance of recycling," says Virginie Helias, Vice President of Global Sustainability at Procter & Gamble. "Our consumers care deeply about this issue, and by using ocean plastic, we hope to show that the opportunities are endless when we rethink our approach to waste.''
The Fairy Ocean Plastic Bottle has been created in partnership with recycling expert TerraCycle and will reach British consumers in 2018. The U.K. launch will include 320,000 bottles, which P&G says is the largest production run of recyclable dish soap bottles in the world made using ocean plastic. The bottle will be made from 10% ocean plastic, collected from the ocean and beaches around the world, and 90% PCR plastic.
Says Tom Szaky, CEO of TerraCycle, "We are proud to be working with an iconic brand like Fairy to launch a fully recyclable bottle made from 100-percent recycled plastic and ocean plastic. The issue of ocean pollution is a pertinent one, we hope other brands will be inspired to think creatively about waste and make the circular economy a reality.''
Stemming the flow of plastic into the ocean is crucial to preserving the health of our ocean. According to the Ellen MacArthur Foundation (EMF), 95% of the value of plastic packaging material, worth $80 billion to $120 billion annually, is lost to the economy, and on the current track, there could be more plastic than fish in the ocean (by weight) by 2050. (The Ellen MacArthur Foundation, "The New Plastics Economy: Rethinking the future of plastics" [2016].)
According to P&G, with the P&G Fairy Ocean Plastic bottle, and the intent to extend the initiative across other brands and regions in the future, the company continues to leverage the power of its brands to inspire change. In an effort to divert plastic waste from landfill and the ocean, P&G brands, including Fairy, Dawn, Yes, Dreft, and Joy, will continue to divert nearly 9,000 tons of plastic from landfill for use in transparent plastic bottles, using an average of 40% PCR plastic content across 481 million of its transparent dish care bottles globally. If stacked, these bottles would be 11 times the height of Mount Everest, P&G says.
Says Susan Ruffo, Managing Director at Ocean Conservancy, "We are thrilled that P&G is raising awareness of ocean plastic pollution amongst their consumers. P&G's leadership on this issue, including through their participation in the Trash Free Seas Alliance, is critical to solving the ocean plastic crisis. We are excited that in addition to its work to reach consumers directly through the Fairy bottles, they are also addressing the source of ocean plastic by supporting our initiative to raise over $150 million over the next five years to improve waste collection, sorting, and recycling in key ocean plastic economies. Improving waste management in these places can help cut the flow of plastic going into the ocean by half by 2025."
Companies in this article