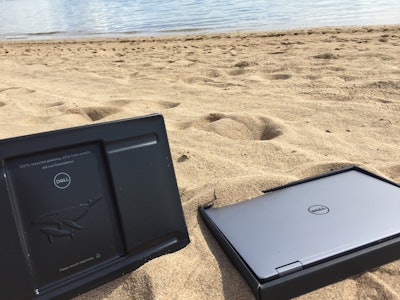 Computer company Dell has done its homework on plastics that end up in the ocean. According to Dell, some estimates show that there are more than 86 millionmetric tons of plastics in the oceans right now—more than 5 trillion pieces in total. The vast majority of those pieces are less than 5 mm in size. Explains Dell, that's because the plastics break down into ever smaller pieces.
Says the company, the numbers are nearly unfathomable and the effects are far reaching:
8 million tonnes of plastic enter the ocean every year
In some places, plastic particles outnumber plankton 26 to 1 (PlasticOceans)
Anyone who consumes an "average amount" of seafood ingests c. 11,000 plastic particles per year (BBC)
Dell wants to help break this cycle by keeping plastics in the economy and out of the ocean. To those ends, it is creating the first commercial-scale global ocean plastics supply chain. Dell is processing plastics collected from beaches, waterways, and coastal areas and using them as part of a new packaging system for the XPS 13 2-In-1 laptop globally. The initial pilot project will start by keeping 16,000 pounds of plastics out of the ocean.
Here's how it works:
Entrepreneurial pickers, volunteer groups, and professional recycling organizations collect the plastics, which are aggregated and sorted by various waste processors. After the plastics go through processing and refinement (to ensure a clean supply), Dell mixes the ocean plastic with other recycled high-density polyethylene plastics in a 1:3 ratio. Mixing like this ensures impurities within the ocean plastics do not affect the quality or chemical composition of the end plastic, explains Dell. The resin is made entirely from recycled-content plastics, 25% being ocean plastics.
The mix is then molded into trays that get stamped with the illustration and the #2 recycling symbol. The trays—initially launching with the XPS 13 2-in-1 notebook—are curbside recyclable in many places, helping ensure they remain a viable resource in the economy. The trays will ship globally, and the effort will keep 16,000 pounds of plastics out of oceans, with production scaling next year to 20,000.
See more information on Dell's ocean plastics project, including a white paper, infographics, and a video.
Companies in this article