In November 2017, the BBC aired Episode Four of the Blue Planet II, "Big Blue," which was seen by 14 million viewers. Presented by Sir David Attenborough, the episode bombarded watchers with footage of birds and marine life devastated by the effects of marine pollution. That single, 50-minute broadcast triggered the biggest consumer backlash against Consumer Packaged Goods companies and producers of plastics in recent times. It became the flashpoint for changes in consumer buying behavior, anti-plastic campaigns, and legislation related to single-use plastics that only continue to grow.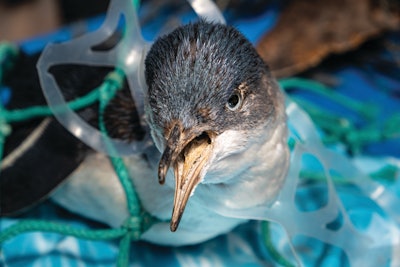 Dubbed "the Blue Planet effect" or "the Attenborough effect," the consumer movement against plastics uses as its rallying cry images of beaches littered with mountains of plastic bottles and sea turtles and other marine life entangled in plastic ring carriers. So much so that nearly half of the 27 speakers at The Packaging Conference, held in early February in Austin, Tex., used pictures such as these in their presentations to illustrate why there is such urgency around finding solutions to packaging waste.
See related article from Packaging World:
"Facing down the daunting plastics marine litter issue"

The Packaging Conference (TPC), first held in 2007, was begun by PTI and SBA-CCI, Inc. as a way to bring together companies from the full packaging supply chain to learn about the latest industry trends and technologies around new equipment and materials. This year, the conference narrowed its focus considerably. "We conceived the idea for this event 13 years ago when the industry—and every industry—was coming out of a recession," said John Maddox, President of SBA-CCI. "At the time, there was a lot of uncertainty. Thirteen years later, there still seems to be a lot of uncertainty. It's a little different now than it was then.
"We did not anticipate this being a conference on sustainability 13 years ago, nor did we suspect it would be so much on sustainability six months ago. Something happened about then, and every conversation—from a cocktail party to a Super Bowl party to a business meeting—is all about sustainability. And, as you will see from our conference agenda, this [event] certainly is about that this year as well."
Among the questions addressed by the conference: How are brand owners responding to the "plastic panic"? How can material collection be improved? What technologies are being engineered to provide alternatives to traditional, mechanical recycling? And, what new materials are available to supplement or replace plastic packaging?
Sustainability tops list of packaging megatrends
In his keynote address at the 2019 edition of TPC, David Feber, Partner at McKinsey & Co., shared the five key megatrends forecast to affect the growth and profitability of players in the packaging industry over the next five to 10 years. They included e-commerce, increased SKU counts driven by consumer preferences for customization, CPG and retail margin compression, sustainability, and digitization, in that order. This year, the trends he listed were the same, but there was one significant difference: "Sustainability has accelerated to the number one issue over the last 12 months," Feber said. "Last year it was number four."
See related article from Packaging World:
"Five megatrends impacting the packaging industry"

One reason for this change, he said, is that consumers don't understand the sustainability narrative of packaging, whereby every substrate has its own strengths, depending on the product, the supply chain, end of life, etc. This lack of understanding has led them to focus on a package's ability to be recycled as the most important attribute in determining whether it's environmentally friendly.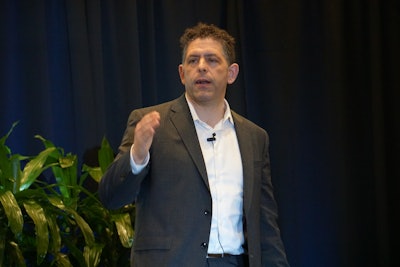 Consumers also have a very hard time differentiating between different types of plastics, leading to confusion over which materials are recyclable. And realistically, while some plastics are easy to recycle, e.g., PET bottles, others, such as multilayer pouches, are not.
In some cases, it's a lack of education—even regarding the most-recyclable packaging materials. In another presentation, Katherine Lugar, President & CEO of the American Beverage Assn. (ABA), reported that through in-depth research, ABA learned that an astounding 60% of U.S. consumers don't know or don't believe the beverage industry is making 100% recyclable bottles. It also found that 81% of consumers believe the most important thing beverage companies can do to make them feel good about the product they're consuming is to ensure that the packaging is 100% recyclable, including the cap.
Another reason for sustainability's leap to the head of McKinsey's list, Feber added, is the aforementioned "Blue Planet effect," or plastic leakage. Putting a number on this leakage, he noted that globally, in 2016, 300 million metric tons of plastic was used to create durable and non-durable goods. At end-of-life, about 16% was recovered for recycling, approximately 12% of that was recycled, 25% was incinerated, 40% ended up in landfills, and 19% leaked into the environment or went into unmanaged dumps.
"This is a big reason why plastic is getting the hit that it is, but the leakage is coming from a number of countries outside of the U.S., which is creating a perception issue across almost every part of the world," said Feber. (According to research from the Helmholtz Centre for Environmental Research, just 10 river systems—eight in Asia and two in Africa—carry 90% of the plastic that ends up in the ocean.) "In the U.S., our challenge is that we are putting too much material into landfills."
Plastic panic prompts legislation, CPG commitments
This consumer outrage over plastic pollution has fueled a dramatic increase in sustainability regulations, notably in Europe. There, the Single-Use Plastics Directive calls for the elimination of a range of single-use plastic package types, institutes Extended Producer Responsibility (EPR) schemes, and sets a collection target for plastic bottles of 90% by 2029, increasing to 77% by 2025. It also puts in place design requirements to tether caps to bottles, as well as a target of 25% rPET in plastic bottles by 2025 and 30% by 2030.
While Europe and some parts of Asia are leading in legislation around EPR, plastic bans, and recycling rules, the U.S. is not far behind. Said Feber, "In the U.S. alone, when we last checked, there were more than 90 single-use plastic bans proposed on a municipal level that have not been implemented yet. And, the number of regulations that have been implemented have doubled over the last four years."
See related article from Packaging World:
"Controversial Plastics Legislation Proposed"
"Packaging Policy Update & 2020 Outlook"

The other result of consumer pressure has been the growing list of CPGs and retailers that have announced ambitious goals around reducing the environmental impact of their packaging. Many of these commitments align with the Ellen MacArthur Foundation's New Plastics Economy Global Commitment. Among the many multinational companies with aggressive goals are Walmart, Aldi, Kraft Heinz, Unilever, Mars, P&G, PepsiCo, The Coca-Cola Co., Nestlé, Danone, Reckitt Benckiser, Mondeléz, and many, many others. Their pledges include two common themes: to increase the use of recycled materials and to ensure most, if not all, packaging is reusable, recyclable, or compostable. The target deadline for most of these goals is 2025.
Read related articles from Packaging World:
"Conagra Brands Announces Sustainable Packaging Goal"
"Nestlé Creates Market for Food-Grade Recycled Plastics, Launches Fund to Boost Packaging Innovation"

"PepsiCo Accelerates Plastic Waste Reduction Efforts"

"P&G Home Care Brands in Europe to Use Up to 100% PCR by Early 2020"

Sharing details of his company's circular packaging ambitions, Barnaby Wallace, Strategic Sourcing, Procurement & Supply Chain Executive - Food, Beverage & CPG, for Mars Petcare, told TPC attendees that Mars has invested more than $1 billion thus far in its Sustainable in a Generation Plan. In 2017, Mars pledged that by 2025, 100% of its plastic packaging will be reusable, recyclable, or compostable, and it will reduce its use of virgin plastic by 25%.
"The action plan is to remove packaging that we don't need, redesign packaging that we do need for circularity, and invest in closing the loop," Wallace said.
There are many challenges in meeting these goals, he acknowledged, given the variety of packaging materials—corrugated boxes, lightweight papers, metal cans, glass jars, and a variety of plastic materials—Mars uses for its diverse brand portfolio. "Glass, metal, paper, and rigid plastics are frequently recycled, where infrastructure exists," he said. "Flexible plastics are lightweight and can have a low carbon footprint, but they are recycled far less and, in some cases, not at all."
Mars has a laundry list of strategies to meet its goals. These include removing unnecessary packaging layers, advancing reuse models, with 10 in place by 2025, researching biodegradable and compostable materials, supporting EPR schemes, and using 30% recycled content on average across its product portfolio. Challenges in material collection

Mars is not alone in its pledge to increase its use of recycled material in its packaging. Unilever has committed to increasing recycled plastic content to at least 25% by 2025, PepsiCo has pledged 25% by 2025, and Henkel has committed to more than 30% by 2025, to name just a few.
While these aspirations are admirable, there is one major problem: If the U.S. maintains its current recycling rates, there will not be enough recycled content in the U.S. to meet these heady goals. "In fact," said Feber, "you would need three to four times the recovery rate, depending on the substrate, to satisfy these demands."
As Bruce Welt, PhD, University of Florida, advised attendees during another presentation, "Plastic recovery rates in the U.S. are pathetic," at only 10% overall. PET bottles fair the best, at 31%, followed by PET overall at 19.5%, high-density polyethylene at 10%, and polypropylene, polystyrene, and "the rest" at less than 1%.
The reasons are varied and complex. Among them are consumer apathy and confusion over recycling, the cost of recycling versus the reward, and the diversity of collection systems across municipalities, with some communities having no access to recycling at all.
See related articles from Packaging World:
"Static Bottle Recycling Rate is Insufficient to Meet CPG Demands for rPET"

"U.S. Needs to Up its Recycling Game"

Charlie Schwarze, Director of The Recycling Partnership, who spoke to attendees on "Making Circular Real – Unlocking Recycled Plastic Supply in the U.S.," shared some startling figures. For example, in the U.S., it costs $100/ton to recycle materials versus $50/ton to landfill them. Regarding the availability of recycling, only 50% of Americans have recycling, and of that, only 50% of materials are collected. Also, the value of a ton of mixed materials is $35, but it costs $90 a ton to process it.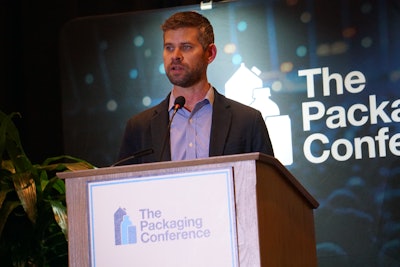 "I get a feeling of utter frustration at the current recycling system and the challenges we have today," said Schwarze. "The system is rather hodge-podge. It depends on all of the parts before it, and they all have to come together."
Described by Schwarze as "an action agent for recycling," The Recycling Partnership uses seed grants and partnerships to work with local communities to develop system solutions. So far, it has invested $250 million and has reached 18 million households with its programs. These include converting bins to carts, optimizing recycling behavior, and adding new curbside and multi-family access. Together, these programs have resulted in an additional 204 million tons of PET collected, 85.8 million tons of HDPE, and 55.2 million tons of PP.
Given that many of its funding partners are global CPGs with sustainability commitments, the partnership has estimated that 1.6 billion pounds of rPET will be needed to meet their recycled-content goals. "We're 1.1 billion pounds short, or approximately 100 additional bottles per person annually," shared Schwarze. "It's going to take time and money to get that done."
In a report released in October 2019, "The Bridge to Circularity," the partnership articulated a first-ever roadmap that identifies five major challenges to the current recycling system and provides action plans to address them. These solutions call for $500 million in funding: $250 million for industry-wide residential recycling intervention and $250 million over five years for Recycling 2.0, a recycling system of the future that will be created by advancing technology, building more robust data systems, and enhancing consumer participation.
Read related article from Packaging World:
"Roadmap Aims to Address Systemic Issues in the U.S. Recycling System"
Also last fall, The Recycling Partnership joined the American Beverage Association (ABA), The Coca-Cola Company, Keurig Dr Pepper, and PepsiCo, along with World Wildlife Fund (WWF) and Closed Loop Partners in launching the Every Bottle Back initiative. At TPC, Katherine Lugar, President & CEO of ABA, outlined the mission behind the new program: "Our goal is for every bottle to become a new bottle, and not end up in oceans, rivers, beaches and landfills. And that means we are using less new plastic."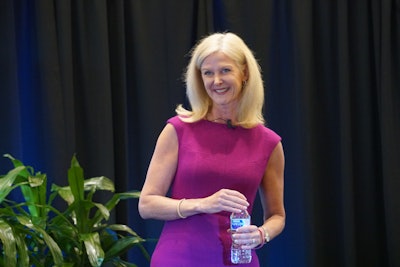 The Every Bottle Back program has three pillars, Lugar explained. The first is a significant education and awareness campaign—much of which will be done by brand owners in their own brand voice—that establishes the uniqueness and the value of PET plastic in bottles and the fact that when bottles are recycled, beverage brands don't have to use as much new plastic.
Second, the partners are working on uniform on-pack messaging to denote and distinguish that bottles are fully recyclable. "We are finishing the testing around one uniform message that you will begin to see in all of America's non-alcoholic beverages saying effectively, '100% recyclable, please give it back.' What we have found is that while certain brands may go further, having that uniform message allows people to connect the dots in a powerful way," said Lugar.
See related articles from Packaging World:
"Top Beverage Brands Commit to Getting 'Every Bottle Back'"

"Live from TPC: NAPCOR Rolls Out 'Positively PET' Campaign"

And the third is to create a fund that will focus on infrastructure improvements in those areas of the country that need it the most. "Our industry put in $100 million," said Lugar. "They are now leveraging that. We are looking for $400 million so that we can move the needle further, faster together."
Every Bottle Back began its first program earlier this year in the Dallas-Fort Worth area, where it will invest $3 million in recycling infrastructure improvements, expanded recycling access, and consumer education programs.
Alternative feedstock for rPET
Given the hurdles in collecting recycled plastic, some companies have begun innovating around alternative feedstocks to fill the rPET gap. One is Circular Polymers, whose tagline is "re·made in the USA." At TPC, company CEO David Bender told audience members that "there are billions of pounds of alternative feedstocks available." These include carpet and rugs, textiles, field turf, bottle release liners, agricultural plastics, composite decking, automobile parts, and acoustic dampening. "The issue is always collection," he added. "How do we collect outside the bin? For some of the materials, there are built-in mechanisms for collection; others will require development."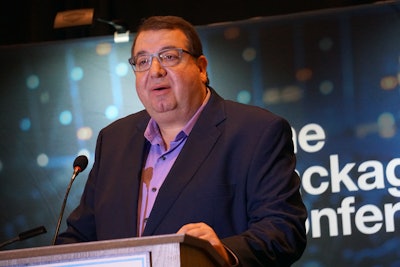 Formed in 2017, Circular Polymers is focused on transforming post-consumer carpet waste into feedstock for chemical recyclers, who then use the densified material—which Bender said has the consistency of kitty litter—to create new polymer resins for use in packaging and housing.
As Bender emphasized, carpet is plastic: nylon 6, nylon 66, PET, and PP. Circular Polymers harvests everything—carpet and padding—disassembling the product using a proprietary disruptive technology developed by Broadview Group International that has been "commercialized to unleash the circular value of reclaimed carpet fiber."
And, there's a lot of post-consumer carpet going unused. Currently 4 billion pounds of the material is landfilled each year in the U.S. and Canada. Circular Polymers is encouraging consumers and carpet installers to recycle their used or unwanted residential carpet and provides pick-up services via trailers and cargo containers in several locations in California. Its newly expanded facility in Lincoln, Calif., has the capacity to process up to 30 million pounds of carpet per year. Some of this feedstock is going to Eastman Chemical Co.'s new Kingsport, Tenn., chemical recycling facility.
Alternative recycling technologies
Bringing a new perspective to the sustainable packaging conversation, Bruce Welt, PhD of the University of Florida told TPC attendees the traditional approach of "reduce, reuse, recycle" needs to be replaced with a new paradigm focused on converting terminal packaging waste into recovered products and energy.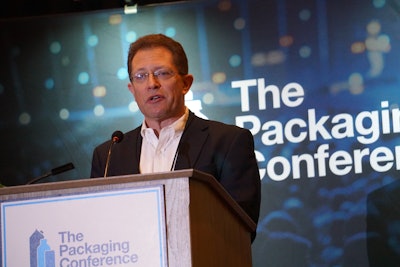 His proposition is plasma (assisted) gasification, a technology that—in layman's terms—uses high temperatures created via electricity rather than coal to convert mixed waste into metals, glassy rock, and syngas. "Plasma-assisted gasification borrows technology from the metal industry," explained Welt. "It can generate high temperatures without using the materials as fuel."
See related article from Packaging World:
"Plasma gasification closes the loop (on sustainability)"

"Plasma gasification can enable circular economy sustainability for packaging"
The syngas, or synthesis gas, produced by the process is a hydrogen-rich mixture of carbon monoxide and hydrogen that can be used as a chemical feedstock to produce hydrocarbons, biofuels, and/or plastics.
One major advantage of plasma gasification versus traditional mechanical recycling is that it negates the need for sorting waste materials. "Any carbon source can be used to convert into syngas," Welt explained. Another is that, unlike recycled polymers that degrade during processing or that can only be used for less-than-premium products, the syngas produced by plasma gasification can be converted into methanol and then to ethylene for use in new plastic packaging.
Gasification is not a new technology. There are currently more than 272 operating gasification plants worldwide with 686 gasifiers. The plants are powered by fossil fuels and are used to produce syngas as a feedstock for chemicals, fuel, and substitute natural gas. According to Welt, to produce syngas for plastics, these traditional gasification plants would require highly sorted and refined plastics as feedstock, which fails to solve the complex issues related to collection.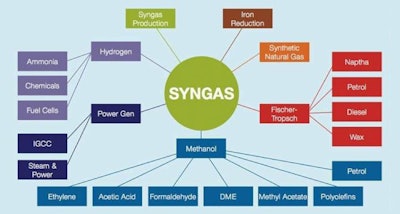 However, he added, it is only a matter of demand for chemical companies to produce plastic monomers from syngas, and it is only a matter of knowledge and will to transform our waste handling system into a robust syngas producer.
To support the development and adoption of the technology, The University of Florida has organized an industry consortium as well as a Center for Research and Outreach in a waste-to-syngas initiative with three goals: land grand university extension/outreach into communities, R&D, and demonstration and training. Said Welt, "Packaging material suppliers and users are encouraged to join this consortium in order to support development and dissemination of science-based information to the public and community leaders in order to promote adoption of plasma gasification as the best choice for communities to treat mixed solid waste."
One gasification plant pioneering the use of polyolefins as feedstock is Eastman Chemical's new Kingsport facility, which, as mentioned earlier, is being fed by processed carpet waste supplied by Circular Polymers, as well as by textiles. This strategy, under the umbrella of Carbon Renewal Technology (CRT), is one of three loops Eastman is using to recycle post-consumer materials, according to Clark Ensminger, Market Development Manager Cosmetics Packaging & Sustainability, for Eastman Chemical. "We want to make sure all of our products fall into one of these loops," Ensminger told TPC attendees.
The other two loops are mechanical recycling and Polyester Renewal Technology (PRT), which uses glycolysis (currently operational) and methanolysis (by 2022) to convert waste polyester into monomers and then into durable food containers, small appliances, and water/baby bottles. "There are a lot of areas in mechanical recycling where Eastman plays," said Ensminger. "Chemical recycling widens the types of materials that can be taken."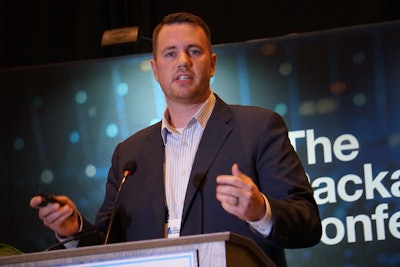 The Kingsport facility, which became operational in fall 2019, is expected to take 50 million pounds of plastics out of the waste stream in 2020, converting the materials into building blocks for plastic resins that will be used for the textile, cosmetic and personal care packaging, and ophthalmic markets.
While Eastman's CRT and PRT operations depend on mixed waste plastics, BP Global Aromatics is working with a new technology to deal with just one type of material: opaque and difficult-to-recycle (ODR) colored PET used for bottles and trays. The solution is called BP Infinia and, according to CEO Luis Sierra, it can transform these materials back into virgin-quality feedstocks that can be used to produce new PET packaging, with no degradation in quality.
Explained Sierra, the process is considered enhanced recycling, rather than chemical recycling, and uses depolymerization technology. "It opens up a whole new world of opportunities," he said. "You don't have to sacrifice the properties of PET, and it enables circularity."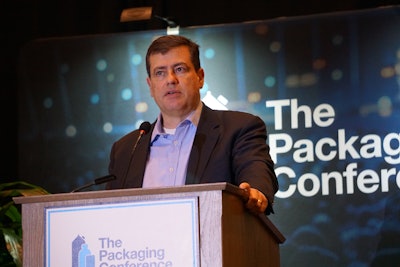 The process begins with BP's proprietary purification process, and then employs hydrolysis followed by MEG purification. "At the end of the process, you come up with PTA [terephthalic acid] and rMEG [recycled monoethylene glycol]. These are complete drop-ins," said Sierra. "We view this as a significant new business for us."
Because collection is key to the success of the technology, BP Aromatics has partnered with German waste management and recycling specialist Remondis. Other partners in the project include packaging and recycling company ALPLA, and CPGs Britvic, Danone, and Unilever.
In October 2019, the company announced a $25 million investment in a pilot plant in its Aromatics technology headquarters in Naperville, IL. "But," said Sierra, "you won't see quantities from that. Commercial scale will be before 2025. As for the location, we haven't decided yet.
"We need to make this as competitive as virgin material. It's not cheap, it takes risk, but we understand the pressure on price."
CPG takes the lead on PP recycling
Meanwhile, one CPG is taking matters into its own hands when it comes to creating enough recycled content to meet its own sustainable packaging commitments. Beginning in 2014, Procter & Gamble began researching a way to maximize the amount of recycled plastic it uses, primarily recycled polypropylene. However, there was not a clean source of PP available.
After P&G scientists developed the technology to recycle contaminated PP into clean PP, it turned it over to an external company for commercialization. The PureCycle Technologies process is a physical one that allows for "recycling by dissolution," explained Amy Waun, Senior Scientist in the Corporate R&D Division for P&G.
See related articles from Packaging World:
"PureCycle Technology Continues to Advance"

PureCycle starts with black PP (the result of mixed-color PP flake feedstock), uses a hydrocarbon solvent and elevated pressure to dissolve the PP, and then extracts the contaminants. According to Waun, there are seven major chemicals that have to be removed. Next, the polymer passes through two-stage filtration to capture polar molecules, and then is re-precipitated. This results in recycled PP materials with the same properties as virgin PP. "We are not changing the structure, which has important implications," said Waun. "The PP you put in is the PP you get out. The yellowness and opacity matches that of virgin PP, and there is less odor than even virgin PP."

PureCycle has proven the technology at its pilot plant in Hanging Rock, Ohio, where a commercial-scale facility is expected to come online in summer 2021. The plant will process 119 million pounds of waste PP and will produce more than 105 million pounds of virgin-like PP each year.
As with all recycling technologies, chemical, mechanical, and physical, sourcing feedstock will be a challenge. Said Waun, PureCycle is looking at materials from MRFs or those that don't typically pass through MRFs, such as the processed carpet from Circular Polymers. They have also used post-industrial scrap from converters. "We are looking at feedstocks that may not have a home that may be landfilled today," said Waun. "We want to catch them before they get there."

Bio-materials offer another option
Taking another route to helping CPGs reduce their dependence on virgin plastics is Anellotech, which has engineered one technology that handles woody biomass and another that relies on mixed plastic waste to create the building blocks for new plastics.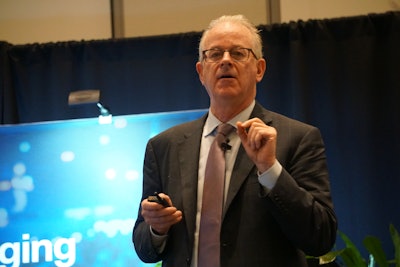 As David Sudlosky, President of CEO of Anellotech, explained—again in laymen's terms—the company, "uses trees, chops them up, uses heat and a low-cost catalyst, and goes directly to BTX [benzene, toluene, and xylene], which are used to make a number of plastics as well as some fuels." The process is called Bio-TCat™, or Thermal Catalytic Biomass Conversion.
One bio-based plastic produced by the process is paraxylene (PX), a component of PET. The other component, MEG, is already being produced using bio-materials such as sugarcane. In the case of Coca-Cola's PlantBottle, for example, the company is using 30% bio-based MEG and 70% petroleum-based PX. Since the PlantBottle was introduced in 2009, the race has been on to introduce a 100% bio-based PET bottle.
One of Anellotech's strategic partners in Bio-TCat is global consumer beverage brand Suntory, which has provided more than $30 million in funding for the development of bio-paraxylene. Anellotech has proven the technology at a seven-story TCat-8® pilot plant in Silsbee, Tex. Engineering for a commercial-scale plant for Bio-TCat began in June 2019; a second plant is also in the planning stages.
See related articles from Packaging World:
"Suntory pursues 100% bio-based beverage bottles"

"Suntory continues to pursue 100% plant-based bottle"

"100% bio-based plastic bottle is closer to becoming a reality"

Another technology used by Anellotech is Plas-TCat™, which converts a wide range of mixed plastics as well as natural materials that may come with them into the primary chemicals used to make packaging—including polystyrene, PE, PP, nylon, PET, and more. "The advantages of Plas-TCat are feedstock flexibility, high-value final products, and scalability," said Sudlosky.
To test Plas-TCat, Anellotech is using the Bio-TCat development infrastructure, including the TCat-8 pilot plant (beginning in 2021). "Getting to scale is key to the solution," said Sudlosky.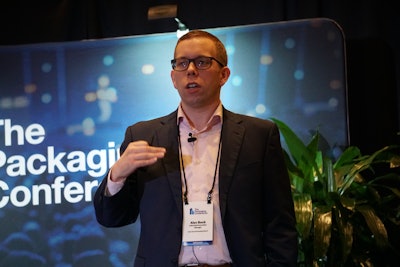 Also speaking on alternative, bio-based feedstocks was Alex Buck, Industrial Innovation Manager for the Iowa Corn Promotion Board (ICPB), which has pioneered a process for producing plant-based MEG using corn. Currently, bio-based MEG is being made from sugar cane, which, Buck admitted, gets a better environmental score than corn, "but in the U.S., you don't use corn for food, whereas you do for sugar," he explained.
Currently, Buck explained, the vast majority of corn in the U.S. goes to feeding animals. "There is a large surplus of corn. If you take the 106 billion pounds of corn sitting around, there's more than enough to meet the demand for MEG."
The process uses wet-mill glucose resulting from corn refining. "The wet mills are the true biorefineries in the world," said Buck. "All of the food aspects of the corn are still available, while we're taking the sugar and the starch. The world doesn't have a sugar or starch problem; it has a protein problem."
Industry moving in the right direction
These insights and technologies are just some of the 27 presentations at TPC that together presented a picture of an industry under attack, yet one working furiously to find solutions to address consumer concerns around the use of plastic, as well as the real consequences of plastic pollution.
In the conclusion of his presentation, keynoter David Feber of McKinsey told attendees, "We have big aspirations, but we're far from the goals. To me, and it may be that I'm just an eternal optimist, I think these aspirations are really driving change in the industry. Whether we get there or not by 2025 is almost immaterial, as long as we're on the journey to get better than we are today."

Companies in this article