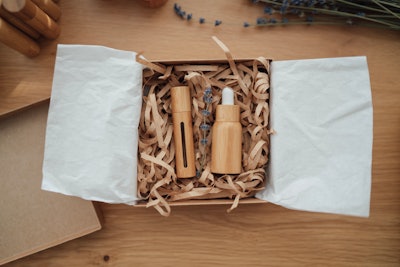 The growth of e-commerce seems unstoppable. Forbes reports that by 2026, 24% of retail purchases will be online, with the global e-commerce market expected to total over $8.1 trillion.
Yet with that expansion emerges a growing problem: packaging waste. More e-commerce packaging means that more packaging materials–shipping cases, labels, protective packaging, and inner packaging such as bags–will likely end up in the landfills, rivers and oceans.
To minimize environmental impact, brands can pivot to sustainability in e-commerce packaging by adopting new packaging options and strategies. Here are a few ideas:
Use recycled materials
Whenever feasible, aim to use more recycled materials in your packaging. Incorporating materials such as recycled fiberboard and paperboard and kraft paper with recycled content into your e-commerce shipping and packaging material helps reduce the demand for virgin materials. Be sure to boost your brand's sustainability messaging and print reminders to customers to recycle the packaging materials. Watch a free video packed with ideas on paper and bio-based alternatives to e-commerce packaging featuring Packaging World 's Matt Reynolds and Paul Jenkins of ThePackHub.
Choose recyclable packaging
Make sure that your e-commerce packaging is also recyclable. It should be made from materials that can be easily separated by the consumer and recycled into new products. In 2022, Sealed Air launched a paper bubble mailer that can be recycled in curbside bins. Another example is houseplant retailer The Sill's redesign of its shipping packaging to a more sustainable paper-based delivery that simultaneously solved problems such as shipping defects. Cellulose wadding, also used for buffering products during transport, is often made from recycled paper in addition to being recyclable. Making the move to more sustainable e-commerce packaging does not mean compromising on product protection: read how tableware brand Lenox optimized shipping packages to ship its fragile red wine glasses for Amazon's Frustration-Free Packaging requirements.
Explore reusable and refillable options
Whenever possible, make the move away from single-use packaging (plastic bags, bubble wrap) for your products. Recent innovations in reusable and refillable packaging are paving the way for new applications, but there are pros and cons to also consider. As the infrastructure for refillability continues to grow, refillable container programs will help to reduce the amount of packaging that ends up in landfills. Read our coverage of the refillable trend that is taking the industry by storm.
Adopt an emissions reduction strategy
Reducing energy costs and emissions throughout the supply chain is an overall strategy that can transform your business. When packing products, aim to use the least amount of packaging possible. This will not only reduce waste, save money but also help reduce your brand's carbon footprint associated with transporting goods. Packaging World published an overview of ABB's playbook on reducing energy costs and emissions that included input from DHL Group, available here.
Educate your customers
Today's consumers increasingly link loyalty to brands with sustainability. Let your customers know about your commitment to sustainability – right on the packaging itself. Putting a sustainability statement about packaging on your website, like Hello Fresh does, will help to educate consumers about what's recyclable in their e-commerce package. The North Face also has a prominent page explaining its sustainable packaging in retail and e-commerce.
Use compostable packaging
Compostable packaging is made from materials that can be broken down into organic matter by microorganisms to become nutrient rich soil. If adding packaging to your compost bin sounds far-fetched, read this story about some retailers who have made the switch to compostable options.
Choose sustainable shipping methods
When shipping products, sustainable shipping methods might be shipping by truck or train instead of by air. Sustainable shipping methods help to reduce greenhouse gas emissions and air pollution. For example, the makeup and personal care brand The Honest Company is targeting carbon-neutral shipping for all of its orders.
Innovations in packaging design
In the quest for sustainability in e-commerce packaging, brands that make changes in packaging design can make an impact. Examples might include switching containers formats, for example from plastic to glass or paper-based products. Even small steps can make a big difference. First steps toward a more sustainable packaging approach for e-commerce brands might be introducing sustainable options for transport, such as using air-filled cushions made from recycled materials or using biodegradable packing peanuts can contribute to sustainable practices.
Making the move towards more sustainability in e-commerce packaging is a process of continuous improvement. By regularly reviewing and optimizing packaging processes and materials based on feedback from customers, technology advancements, and industry best practices, e-commerce brands can increase their sustainability efforts and minimize their impact on the environment.