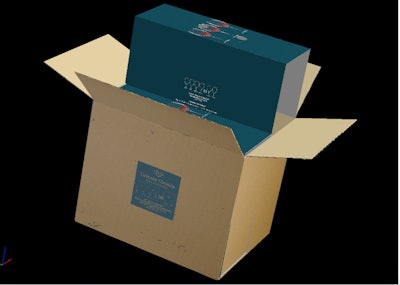 In September 2018, Amazon launched a Vendor Incentive Program, also known as its Frustration-Free Packaging (FFP) Program, to encourage brand owners to package their products in easy-to-open, recyclable packaging that is ready to ship to customers without additional Amazon boxes.
Beyond the promise of reduced packaging materials and greater customer satisfaction, Amazon provided another tantalizing incentive: an early adopter credit of $1 per newly certified unit received by the Aug. 1, 2019 deadline. Another less-inviting incentive was a $1.99 chargeback per unit for those suppliers failing to meet FFP guidelines following the deadline.
Like many of Amazon's suppliers, when Bristol, Penn.-based Lenox went into e-commerce in early 2018, it lacked an e-commerce packaging strategy. Its products, comprising high-end tableware and giftware—most of it glass—were supplied to Amazon in the company's retail packaging, which was overboxed and packed with dunnage to protect the fragile products. When sending the product to a customer, Amazon would use another overbox with dunnage, resulting in a "virtual nesting doll of packaging." Despite the overabundance of packaging, however, breakage was still occurring.
---
---
---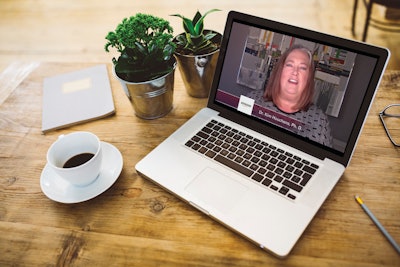 That's according to Brent Lindberg, Principal and founder of Fuseneo, Inc., a packaging design company and member of APASS—the Amazon Packaging Support and Supplier network, a group of design agencies, test labs, and suppliers selected to help brand owners design their packaging for FFP certification.
In March 2020, at Amazon's prompting and with a new Corporate Leader of Quality for Products & Innovative Packaging having joined the company, Lenox began working with Amazon and Fuseneo to redesign its e-commerce-bound packaging to meet FFP guidelines. The result is a highly engineered insert with a fit-to-size shipper for Lenox's red wine stemware, designed to eliminate product breakage and enable the product to ship in its own container, without overboxing.

Overall, the new package, which will eventually also be used for retail, eliminates 2¼ lb of packaging material, is 83% lighter than the previous package, and has 78% less volume.

Amazon identifies opportunities for optimization According to Amazon's Director, Amazon Advanced Technology – Customer Packaging Experience, Dr. Kim Houchens, since 2015, Amazon has reduced the weight of outbound packaging by more than 33% and has eliminated more than 1 million tons of packaging material as a result of its packaging sustainability initiatives. Also since 2015, it has sent more than 1.2 billion FFP shipments to its customers, and through its incentive programs, it has increased the number of products certified under FPP to 2 million.

Products that fall under Amazon's Vendor Incentive Program include those with packaging that measures 18 x 14 x 8 in. or larger and weighs 20 lb or more. To ferret out prospects for packaging optimization, the FFP team conducts portfolio assessments, looking at the size of the product, the size of the packaging Amazon puts the product in, and the number of products sold.
---
---
"We identify the most valuable opportunities for driving sustainability improvements based on packaging material weight and packaging volume reduction," Houchens says. "We also prioritize categories with the most potential for damage, which provides us with another opportunity to delight customers."
It was through this process that Amazon identified Lenox, as well as several other suppliers of stemware—a style of drinkware having a base, stem, and globe, used for wine and champagne—as ideal candidates for redesigning their packaging, as stemware is one of the most fragile product categories and one that had not seen much FFP packaging innovation. Explains Houchens, "We decided to innovate alongside several brands in this category to demonstrate how packaging that complies with Amazon's FFP standards protects the most fragile products from damage, even while reducing packaging."

When Lenox began offering its line of Tuscany-brand drinkware through Amazon four years ago, there were no specific packaging requirements; Lenox would ship product in its retail packaging, which was packed in an overbox with dunnage, to Amazon, and Amazon would add another overbox with dunnage. That's according to Amy Hughes, Lenox's aforementioned Corporate Leader of Quality for Products & Innovative Packaging, who joined the company in 2019 to focus on packaging engineering for the company and to develop its sustainability stance.

Hughes explains that when Lenox moved from shipping its products to brick-and-mortar stores on pallets to shipping products to the customer's home in a parcel shipment, it was a paradigm shift for the company. "The handling of palletized product versus parcel deliveries is extremely different," she says. "When you're on a pallet, you don't have as much drop and vibration as you would have in a single box that's on say a UPS truck and the potential for that box to get dropped as it gets to the customer. So because of that handling, it made it necessary for us to reevaluate how we're packaging our products and how we're protecting them from damage."

Fuseneo's Lindberg explains that Lenox's experience transitioning to e-commerce is pretty typical. "I think there are so many brands that sit in that space that don't have the packaging resources to isolate problems with their packaging and solve those challenges efficiently," he says.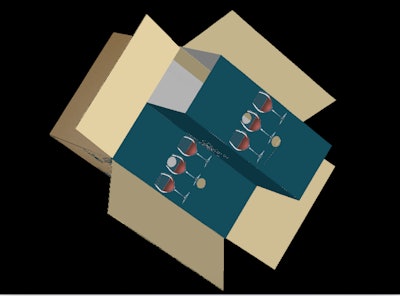 Houchens agrees, saying she believes that what keeps more vendors from converting to FFP packaging is a lack of specific expertise related to designing for e-commerce. "Amazon's APASS network can bring expertise in designing FFP packaging, especially through the lens of sustainability," she explains. "Additionally, some vendors may need to achieve a certain volume of online sales in order to justify the investment of creating different packaging for e-commerce. Brands that have the opportunity to create omnichannel FFP packages, like Lenox, are able to combine the needs of shelf-ready packages with a great online delivery customer experience. Amazon FFP provides support and incentives to vendors to come up with these creative solutions."
When Amazon and Fuseneo approached a number of stemware brands early last year about redesigning their packaging for FFP, Lindberg says "Lenox was one of the brands that said, 'Absolutely, we are itching to design something better. We just don't know where to start.'"

Iterative process leads to new package direction To kick off the project, Lenox, Amazon Principal Product Manager Brent Nelson, and Fuseneo met to analyze Lenox's volume of sales through Amazon and to identify its highest-selling products as well as its most fragile ones. "In both areas, we saw our stemware was number one," says Hughes. Of Lenox's Tuscany stemware sold on Amazon, its red wine glasses had the highest sales and the largest globe, resulting in the most damage—so that's where they started.

Upon assessing Lenox's existing packaging for its 6-ct of red wine glasses, Lindberg says the team at Fuseneo didn't find it that excessive. "It just seemed like it had some protective elements that would allow it to survive," he says.

The package consisted of two corrugated inserts, each of which held three glasses in an upright position, inside a corrugated carton. "The inserts did use a fair amount of material," Lindberg adds. "The glasses were held in there okay. We thought maybe there was some room for optimization, but it wasn't all that bad."
---
---
The challenge, therefore, was to reduce the size of a package that didn't seem to use an unnecessary amount of material, while increasing protection of the fragile glass products within, to optimize the package for e-commerce.
The first step, Lindberg says, was to get a baseline of the existing retail package through ISTA 6-Amazon.com SIOC (Ships in Own Container) testing, a test procedure within the ISTA 6 series that involves a transportation simulation cycle tailored for the Amazon distribution environment. Fuseneo provides in-house ISTA 6-Amazon.com SIOC testing and certification in addition to structural design.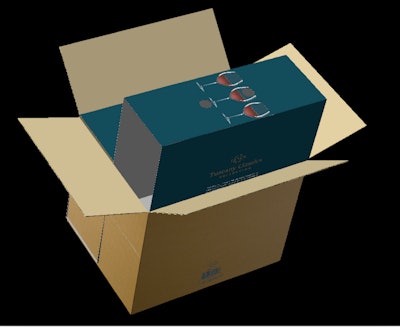 The results of repeated drop tests were surprising: While Lindberg says Fuseneo expected to see broken glass, what they didn't expect was for the damage to occur with the drinkware's stem. "We thought that maybe in a typical shipment, the edge of the bowl would come in contact with a hard surface, right? Like break through its dunnage or whatever is holding it, and impact a surface, and that was what was going to shatter the glass at its most delicate part," he says. "In reality, that wasn't what was happening at all. It was the weight of the glass of the bowl and the weight of the base that were causing a shock impact down into the stem."
The process for redesigning the packaging was an iterative one, Lindberg explains: "We started with sketches, with ideas, with thoughts, and we flushed those out. Multiple designers pitched in with different ideas, building on that brainstorming. And then we started refining. We culled some of the bizarre ideas out or brought in components of them. Then we started honing in on fewer designs. We took those designs, we tested them, we prototyped them, we broke some more glasses, we refined, we consolidated, we tested, and each time we learned a little bit more about what was causing damage to the glasses and what was helping. And we repeated that process until we had a design that was really efficient and survived the test."
One major change was the positioning of the glasses in the insert. As Lindberg explains, there's a certain sense of directionality to retail. When you put a package on a pallet, it's upright. When the pallet moves to the store, the package is upright. And, when the package gets placed on the shelf, it's upright. With e-commerce, there's no guarantee a package will go through an entire fulfillment process in a certain direction. "So why are all the products placed in the same direction?" Fuseneo questioned.
That was a consideration that came up early on in the process, says Lindberg, leading to an insert design that alternates the direction of the glasses, with two upright, and the middle glass facing downward. Two inserts, made of 200# E-flute corrugated, are used in each package to hold six glasses and are engineered to support the glasses at eight points around the perimeter and provide side isolation and top and bottom protection.
---
---
"The bowl and the stem are really isolated from one another, so the weight of the bowl is carried into the insert, rather than onto the stem," explains Lindberg. "We're also capturing the bowl and base in a way that uses less material than before and creates a much smaller footprint."
When designing packaging for e-commerce optimization, Lindberg says Fuseneo gets the package to the point where it can pass the ISTA 6-Amazon.com test—and then some—and then backtracks. "We had the Lenox package [a corrugated case with the inserts] to the point where we were chucking the package across the room, I mean, with everything we had, throwing it against the wall, slamming it on the ground," he says. "If we can get a package to pass that, then we've probably overengineered it. So then we start backing down—we start using thinner material, we start using less spacing, and we start condensing everything until we get to the point where we feel like we have a comfortable margin, but we haven't overengineered the package to require more packaging than is necessary."
Addressing unboxing
While the goal of the Lenox project was to reduce the amount of packaging to meet FFP, Hughes says there were other considerations as well. "I was looking for something that was presentable in the instance where someone was ordering the product for a milestone event, for example, like a wedding present, to where you could deliver this to their home, and it still looked as good as if you were to hand-deliver it to them," she shares.
To provide a premium unboxing experience, each insert is held in a paperboard sleeve, printed with Lenox's trademark dark teal background and the Lenox and Tuscany logos, along with illustrations of the glasses within. Round die-cuts on the side of each sleeve make it easy to remove them from the outer box, adding a touch of convenience.
---
---
"Part of the presentation, when you open that box and you see that display and the Lenox logo, is the feeling that you're getting something of high quality," says Hughes.
The corrugated shipper is kraft colored, with a small Lenox Tuscany brand logo on the side panel. "So here you have a very simple design," says Hughes. "It's very basic. I think that's helpful in the days of porch theft and packaging theft. It's not flashing to your neighbors, 'Hey, this is what I bought, this expensive stemware.'"
An all-around better package
The reduction in packaging material resulting from the redesign is quite significant. Before the redesign, the e-commerce package included Lenox's retail packaging, measuring 15.3 x 10.5 x 10.8 in., or 1,735 in.3; the Lenox e-commerce overbox, at 20.3 x 17.5 x 16 in., or 5,684 in.3; the Amazon overbox, at 26.3 x 21 x 16.5 in., or 9,112.9 in.3; and dunnage for both the Lenox and the Amazon overboxes. The new design eliminates both overboxes as well as the dunnage and reduces the amount of material used for the inserts, resulting in a package that measures 13.3 x 10.5 x 10.8 in., or 1,508.2 in.3 overall. That's a reduction of more than 15,000 in.3 of corrugated packaging.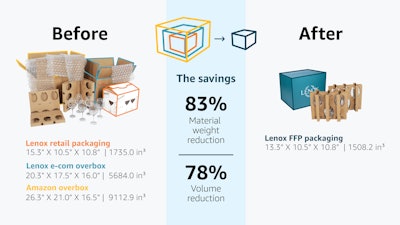 "All around, we've reduced the size and the amount of material," says Lindberg. "And this is one of those win-win stories where we were also able to improve the brand experience and create a better premium experience with graphics.
"In one direction, we've reduced the insert by around an inch and a half. And in another, we've gotten about a quarter-inch smaller, and we're using less material. The packaging weighs less and it's smaller, so it's better optimized for trucks and warehouses—it's just all around better."
Hughes agrees: "From a transportation logistics standpoint, it's a huge savings because our cubic efficiency is drastically improved." Regarding the packaging material itself, however, Hughes says Lenox isn't seeing a massive savings, because although they eliminated some materials, they also added the sleeve. What will have an impact though is no longer being charged $1.99 per unit by Amazon for packaging that doesn't meet its FFP requirements.
Cheers to a successful design
When the design for the red wine glass package was complete, Fuseneo certified it as meeting ISTA 6-Amazon.com SIOC requirements, which enabled Lenox to enroll the package on Amazon's SIOC website. At presstime, Lenox was in the process of having the packaging produced by a proprietary supplier in Eastern Europe located near its stemware factories, with the goal of rolling it out on Amazon in March 2021. It's also looking at using the new packaging system for retail as well, eliminating the need for two packaging SKUs for one product.
In the future, Lenox plans to utilize this style of packaging for other stemware products, based on product volume, demand, and the relative fragility of the glass type. Through the process of engineering the optimized packaging for the red wine stemware, Fuseneo created a formula that can be applied to all of Lenox's stemware packaging, including white wine, champagne, and martini glasses, for example.
---
---
---
In the meantime, all parties involved in the redesign of the red wine package are eager to see the new e-commerce package launch. Says Houchens, "Lenox FFP will delight consumers, because it is easy to open, contains less plastic, reduces waste, and lowers the risk of damage with its internal structure."
Says Hughes, "Amazon seems to be very excited about this. I think they can't wait for us to get this out the door and into the customer's hands. I know they really want to see this come to fruition. We share that feeling. We can't wait, and we think it will be beneficial as well that we will start to see less breakage happening. I think for me, that's the most exciting part—ensuring the quality of our product to the point where it's received by the customer."
Hughes adds that, with Lenox under new management, there's been a lot of activity around the company's sustainability goals, so "there's more to come!"
Companies in this article