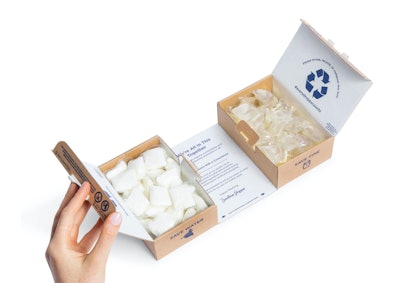 In 2012, Procter & Gamble made a splash in the laundry products market with its introduction of single-dose, dissolvable pods containing concentrated detergent that reduced the use of water from 50% to 10%. The concept was lauded for injecting some much-needed innovation into the category and represented a significant step in sustainability by a global brand owner.
But years before Tide's announcement—seven, to be exact—Philadelphia-based Cot'n Wash, Inc., introduced what was actually the first water-soluble laundry pod with its Dropps brand. In contrast to Tide's product however, removing the excess water was just one aspect of Dropps' sustainability proposition. Its formulation was also biodegradable—a rarity at the time.
Over the years, Dropps has pioneered other firsts in the single-dose detergent pod market. For example, in 2015 it was the first in the U.S. to introduce an aversive bittering agent to the capsule's water-soluble film as a precautionary measure for child safety. Despite the company's ingenuity however, the preferential treatment given by retailers to "big laundry," as Dropps founder and CEO Jonathan Propper refers to well-known brands such as Tide and others, as well as a recent saturation of green brands in the category motivated Dropps in 2017 to move away entirely from retail to an e-commerce model.
---
See it Live at PACK EXPO Connects Nov. 9-13:
Prevent Leaks, Poor Seals and Burnt Liners with a Cap Sealer Operating Window, by Enercon Industries Corporation. Preview the Showroom
Here
.
---
According to Propper, the shift to Direct-to-Consumer sales has significantly enhanced the company's ability to gather and act on insights from consumers and has further reduced its products' environmental footprint. In early 2020, the company shared that it had experienced year-over-year sales growth for the previous two years, driven exclusively by DTC e-commerce. Since its inception, the company has sold more than 50 million pods.
On Feb. 18, 2020, London-based investment firm The Craftory, which describes itself as a "cause capital, counter-corporate, and anti-traditional VC" firm, announced it would be investing $16 million in the company. Given that The Craftory invests only in mission-driven challenger brands, news of the partnership was an affirmation of Dropps' eco-conscious efforts and its growing success.
Pod packaging progression
Dropps' roots go back to the early 1980s, when Propper and his mother, Lenore Propper Schwarz, developed a detergent that would be gentle enough for the cotton sweaters they produced at their textile factory, Conshohocken Cotton Co. The first iteration, Cot'n Wash, eliminated the enzymes used in traditional hand-laundry detergents, which the company says can damage fabric fibers over time, as well as irritate sensitive skin.
Dropps' website tells the story of the next evolution of the product: "With all the stuff we took out of this new detergent, we knew we had a small wonder on our hands. Which got us thinking: 'What else can we make smaller?' Then we thought the last thing anyone needed was another huge drippy, sticky jug of detergent to deal with. So we put all the cleaning power in small, convenient, dissolvable pacs. Each is pre-measured to make laundry down-right fool-proof. You just drop 'em in the laundry. Voila! Dropps was born."
---
See these articles on packaging for concentrated laundry detergent products from Packaging World magazine:
Compacted bottle and formula pack a punch of laundry detergent
Seventh Generation's ultra-concentrated detergent uses 60% less plastic
---
The single-dose pods use a dissolvable, low/mid-hydrolysis polyvinyl alcohol membrane to contain the liquid detergent. The PVOH used by Dropps is listed on the EPA's CleanGredients database—the definitive marketplace for chemical ingredients whose formulations have been pre-approved by the U.S. EPA for use in Safer Choice-labeled products. After the pod membrane dissolves in the washer, it enters the water stream, and micro-organisms, including bacteria, yeasts, and fungi that commonly exist in water treatment plants, consume the monomers.
While Propper says he can't disclose the company's suppliers, he notes that Dropps has invested time and resources in ensuring that all its suppliers meet its high standards for safety and sustainability.
Since the pod was launched, the product's secondary packaging has gone through several iterations, becoming increasingly more environmentally friendly as the thinking around what constitutes sustainable packaging has advanced. "The original Dropps product was packaged using an rPET clamshell," shares Propper. "Then in 2007/2008, we switched to a flexible stand-up pouch to reduce plastic and create a more efficient package. One high-density polyethylene plastic bottle of traditional liquid laundry detergent equals 292 of our old pouches."
The problem with the pouch though, as Propper explains, was that its multilayer film construction made it non-recyclable. In 2011, the company partnered with upcycler TerraCycle to create the Dropps Laundry Detergent Pouch Brigade to collect pouches after use, but according to Propper, "the process was inconvenient for the consumer, adoption was incredibly low, and it ultimately led to more plastic packaging production.
"Then, in 2016, we rethought our packaging to introduce the world's first liquid unit-dose laundry detergent packaged in a recyclable, compostable, and repulpable container." When Dropps transitioned to D2C the following year, the durable construction of the corrugated packaging allowed it to double as a shipper as well, further reducing excess packaging.
---
See it Live at PACK EXPO Connects Nov. 9-13: Drum & Tote Filling For Free Flowing To Viscous Products from 5 To 500 Gallons, by E-PAK Machinery, Inc. Preview the Showroom Here.
---
Compact and clever shipper
In the e-commerce age, it's not uncommon for emerging brands to launch online first to quickly expand their geographical reach and then move to retail as their brand grows. Dropps took the exact opposite route, completely removing its products from store shelves and shifting entirely to online sales—a move that Propper says has enabled it to boost consumer convenience and sustainability.
"When third-party retailers were part of our strategy, we didn't have very much insight on consumer behavior from our retail partners. Now, we have a direct line of communication with our customers, which gives us invaluable insight to streamline the user experience and help us formulate new products," he says. "Also, the traditional third-party retail model is extremely wasteful. Quite simply put, it adds an extra layer of shipping into the supply chain. By eliminating those retailers, our product goes from warehouse to the customer's doorstep, reducing our carbon footprint in the process."
---
See these related articles from Packaging World magazine on e-commerce laundry packaging
Packaging Carries Heavy Load for E-Comm Brand Extension
Henkel shaking up detergent packages
---
Dropps detergent pods are available as a one-time purchase or on a subscription basis, for a 25% discount, and come in quantities of 64 (Single), 120 (Couple), and 240 (Family). Products are also available in bulk quantities of 804.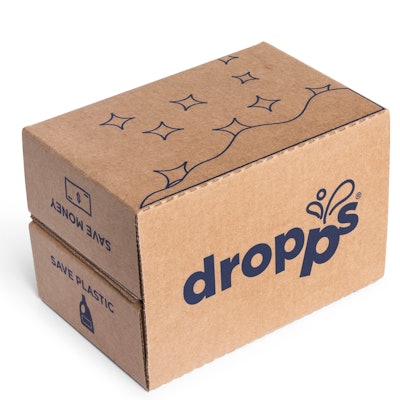 The secondary-package-turned-shipper for Dropps' 64-ct order is a unique construction of two tuck-top E-flute corrugated boxes, each holding 32 pods, that are connected at the bottom with a perforated panel. The layout of the shipper allows it to be closed like a book, with one box placed upside down on top of the other. When the consumer receives the shipper, they can separate the two boxes via the perforations for easy storage.
Despite holding enough detergent for 64 loads of laundry, the shipper is compact, with its front and back panels sized to fit a 4 x 6-in. shipping label. As noted, the corrugated material that makes up the box is robust enough that the pods can be loose-packed without the risk of damage. In addition, the stability of the pods' PVOH membrane also helps protect them in transit.
"These days, almost everything you get in the mail is double-packed," says Propper. "No one likes getting a box inside a box, and it's a huge waste of resources. That's why our packaging doubles as a shipping container."
Giving the packaging material its sustainability credentials, Dropps' corrugated board suppliers are Forestry Stewardship Council-certified, with forests certified by the Sustainable Forestry Initiative. The tape used to seal the shipper is a Kraft paper material, which Dropps chose after consumers called for the company to swap out the plastic tape it had been using previously. "We've even gone several steps further by using recycling-compatible adhesive [RCA] to ensure the [paper] tape remains recyclable and compostable after use," says Propper. "Our sustainable shipping labels are also recyclable and compostable and use the same RCA as our packaging tape." The labels' release liners are recyclable too, unlike traditional silicone-coated liners.
---
See it Live at PACK EXPO Connects Nov. 9-13: Want to learn more about packaging materials and containers, including new monolayer films and biopolymers for sustainable applications? Join us at PACK EXPO Connects to hear from a range of suppliers. Preview the Showroom Here.

---
Aesthetically, the Kraft shipper is brown on the outside and white on the inside, with copy and line drawings printed in dark blue throughout. When the shipper is open, a note from Propper with the heading, "We're All in This Together," is visible on the connecting panel. Penned pre-COVID, his message refers to Dropps' commitment to making "sustainable and powerful cleaning accessible to all." Copy and illustrations on the outer panels of the shipper read, "Save Plastic," "Save Time," "Save Water," and "Save Money," while a message on the inside of the opening flap of each box asks consumers to "Please re-use, recycle, or compost this box."
According to Propper, the driving force behind Dropps' packaging design is the digital and customer experience. "When we were in third-party retailers, we had to comply with their standards and requirements for packaging in order to sit on their retail shelf, and even then, 'big laundry' was always front and center. It was truly a hierarchical caste system," he says. "Now that our business is 100% e-commerce, our packaging is designed for efficacy and sustainability, with aesthetics being a close second.
"Our compact packaging size allows us to maximize space when it comes to shipping, and the same can be said for the end user as well. Smaller living is becoming more apparent, especially for our customers in major cities. Sustainability is a journey, so we continue to innovate our packaging, while keeping sustainability top of mind."
Not all pods are created equal
Since water-soluble pods were first introduced to the market, nearly every major brand as well as smaller players in the laundry and dish-cleaning products markets have launched single-dose detergent packs. But not all pods are created equal. Says Propper, Dropps prides itself on offering a safer, more sustainable clean than its competitors.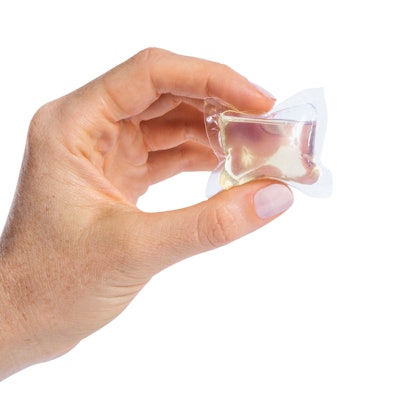 According to Dropps, in contrast to some mainstream detergent pod products that contain more than 20 different chemicals, its pods use just six natural ingredients and are free of phosphates, dyes, and nonylphenol ethoxylates (NPEs), which are toxic to aquatic life. The pods themselves are smaller too. Dropps pods weigh 10 g and use a single layer of PVOH. In comparison, many of its competitors' products weigh 25 g-plus and comprise multiple chambers filled with "water, unnecessary additives, and colorants."
In the years since it first developed its liquid laundry detergent, Dropps has reformulated the product and has developed new product lines with the EPA's CleanGredients ingredient database as a guiding resource. Dropps' products now also include scent booster and fabric softener pods for the laundry, oxi-booster pods for household and laundry use, and dish detergent pods, all in powder form.
While many eco-friendly-positioned household cleaning products have entered the market of late, Propper says Dropps' longevity in the space has been a big selling point for the brand. "The customer has more options than ever to be 'eco-responsible.' It can be overwhelming to some, especially when greenwashing buzzwords come into play," he says. "Because Dropps has such a tenure and a reputation that supports it, we have been able to maintain trust with both experienced and novice sustainable households."
In the online space, Dropps offers another competitive benefit versus its competitors as well: The company recently achieved carbon-neutral shipping status. In addition, it now offers free carbon-neutral shipping on all of its products.
Full supply chain control
For many brands, both startup and established, one of the more complex aspects of implementing an e-commerce strategy is logistics, or shipping D2C, rather than to a distributor. Instead of employing a 3PL, Dropps operates its own distribution and fulfillment center in Franklin Park, Ill., a northwest suburb of Chicago. Propper says the location was strategically selected, "as historically this region of the country has always been the epicenter of logistics because of the seemingly equal distance from end to end."
Having its own facility not only allows Dropps to eliminate one more step in the supply chain, but with the advent of COVID-19, it has also enabled the company to ramp up quickly to meet increased demand for its products and ensure worker safety.
---
See it Live at PACK EXPO Connects Nov. 9-13: Packaging equipment and materials suppliers are now offering a range of solutions to help you with your e-commerce fulfillment needs. Learn the latest at PACK EXPO Connects. Preview the Showroom Here.
---
"As of late, there has been a spotlight placed on the logistics of these massive e-commerce brands, with the welfare of warehouse employees taking center stage. However for Dropps, that has always been the case," says Propper. "Our logistics infrastructure has had to adapt and evolve to meet the changing landscape and increased demand. In addition to massively upgrading our distribution center, we have made significant investments in our logistics and warehouse staff to meet this new normal.
"Prior to being D2C, we had to trust our product in the hands of the complex logistics systems of third-party retailers, many of which have been scrutinized as of late because of the way they operate. Now that we control the entire supply chain, including logistics, we ensure that all operations are efficient and sustainable, and not just for the consumer, but also for our valued staff that are fulfilling all of these orders and successfully keeping our supply chain moving."
A risk that has paid off
Moving out of retail to a 100% D2C model turned out to be a very successful strategy for Dropps, but it was not without its risks. One of the biggest challenges, says Propper, was increasing brand awareness. "Brand discovery wasn't happening in brick-and-mortar since we were no longer on the shelf," he says. "So how do you find the consumers to whom your brand appeals if they don't walk by and pick up your product on the shelf?"
Dropps addressed this challenge by heavily investing in various digital marketing plays. "That, coupled with a vastly increasing consumer adoption of D2C/e-comm, has been our saving grace," Propper notes.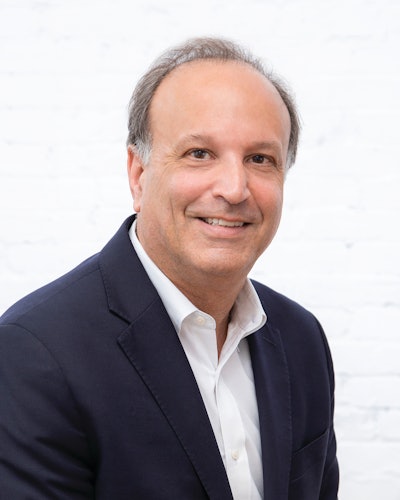 Further propelling its success has been the opportunity the D2C model has afforded the company to quickly understand and adapt to consumer behavior. Using sophisticated e-commerce tools, Dropps is able to generate consumer data, providing a glimpse into how its customers shop and what they expect.
"Big data aside, moving to e-commerce only has brought human connection back to customer service," Propper says. "When we were in traditional retailers, we didn't have the insight into who our customers were. We couldn't see how or when they bought our products, and we couldn't hear what they wanted from us. Now, our customers have direct access to us. We can see the varying nuances of laundry day from customer to customer via Instagram. We can hear how Dropps has allowed families to cut down on their plastic waste in our product reviews. We can gather feedback on how we can improve, or what we should do next via our 24/7 customer service.
"In addition to this human connectedness, moving to e-commerce has allowed us to significantly cut down on waste. We thrive in the digital world. So much so that outside of our warehouse, all Dropps staff work remote to help cut down on our carbon footprint. This has been the case for the past four years."
Moving forward, Propper says Dropps will use the $16 million investment from The Craftory to continue to broaden its product offerings, expand its market reach, and build its sustainably-focused infrastructure. "The Craftory is an ideal partner for our business, and I'm humbled by their investment," he says. "Their founders and operational team provide more than just money to their portfolio companies. In addition, The Craftory's revolutionary investment philosophy aligns well with our mission-driven values so we can maintain our triple bottom line of social, environmental, and financial impact."
Watch Dropps' cheeky YouTube commercial, "The Naked Truth About Laundry," here.
Companies in this article