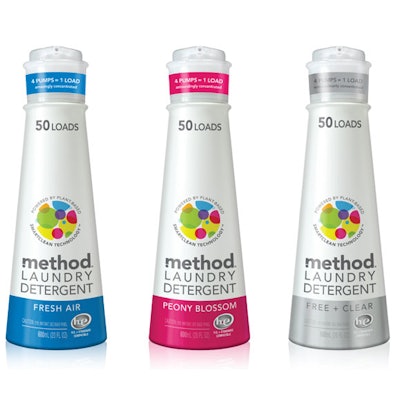 Since Unilever's launch of its category-changing All Small & Mighty 3X-concentrated laundry detergent in 2006, many major household cleaning suppliers have cut down on packaging and enhanced consumer convenience with concentrated formulas—most of them with 2X technology. Now, San Francisco-based eco-friendly Method has made a quantum leap in concentration, giving consumers an 8X-concentrated formula in a sleek, hand-held plastic pump bottle.
Method Laundry Detergent with patent-pending Smartclean Technology™ breaks design boundaries for laundry detergent products with a spare, cylindrical container that allows for easy, accurate dosing, while offering a hugely reduced environmental footprint.
"We've created what we believe to be the world's greenest laundry detergent," says Method co-founder and chief greenskeeper Adam Lowry. "We're incredibly proud of this innovation, not only because it fights dirt in an entirely new way, but also because of the incredible consumer and environmental benefits it offers."
Smartclean Technology has been engineered to eliminate the excess water that dilutes most detergents. As Method explains, the formula is designed with the water inside the cleaning agents, rather than outside, as is the case with traditional detergents. This allows the product to deliver the same cleaning power, but with one-quarter of the dose of the leading national brand.
The sleek package design and precision-dosing pump replace the traditional laundry jug and cap, "eliminating heavy, drippy, messy jugs from the laundry room," says Method co-founder and chief brand architect Eric Ryan. A standard, medium-size laundry load requires just four pumps of detergent, resulting in 50 loads per 20-oz bottle, and 25 loads per 10-oz bottle.
The new formula is biodegradable and is made from 95% natural and renewable ingredients such as coconut oils, while the recyclable bottle is made from 50% recycled plastic. Using drastically less water, plastic, energy, and oil to produce, Method with Smartclean offers a carbon footprint that is 35% lower than standard, 2X detergents, Method says.
Method Laundry Detergent with Smartclean Technology will be available in the U.S. and Canada in national retailers, in two fragrances and one Free + Clear variety, for a price of $8 for a 25-load bottle and $15 for the 50-load.
Companies in this article