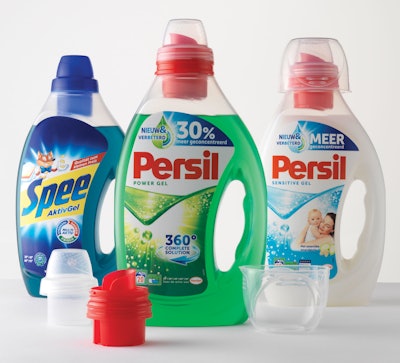 Household consumer goods company Henkel launched a new laundry detergent closure designed to function well with concentrated detergents. With the help of Weener Plastics (WP), it arrived at an appealing, functional dispensing closure that complements the newly-designed bottle. The closure is a sustainable system with good pouring behavior, is suitable for e-commerce use, and aims for optimal efficiency in manufacturing and logistics.
To meet the packaging demands of Henkel's premium brand Persil, WP developed a two-piece dispensing closure, consisting of a spout portion and a cap portion. A separate doser has been designed to be used as a dosing device or can be placed directly in the washing machine.
One of the challenges was to prevent leakage at the micro (sealing) and macro (ruptured packaging) levels, which can be an issue in transit. To overcome this challenge, a soft sealing element was integrated in both closure parts to ensure tight sealing during transportation. The product has been tested and approved for highly demanding parcel delivery requirements.
It's important to note that Europe's International Association for Soaps, Detergents, and Maintenance Products is pushing for more concentrated liquids in the European market. By shipping less of a more concentrated products that last as long as the larger, heavier products that simply have a higher water content, and by reducing packaging material needed, environmental impact is reduced.
Henkel is on board with minimizing environmental impact of the laundry process, and concentrated detergents are now in greater demand. This requires smaller dosing volumes and corresponding packaging formats. Henkel & WP carried out extensive testing to arrive at an ideal pouring behavior. This smart spout design helps consumers to dose accurately and enables them to empty the bottle completely after the last usage.
Regranulated resin packaging for laundry detergents
Another Henkel aim is to create more value for consumers while reducing its own environmental footprint. To reach its stated goal of becoming three times more efficient by 2030, what it calls its "Factor 3," the company will have to improve its efficiency by an average of 5 to 6% per year. Henkel turned to Mondi to help find a solution for incorporating more of its scrap plastic into a highly functional but aesthetically pleasing flexible laminated packaging material.
Henkel began selling its Megaperls powder dishwashing pods in the resulting flexible package, called a Quadro Seal Bag, that consists of an OPP/PE laminate. At present, 30% of the package's PE layer consists of industrial waste reclaimed from Mondi's factory in Halle, Germany. That means the overall package structure contains approximately 10% reground material.
Given the technical challenges involved, both companies recognize this as an important initial step to helping ensure that such consumer packaging meets the environmental needs of a more circular economy. Considering the Megaperls package requirements—a shiny white exterior, an easy-peel opening, and no compromise in overall functionality—this is already a significant achievement for a thin, flexible OPP/PE laminate. But the two partners have much more ambitious goals.
The resulting end product offers these environmental benefits: Virgin resins are replaced with regrind material and the product's end-of-life recycling process is simplified as the OPP/PE laminate structure consists entirely of polyolefin materials.
"Our packaging developers work constantly to design smart packaging that uses the least amount of material possible, is recyclable and incorporates more recycled material," says Dr. Thorsten Leopold, Head of International Packaging Development Home Care, Henkel. "Mondi provides us with valuable technological expertise to implement a more sustainable solution for some of our laundry and home care product packaging."
Companies in this article