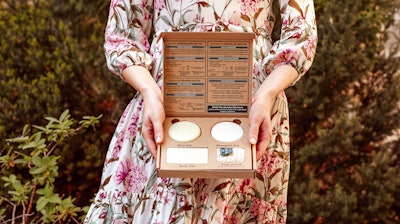 Henkel's organic-certified beauty brand N.A.E. (Naturale Antica Erboristeria) is piloting an e-commerce project in cooperation with Amazon. With reduced packaging material and optimized supply chain methods, the brand says the program further enhances its commitment to sustainability. Naturale Antica Erboristeria is Italian for "natural traditional herbalism." At least 97% of the ingredients are natural in origin, including lemon, mandarin, thyme, grape-seed oil, and rosemary. With its plant-based tubes and recycled PET bottles used in other of its products, the brand says it is a frontrunner in sustainability.
In cooperation with Amazon, the brand is now launching a plastic-free product packaging system. The N.A.E. Solids Box, a ship-ready carton is composed of printed E flute corrugated with Kraftliner cardstock, and with an inlay of the same material to hold and display the product. Each box contains a solid face, body, and shampoo bar, as well as a reusable cloth pouch for the soaps. The pouch is unique to the e-comm product package, and is designed to complement the soaps as a complete gift pack.
"We are very pleased that we were able to realize this project together with our partner Mondi," says Euan Dykes, Packaging Engineer at Henkel Beauty Care. "The pandemic has presented us with challenges, but we were nevertheless able to develop the new packaging for N.A.E. in a timely fashion. We were very satisfied with the flexible and professional cooperation with Mondi."
Reduced packaging inside and out
In the Solids Box, the three bars come "naked," without any additional plastic film encasing them. By printing instructions, ingredients, and all other messaging on the corrugated carton itself, there's no need for an additional pamphlet, booklet, or insert, thus saving paper. The pack is double-sided printed with green over a white and the inlay is single printed in green only.
"Both the box and the inlay are made from the same E flute grade," says Dykes. "Any thicker grade would be challenging to fold, therefore we decided on this solution. The flat boxes are printed and die-cut at Mondi and shipped to local level co-packers, where the boxes are hand folded, products hand placed, paper tape sealed, and placed on a pallet ready to ship. All boxes are manually folded and held together with tangs and cutouts based on the Fefco 0427 design and Mondi's expert design team. A paper tape is used to seal the box providing tamper evidence for the satisfaction of our end consumer."
Packaging material is being reduced outside the box as well. The corrugated packs are ready for shipment without using any secondary packaging from Amazon, so it's deemed SIOC-ready (ships in own container). The corrugated is entirely Forest Security Council (FSC)-certified.
Only an address label, to be affixed by Amazon, is needed so that the cases, which fit into any regular mailbox, are ready to be sent to consumers. Plus, the packaging is considered "frustration-free" meaning that it is easy to handle and–more importantly–that all its materials are 100% recyclable. The plastic-free packaging and water-reduced formulas of the solids make this project a great example of accelerating sustainability, the company says. - PW
Companies in this article