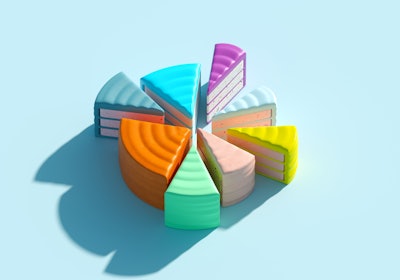 On Tuesday, Mara Devitt, Senior Partner at retail consultancy McMillanDoolittle, addressed the ISTA Forum to talk about what leading companies are doing to prevail in 2021 and beyond.
She summed up her talk with a quote from Charles Darwin, "It's not the strongest of the species that survives, it's not the most intelligent, it's the one that's the most adaptable to change."
Adaptability to the recent pandemic and the forced changes the industry has encountered are the basis of the key areas she discussed. She also posed the following questions for the future:
· Does COVID usher in a new age of contactless experiences?
· Will it raise the bar overall for food safety, sanitary standards, and safety for all of our products that are delivered to our consumers overall?
· How can we use that as a differentiator?
· Will this create a shift in culturally accepted norms and practices that are going to sustain into the future?
· What are those practices and how do we adjust to those in our business?
Commitment to Customer and Employee Wellbeing
This trend means putting real measurable processes and tools in place, such as air purifiers, sanitizing any surface that can be touched, new forms of packaging, and individual purchase sizes.
Devitt said, "We believe that health-minded buying (vitamin supplements, skincare, etc.) will remain well beyond the pandemic…and if we look to China as a leading indicator, because they're a couple months ahead of us in terms of this pandemic, you can see that a full 80% said they're going to continue to pay attention to eating healthy after the pandemic. So, this is going to have a real impact on the assortment decisions that retailers are making and what they're going to include and emphasize and sell."
The new shift to working from home – at least part of the time – will also have a significant impact on store portfolios for retailers that serve customer populations in office-based or office space settings.
---
---
The Reality of Societal Values
Devitt said that some retailers have really taken a value stand, and research shows that consumers expect them and approve of them taking a stand. "We did a global research study that looked at the attitudes of consumers towards sustainability and values-based retailing issues, and we found over 80% were demanding sustainability, social responsibility, and transparency from brands and retailers."
44% of consumers choose to buy products from companies they feel are aligned with their point of view on sustainability or values. While this stance has remained consistent with millennials, said Devitt, the largest change was with the baby boomers and older generations who are becoming more thoughtful or more influenced by these issues in their purchase decision. "This is especially true in the US where 59% of consumers say it will be best for the future if brands and retailers actually take an active part in social environmental or political issues. So, our companies are also measuring this and understanding that it is in their best interest to take a stand."
---
---
Increased Focus on Packaging
The increase in e-commerce has increased the number of packages delivered to the doorsteps of consumers. Devitt said consumers are becoming much more aware of how products are delivered them, the packaging, and questioning the utility of the packaging. "We believe this is an opportunity for brands, especially, to differentiate themselves in the market. And we're already seeing companies beginning to do this. So, look at packaging as a potential differentiator," she said.
---
---
Ways Retailers are Winning in 2021 and Beyond
Value. "The pandemic has really impacted our economy differently," said Devitt, "We're calling it a k-shaped recovery, where the wealthier portion of our population, as well as technology in large-cap firms, are coming through this either unscathed, or actually better than before the pandemic. Smaller businesses, cyclicals, and lower-income workers have really struggled. So, if you look at some of the financial pain points that have occurred during the pandemic, you see a significant portion of the lower, and even the middle-income, had to use money from savings or retirement to pay their bills." These challenges paying bills have also caused food insecurity for some. "If we look back at 2008 recession," continued Devitt, "it can give us some clues about who is going to be winning and what the impact is going to be as we move through the pandemic timeframe. Back after 2008, discount retailers and dollar retailers thrived. And we're seeing that again - stores opening in that value retailer range. So, the elements of value we see that are going to be more pronounced are price - being the lowest retailer with the lowest sustainable cost; having a 'treasure hunting' environment - focusing on newness or unique products, even within that individual price points."
Experience. Before the pandemic, said Devitt, experience and winning an experience was a key lever that retailers were focused on. Examples such as Nike House of Innovation and other big flagship experiences, or malls that were destination experiences, and retail experiences that focused on being together, lingering, collaborating, being with your friends, being in a crowd and experiencing the brand. Devitt said we're seeing a shift away from large crowds to a customized experience, or appointment setting to come in and have one-on-one personalized engagement rather than crowds of people.
---
---
From Commodities to Curation. Commodities are retail settings where the consumer has a lot of self-service options. One example Devitt cited is a footwear chain, where the consumer goes into the store to 'treasure hunt' and touch the product and try it on in the aisles. The curation model is the consumer calling ahead, or selecting products online, then being met at the store to try on, have alterations, and to have a stylist suggests new items.
From Lingering to Learning. Rather than hanging out in a retailer such as an Apple store, consumers shift to appointment-based events, where they sign up ahead of time and are focused on education or how to use the product or service that is being offered.
From In-Store Experience to Digital Experience. Devitt used as an example Sephora, "which is the high-touch beauty brand, where the store experience is really about sampling and trying on the product. And now they've shifted that experience and use of technology to be able to experience those products anywhere, literally on your phone."
From this, new channels have emerged such as social selling (Instagram as an example,) as a new way to purchase and experience the brands. Also, the rise of live commerce such as Walmart, which has collaborated on TikTok. Devitt said these "live channels are really bringing a unique and live experience to selling that takes it away from the traditional broadcast home shopping experience."
---
---
Extreme Convenience. Devitt said, "When we think about convenience, it's really about taking the friction out of the experience, making it contactless, which has certainly been the buzz word of the last year. Retailers are doing this by leveraging technology, moving to subscription services, offering delivery and pickup options. You've seen these expand really exponentially during the COVID time period. We believe the shift to online shopping, which is often one of the most convenient ways, will remain a sticky behavior."
Micro Fulfillment Centers. Localized centers that are focused on picking and packing efficiently to serve the needs of a local customer. According to Devitt, they have low startup cost, lower overhead costs, and are highly automated. "And the bottom line is they're offering faster last mile delivery as they can be built inside existing stores and in more densely populated urban areas. This is a key impact on the future of what a store looks like, because we believe that the store of the future is not necessarily a store. We believe that it's going to function primarily as a local distribution center. If you look at Hama in China, their stores already are focusing 80% on fulfilling e-commerce orders and servicing only 20% of walk-in customers."
Companies in this article