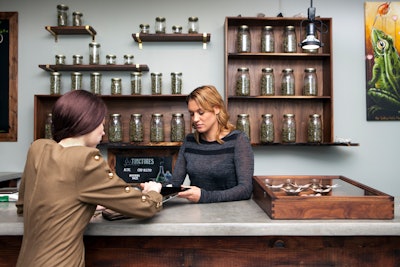 According to a report by Marijuana Business Daily, Seattle-based cannabis analytics firm Headset found that 67% of cannabis baskets with a flower purchase contained no other cannabis product types. Data was collected from California, Colorado, Nevada and Washington state in 2020.
Consumers who purchased pre-roll, concentrate, or vape pens also stayed with those particular product types over 50% of the time. Beverage consumers, however, usually purchase more than one product type.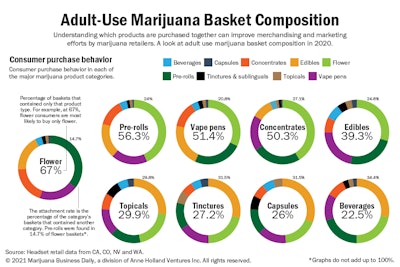 When consumers did combine products, certain trends emerged. Pre-rolls, vape pens, concentrates, and edibles were usually combined with flower or pre-rolls; while topicals, tinctures, capsules, and beverages were often combined with edibles or flower.
This information – which also tracked into January of 2021 – can be used to help manufacturers expand their brand into new categories; or help retailers position products that are most likely to be purchased together on retail shelves, offer specials that combine desired categories, or educate consumers about other products.
Here is the breakdown of buying trends when products were combined:
Beverages: Edibles, flower
Capsules: Edibles, flower
Concentrates: Flower, pre-rolls
Edibles: Flower, pre-rolls
Flower: Pre-rolls, vape pens
Pre-rolls: Flower, vape pens
Tinctures and sublinguals: Edibles, flower
Topicals: Edibles, flower
Vape pens: Flower, pre-rolls
---
---
New for 2021! Get your FREE download of the 46-page Packaging for the Cannabis Market PDF, which includes Packaging World's latest cannabis packaging coverage such as:
• Short Run Labeling for Regulation Management

• Track & Trace for Regulatory Consideration

• Package Design & Structure

• E-commerce for Cannabis

Also included is PMMI's White Paper "Cannabis Market Update: Unique Packaging Challenges for THC and CBD Products" with information on cannabis markets, industry outlook, product, packaging, and machinery considerations, and the role of contract packagers. Get your download below.