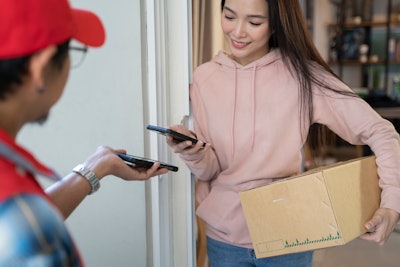 Direct-to-consumer (DTC) shipping models are creating new challenges and considerations for traditional secondary packaging strategies. According to a report by PMMI Business Intelligence, DTC requires increased durability for secondary packaging during distribution; causes challenges due to click-and-pick purchasing models; and creates concerns regarding security and tracking of products. It is also expanding secondary packaging to a reimagined role in the overall consumer experience.
And, 45% of manufacturers interviewed see enough current and future e-commerce business to warrant a separate line dedicated to producing, packaging, and shipping products exclusively for online channels, making this investment area one of future growth.
Packaging Durability
When manufacturers ship DTC from their production sites, secondary packaging must be highly durable as packages traveling through the DTC supply chain are handled an average of twenty times more than retail products. Customers routinely say that product integrity is a top concern, with a report from DHL citing 50% of online shoppers would not consider reordering from a vendor if they received a damaged product. This importance is not lost on manufacturers, as 50% of interview participants said they are looking to increase the durability of their secondary packaging.
Some are even taking packaging durability a step further by converting the primary package into a format suitable to serve as the secondary package during distribution. In this model, the primary and secondary packaging models are replaced with a single packaging option that is attractive enough to serve as the primary package, yet durable enough to survive the rigors of distribution. This model is seeing growing adoption, with 40% of participants exploring the concept of converting their primary package so that it can serve double duty as the secondary package during handling.
Click-and-Pick
Consumers now have an expectation that their orders will be rapidly and accurately filled when shopping online, and as a result many DTC models rely on bin picking, which is processed in real time as orders flow into the operation. Many of these picking operations have relied heavily on manual labor, due to the complexity of assembling larger orders.
Companies engaged in e-commerce and DTC are looking for new automated solutions that are flexible and innovative, such as autonomous guided vehicles (AGVs) to roam the plant floor and deliver products/materials (40%), and integrated, smart conveying systems that allow for more accurate control of the flow of products in an operation (20%).
Different secondary packaging formats such as box-on-demand or right-sizing are also being considered to increase speed and improve packaging efficiency. In this model corrugated boxes are produced to fit selected products with minimal dead space on the inside of the package, reducing the overall material used to create the secondary package and eliminating the need for extra filling material. Of participants interviewed, 25% are exploring this option.
Automation
Because of labor shortages and a need to accommodate the differences in distribution channels, CPGs predict using more automation across their plant.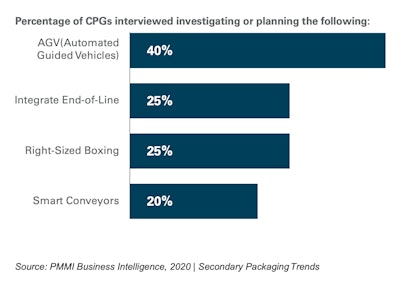 ---
---
Security
When shipping products directly to the consumer, manufacturers must ensure that the package makes it to its destination intact, and 45% of participants indicated that they are exploring how to expand their track and trace and visual inspection capabilities for individual packages.
Comprehensive smart technology track and trace systems with traditional secondary formats (such as corrugate) can contain RFID or NFC-enabled components to provide tracking features. Some packagers are exploring the addition of environmental sensors on their secondary package to communicate to the consumer that their product was never exposed to extreme environments. Stickers that change color when exposed to temperature extremes or physical trauma can be affixed to the outside of the secondary package, demonstrating the integrity of the product contained within before the consumer even opens the package.
Defining Brand Experience
While secondary packaging has traditionally been aesthetically unimpressive, DTC shipping has placed a greater focus on the previously neglected outer container as a branding tool.
The concept of "Unboxing" – the moment in which a consumer opens the box and removes their product – has become more important in the era of e-commerce, particularly if shared through social media. Now, companies are reevaluating the design of their secondary packaging, to ensure that the customer unboxing experience is positive and memorable.
Features such as highly decorated interiors, novel and innovative formats/closures, and the inclusion of personalized messages are becoming expected components of a branded secondary packaging strategy.
Download this FREE report below.
Source: PMMI Business Intelligence, "Secondary Packaging Trends"