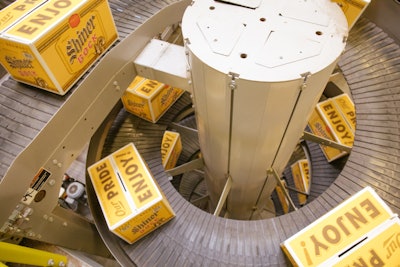 If you were to ask craft brew aficionados across the U.S. which beer they associate with Texas, Shiner Bock would certainly be a top vote-getter alongside a few select peers. But while it might be the most nationally recognizable beer brewed by 111-year old Spoetzl Brewery of Shiner, Texas, the company now produces a balanced portfolio of beers with one to fit any season. All are sold and marketed by The Gambrinus Company of nearby San Antonio. The first and oldest among Shiner varieties is the original recipe, the venerable Shiner Premium, which still sports its original cold-glued label instead of too-polished p-s labels. In fact, all the beers produced at Spoetzl use vintage cold glue labels as a tip of the cap to the classic bottled beer format.
---
See it Live at PACK EXPO Connects Nov. 9-13: Use Your Packaging for End-to-End Connectivity Across the Supply Chain, by Systech International. Preview the Showroom Here.
---
The Shiner Bock variety itself spans seasons, with a medium amber hue and malty flavor that makes it as palatable in a Wisconsin winter as it is in the Texas heat. But brewers at Spoetzl couldn't ignore their local clientele of gulf-coast sun-lovers seeking lighter, refreshing alternatives to darker bock-style beer. Over the years, the brewery added a cross-section of IPAs, lagers, and wheat beers, many featuring Texas ingredients like Fredricksburg peaches or Texas pecans, designed to pair with a beach instead of a fireplace. The range of primary containers these new beer varieties are packaged in is no less varied. The company now runs 12-oz glass bottles, 12-, 16-, 19.2-, and 24-oz cans, and is adding sleek 12-oz cans in August, 2020. All are or will be available in multiple pack sizes.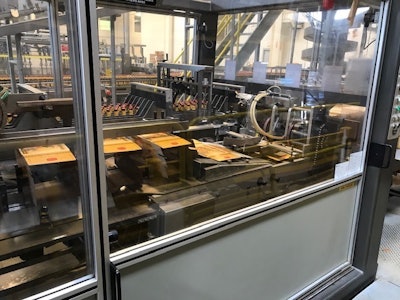 "We're at a little over 60 SKUs, and with all the different brands, all the different variety pack combinations, and all the different formats and sizes, we're talking 350 to 400 pieces to the puzzle for ingredients, packaging, and so on," says Tom Fiorenzi, Director of Brewery Operations. "This is a town of 2,000 people in South Texas that enjoys a packaging and brewing operation that is absolutely incredible, on par with anyone in the world. We're running bottles at 1,200 per minute, and we have a smaller can filler, just to match up with the bottle rate, that does 950 per minute."
Changeover for complex case-packing formats
With the variety of formats at Spoetzl, changeovers could easily be a headache. And with the brewery's long-existing lines of sturdy, dependable, highly mechanical, but less flexible secondary packaging equipment, they still can be. But recently, Spoetzl added a new secondary packaging line with a high degree of both flexibility and simplicity to handle a wide swath of SKUs with fewer tools and less operator time. This was especially important for the cartoning and case-packing functions, given the corresponding variety of paperboard cartons and wraps.
---
Interested in brewery automation? Packaging World has you covered with the annual Craft Brew Packaging and Processing Innovation Special Edition. Below are links to some stories in the Special Edition, as well as a few others from larger breweries that might interest you:
---
"On our new line, changeovers mean we have to refit some equipment, but it's not complicated," says Fiorenzi. "We really spent a lot of time and a lot of design effort when we put the line in to be able to handle all of that. Our side-load multipacker, the QuikFlex™600 from Graphic Packaging International (GPI) —that's the key to the newer packaging line. That QuikFlex 600 had to be able to do all the different combinations of paperboard bottle cartons from 12-, 15-, 18-, to 24-pack configuration.
---
Video of Spoetzl Brewery in action
"It also allowed us to do cans in fully enclosed cartons," he adds. "A lot of people in the craft brewing business are turning to HDPE or other plastic can handle carriers. But we know we didn't want to do that; what we really wanted to do was some more advertising. And with the Graphic Packaging QuikFlex 600, we were able to do all the paperboard cartons for all the different can formats, including 6-, 12-, 18-, and 24-packs. For foodservice and institutional vendors, like for ballparks or sporting venues, we even have a SKU for what I call our 'billboard pack' of 24 16-oz. cans. That one really has some weight to it, but it's not designed for retail. It features a micro-perforation on the side so that beer vendors at a stadium can easily open the paperboard carton wrap and fill their coolers." The multipacker may be the star of the show in Fiorenzi's eyes, but let's review what's upstream to set the stage.
---
See it Live at PACK EXPO Connects Nov. 9-13: A Guided Tour with Sales Engineer Paden Tufts, by TopTier Palletizers. Preview the Showroom Here.
---
'Old school' fillers shine
Spoetzl's packaging line is a bulk glass line, meaning the brewery is committed to bulk inputs coming in ahead of the filler. There, a depalletizer from KHS liquid filling machinery is able to unload both cans and bottles. Glass formats include a proprietary 24-oz. bottle and a more typical amber-colored 12-oz. bottle. Cans—all printed, no brightstock—are commonly run in 24-, 19.2-, 16-, and 12-oz. sizes formats. After depalletizing, the line splits to convey containers to one of two in-line KHS fillers, one for cans, the other for bottles, but both container styles are sourced from Ball. Prior to entering their respective fillers, bottles pass through a rotary rinser and cans pass through a twist rinser. The company hasn't moved to ionic air blades for rinsing thanks to a sustainability-minded water recovery system that eases the water input costs.
The 144-head KHS volumetric bottle filler is followed immediately by a KHS crown applicator within a monoblock filling enclosure, keeping oxygen pickup to a minimum. Cans are filled on a 74-head volumetric filler from KHS. The canning system is paired with a seamer from Pneumatic Scale Angelus, a BW Packaging Systems company that Fiorenzi was familiar with from his days as a brewmaster at Anheuser-Busch in St. Louis (he left in 2012). He selected the Angelus seamer due to strong confidence in the equipment itself, a deep institutional knowledge of the equipment among the brewery's employees, and positive relationships with local Angelus reps that Fiorenzi trusts for service and aftermarket support "When we look into equipment purchases, we always do it backwards. What I mean by that is we look at who's going to be maintaining the machinery long-term, and what those individuals are like," he says. "Because even though you can show me a nice machine feature, whether or not the thing's going to run every day is the big question. I want to make absolutely sure that I can get someone local on the maintenance side of things. Also, relationship-wise, you want to maintain a lot of these partnership as much as you possibly can because it makes a difference when you're talking running OEEs [overall equipment effectiveness] of 85 to 95%. If you want to run above an 85% OEE all the time, you need to have quality people to maintain it."
Both fillers, Fiorenzi says, are fairly old-school in that they are highly mechanical and don't rely on servo or electromechanical controls. But the beer quality he is able to get out of these more traditional fillers makes up for the lack of IIIoT whizz-bangery. Efficiencies that could be gained with a "state-of-the-art" filler take a back seat to the quality he can achieve with traditional mechanical fillers.
---
See it Live at PACK EXPO Connects Nov. 9-13: Enabling PET Packaging Recyclability, by UPM Raflatac. Preview the Showroom Here.
---
"Both fillers actually run at about a +10 or +15 part per billion [PPB] in total packaged oxygen [TPO]. To me, that's state-of-the-art from a quality standpoint," he says. "If you can brew your beer to 10 PPB TPO, and then get it into the can or bottle at a 25, that's just absolutely fantastic. So, we do even better than that, and our freshness is through the roof as a result.
"A lot of brewers forget that to make this great beer, you do all this work up front," Fiorenzi adds. "But if you can't put it in the can, bottle, or keg [without good oxygen pickup numbers], you're wasting your time. The quality is never going to be better than when it is in the tank. So, you're trying to get that quality beer into the container as quickly as you possibly can, and as efficiently as you possibly can. For quality, oxygen is your number-one enemy."
Vintage labels favored over slick modern p-s
Filled and seamed cans exit the monoblock, and after another quick water rinse and an air blade or two to dry them, they are conveyed to secondary packaging stations in-line. Bottles, though, still require labels. Upon exiting the KHS monoblock, bottles enter a Krones liquid filling, capping, and labeling labeler where a stack of die-cut printed labels are glue-applied to each filled, crowned, and dried bottle. Laser coding from Videojet inkjet and laser coding and marking systems is used for bottle coding and marking. On the other line, cans are marked with inkjet printers, also from Videojet.
"Partially because of the age of the brewery, we haven't moved into pressure sensitive labels on bottles," Fiorenzi says. "When we put this new line in, we had a lot of conversations about doing so. But at the end of the day, we wanted to show the heritage of the bottle, and it started with a real paper label. We wanted a paper label to represent our history. And there's been so much work with paper labels recently that the quality is fantastic. We just never could justify the pressure sensitive label application—p-s labels look fantastic, but they are expensive at twice the cost for the machinery, and twice the cost for converting. So with traditional paper labels, we're able to focus on the heritage of the beer. It's a retro look that fits, so we like it a lot."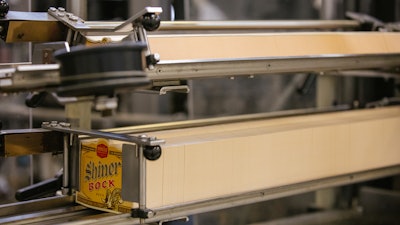 Old and new options for secondary packaging Leaving the labeler, bottles are diverted into one of two routes. They either are conveyed to the production facility's box shop or to the new GPI multipacker. In the box shop, six-pack bottle inserters from Wayne Automation, corrugated mother-carton erectors from Pearson Packaging Systems, and a rotary drop packer for six-packs and loose 24-packs from Hartness case packing equipment keep the lines fed with the appropriate secondary packaging on specific SKU runs. These older, mechanical pieces of equipment are still running strong, and as mentioned above, Fiorenzi has a soft spot for mechanical equipment because it's repairable, it's easy to maintain, and it's easy to teach maintenance techs how to take care of it. If not conveyed to the box shop, bottles (or cans from the can filler) are diverted to the newer line with the GPI multipacker. Fiorenzi was no stranger to multipackers when he and Spoetzl commissioned the new line. At Anheuser-Busch, he used a multipacker and got familiar with its capabilities and flexibility.
"Even though Shiner did not have that many SKUs at the time we were adding the new line—we hadn't even thought about going to an 18- or 24-pack—we were looking at what would give us the most flexibility. We wanted flexibility not for the time being, but also for 10 years into the future. We asked ourselves 'What was the thing that was going to make a difference for the company down the road?' And as a result of what we've done, we were able to provide a number of SKUs to some of our big off-premise accounts to be able to offer a lot of selection in the retail cooler there that we would never even thought about being able to do in years past."
---
See it Live at PACK EXPO Connects Nov. 9-13: Increased Performance by monitoring your inkjet coder's vital signs, by Videojet Technologies Inc. Preview the Showroom Here.
---
The old and new secondary packaging machinery lines work well in concert. The full dual-line system is set up so that, at any one time, it is either producing six-packs, 12-packs, or multipacks, but they're all of the same beer variety coming out of the bottle filler.
"Say we're on one brand of beer. We can kick over and run the six packs of that brand on conventional machinery while we're doing a conversion over on the multipacker. And as we finish the conversion on the multipacker, we kick back over—and it's just one real quick swing—to start running the multipacker and run that product without ever having to change the filler. And then, if we need to make another conversion to do something different on the multipacker, we kick back over to the more conventional machinery and start making six-packs again. We can jump back and forth with the same beer on the filler and do these conversions on the fly. That gives just fantastic OEE, even though we're doing all these packaging changes on the backside. This piece of equipment was what allowed us to go from the 20-odd SKUs when I started to the 60-plus we have today."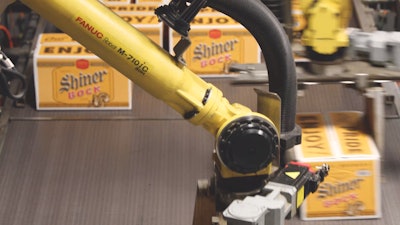 End-of-line packaging consists of an ultra-fast (1 case/sec) twin-robotic palletizer from Fanuc robotic palletizing, as supplied by KHS. An inline KHS tray packer does reside inline immediately above the palletizer, but it is only employed in the case of 12-pack cartons that tend to slow the robotic palletizer. The line ends with inkjet lot coding and dating, and finally a Lantech stretch wrapper.
Variety pack capability
Given its better than 200% growth in SKU count in recent years, Spoetzl saw a fresh opportunity to make the most of its increasingly varied portfolio, and maybe attract a fresh set of beer drinkers, through a variety-pack offering. Craft brewers know that variety pack lines are a tough proposition for a host of reasons—from keeping cold inventory of many different beer varieties, to ensuring the product mix remains consistent while being hand-collated, to finding smart enough technology to do what a human operator could do.
But thanks to another multipacker, this time a QuikFlex™200 also from GPI purchased in 2017, plus three KHS-supplied robots capable of depalletizing beer and "reading" the beer varieties that they handle, Spoetzl and Fiorenzi were able to tackle the variety pack format with comparative ease.
"We went with the 200 for the same reason why we went with the 600—flexibility to handle both current and future formats. Even though we didn't have a variety pack process down yet, we knew we'd grow into it and use a lot more of the machine's flexibility. And what's always been interesting about GPI is the fact that every time we come up with a new SKU, format, or variety pack, they're capable of doing it."
Beers destined for variety pack operations with the QuikFlex 200 and robots are filled, "loosely" case-packed into mother cartons, and palletized on the conventional packaging lines described earlier. These loose pallets aren't designed for shipping or logistics, so they don't eat up too much material as they only travel from the end of the main packaging lines to the variety pack room right next door.
There, a six-lane bottle infeed, "manned" and fed by the three robots, conveys robotically collated beers to the multipacker. With six lanes feeding into a six-pack basket carrier or 12-pack mother carton, virtually any combination of collated beers is possible within the multipacker, though six-packs of 3 x 2 (three sets of two beers) or 6 x 1 (six different beers) are probably most common.
The three robots pick and place bottles into the six-lane infeed from six different unloading stations carrying the loose pallets on conveyors. Each of the six pallet conveyors can hold three pallets at once, so when full, the variety pack station churns through 18 pallets of beer, exporting curated variety packs to return to the main lines for true end-of-line palletizing. Compared to hand-labor, the robots are programed to pick at 10 to 15 cases/min in a fixed, repeatable collation pattern, and in a limited-space environment.
Of course, beers filled on the mains line that are eventually bound for variety packs need to be loosely packed into erected mother cartons to get them onto a pallet and over to the variety pack room. Interestingly, the mother cartons they are initially packed into are variety pack cartons, printed with all of the appropriate variety pack messaging and decoration. When they arrive at the variety pack room, these loosely packed mother cartons are depalletized by the robots, then conveyed empty around the six-lane collation infeed and QuikFlex 200, to a standard drop packer just behind the multipacker on the line. That way, no mother carton material is wasted in the process of loosely palletizing, depalletizing, then re-case packing in the drop packer. Later, the variety pack mother cartons are sealed, date-coded, palletized, stretch wrapped via a Lantech machine, and headed to the shipping room.
"We actually built this variety pack system ourselves," Fiorenzi says. "We got a local robotics company involved with it, and we're actually still working on it ourselves, and always fine-tuning the system with these local folks. We decided to take that on ourselves because we really could not find anybody to do it for us, at the time. That's probably been the biggest issue in the industry right now, is being able to manage those variety packs, and we do it with a reasonable amount of labor. We could always make them by hand, but then your cost of goods just goes through the roof. That's been a little trick of ours, our capability to be able to do that. And the key for a lot of it has to do with the speed and you just keep the speed reasonable, we do 10 cases/min, and you can do a lot of things."
Cans' popularity precipitates line change
At press time, strong consumer interest in cans is leading Spoetzl to a change in the variety pack line. The robotic pickers, designed for bottles, are being replaced by a more can-friendly system that includes leasing yet another QuikFlex 600, this time for the can variety pack operations. "It should arrive by January 2021," Firoenzi says. "We need the QF 600 for ease of changeovers between bottles and cans and possible additional SKUs of each. We will evaluate the production needs in January and might keep the QF 200 if we have the demand for another variety pack line." -PW
Companies in this article
Videos from Graphic Packaging Intl.