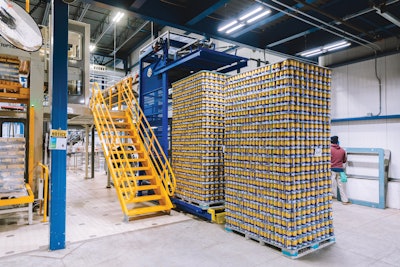 Like plenty of other craft brewers, the folks at Allagash Brewing Co. watched with interest over the past few years as aluminum cans grew in popularity across the country. Wondering if it was a container format that they, too, should have in their portfolio, the Portland, Maine, firm invested in a small, in-line, five-head filler and seamer to "dip our toes in the market," as Engineering Director Sean Diffley puts it. He continues.
"We're very quality conscious here at Allagash, and we wanted to make sure we could produce a quality product in a can before investing heavily in canning operations. Total dissolved oxygen remaining in the can, that was the measurement we were focused on. We wanted some prior knowledge of canning before adding
The brewery's flagship beer in both 12- and 16-oz formats.on to the building and putting a high-volume can line in."
What happened? Predictably enough, cans took off. Consumers, retailers, and wholesalers all responded enthusiastically, to the point where the five-head filler just wasn't able to cut it anymore. "So we pulled the trigger on a can line that runs 300 cans/min," says Diffley. "It handles 12-, 16-, and 19.2-oz cans. It's in an 8,000-sq-ft expansion to our bottling hall. That allowed us to reposition the secondary packaging equipment of the existing bottling line so that both canning and bottling lines run parallel and they merge at the full case conveyors. Due to labor restrictions we don't run both lines simultaneously—not yet, at least. But there's room to split the end-of-line equipment eventually.
"We installed the new line ourselves and provided our own integration services. But Ska Fabricating Products provided a lot of help in terms of line design. We also bought our conveyors through them, including the ionized air twist-rinser."
Both the conveyors and the rinser were made by A&E Conveyor Systems https://ae-conveyor.com/. The can depalletizer is from Ska, and just ahead of that is a piece of equipment from Ska that bears serial number one.
Pallet infeed system
"It's a pallet loader," says Diffley, "that lets us queue up a full pallet of empty cans in an infeed system that will then automatically index that next pallet into the depalletizer rather than waiting for a fork lift driver to do it. It's one more way of making sure we keep the filler running and don't starve it of cans somehow. We were the first to install one of these systems from Ska."
The 27-valve filler plays a key role in permitting Allagash to reach its 300 cans/min operating speed.The KHS Innofill Can C filler was selected, says Diffley, for several reasons. First, both the filler and the seamer are made by KHS in Wisconsin. That made it easy enough for Diffley and colleagues to reach mechanical, electrical, and controls technicians at KHS to absorb information from them first-hand, something they greatly appreciated being able to do. There was also considerable flexibility on the part of KHS to build equipment having whatever footprint and number of filling and seaming stations that Allagash wanted. It was a KHS 27-6 system that Allagash selected—27 filling nozzles and a six-head seamer.
Also in place is an automatic can-end feeding system from CSW . "It holds something like 15,000 ends and feeds them to the seamer automatically," says Diffley. "Otherwise an operator has to put a sleeve of ends into the seamer every two minutes or so."
Full cans are inspected by a Heuft Prime X-ray system and date coding on the bottom of the cans is done by a Markem-Imaje ink-jet coder. "We have their ink-jet coder on our bottling line as well as on the low-speed canning line we installed, and we've been very pleased with both," says Diffley. "The Markem-Imaje coders seem able to operate efficiently in the slightly wetter environment that you'll find in our brewery. Our cans are a little wetter because we actually warm our beer in a double heat exchanger and add yeast and sugar before filling so that the beer is conditioned in the can as opposed to force-carbonating the beer. It's a way of carbonating naturally in the can, which gives you a better mouth feel to the beer."
Borrowed from Belgium
Allagash is one of a handful of breweries that carbonate this way. "It's a traditional Belgian way of bottling that we just moved across to canning," says Diffley. "When I mentioned to most of the companies whose filling systems we were considering that we fill at upwards of 24 degrees Celsius--when most beer is filled at three to four degrees Celsius—some balked. But fortunately the KHS engineers were willing to work with us on it."
An automated end feeder frees up operators to perform more meaningful tasks than putting a sleeve of ends into the seamer every few minutes.
Most of the cans Allagash fills are printed by the supplier. But for smaller-batch beers, unprinted bright stock is ordered and those cans go through a Model Pro-516 high-speed wraparound pressure-sensitive labeler from Pack Leader.
At this point cans are multipacked in one of two ways. Most of the 16-oz cans run through a PakTech system for application of a plastic handle that groups the cans into four-packs. The four-packs then are conveyed into a tray packer from Design Machine & Manufacturing that puts six four-packs into a corrugated tray.
The 12- and 19.2-oz cans, on the other hand, usually are multipacked in 12-count paperboard cartons on a QuikFlex 300 System from Graphic Packaging International. Two cartons are then put into corrugated trays on the DMM traypacker.
"The cost of the DMM machine was attractive," says Diffley when asked what led to that firm's equipment being selected. "But a lot of their competitors at the same price point were only able to do 15 trays per minute. We needed 21 trays per minute, so that made DMM even more attractive."
Hytrol case conveyors after the DMM machine link up with an existing spiral conveyor that leads to the overhead case conveyance system. Eventually the filled cases wind up back in the vicinity of the depalletizer and move into a TopTier palletizer with an integrated stretch wrapper. Diffley arranged this end-of-line section in such a way that both the bottling line and the canning line feed into the same palletizer/stretch wrapper, depending on which package format is in production. The TopTier system, he adds, is a concurrent palletizer/stretch wrapper. "It applies stretch wrap as it builds layers," says Diffley. "It's a pretty slick system."
The QuickFlex 300 System is used frequently for cartoning of 12- and 19.2-oz cans.In looking back at the brewery's entry into cans, Diffley sums it all up this way. "There was good planning and we had good vendors to work with. It's paying off well."

Companies in this article
Videos from Graphic Packaging Intl.