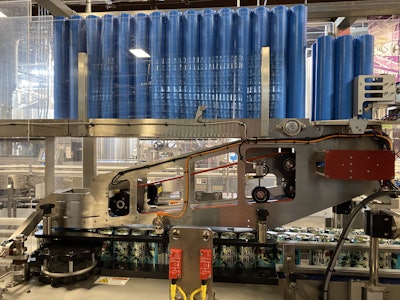 Established 10 years ago in Chicago's Logan Square neighborhood, Revolution Brewing is now the largest craft brewer in Illinois and the 39th largest craft brewer in the nation. While beer is still brewed in the original brew pub on Milwaukee Ave., packaged goods for retail distribution are produced in a former warehouse a few miles west that the brewery has occupied for about eight years now.
While "packaged goods" used to mean glass bottles, it doesn't any longer. Today the only packaging format used by Revolution, other than kegs of course, is cans--in 12-, 16-, and 19.2-oz sizes as well as in larger crowlers. "About four years ago we brought in a used canning line but quickly outgrew it," says Chuck Zadlo, Chief Operations Officer. "The filler was an in-line linear variety. Not only is it slower than rotary options, it also presents more opportunities for oxygen to be present in the can."
So in 2018 a new canning line was installed, anchored by a 40-nozzle KHS Innofill Can DVD counterpressure filler and an Angelus 6-station seamer. "Now we fill volumetrically from bottom up," says Zadlo. "And right before filling begins, a vacuum is created in the can by evacuating all the atmosphere out with CO2. Then as the beer flows in it also acts as a plunger to force atmosphere out. And just before the can end goes on in the seamer, it gets one last burst of CO2 and then the end is double-seamed on. It's a big improvement where Total Package Oxygen is concerned."
Upstream from filling is an Intelligrated overhead depalletizer that sweeps layers of cans into a discharge conveyor that gradually narrows the cans down to a single file. Can bottoms get a date code from a Videojet ink-jet coder.
"We place a strong emphasis on just-in-time packaging and distribution," says Zadlo. "Typically our beers have a 120-day shelf life. We want our codes to be very visible and readable by the consumer. And we work closely with our distributors to manage their inventory of our cans. In fact, we don't actually accept orders from them. We provide them with a sales order recommendation and we do this to help them manage their days on hand to maintain freshness in the market. It works for us and it works for them because it's a way of making sure our beer is as fresh as possible when it reaches people."
Ionized air rinse
At this point cans are ready to descend down to the main floor for filling. They do so by passing through a Gatling GunR twist rinser from Entech Fabrications. The insides of cans are hit with ionized air to remove any dust or particles that might be present.
The 40-nozzle filler with integrated six-station seamer operates steadily at 400 cans/min. Shown far right in this photo, a Gattling Guntwist rinse hits the insides of cans with ionized air to remove any dust or particles that might be present.One recent addition to the line that sits beside the KHS filler is an unwrapping and feeding system for aluminum can ends from CSW. An operator removes the paper wrapping from rolls of ends at an ergonomically comfortable level and places them in a V-shaped chute. The chute holds multiple rolls at a time, so the operator can load 20 or 30 minutes' worth of ends and then turn to other useful tasks rather than constantly minding the task of feeding rolls of can ends to the seamer every few minutes. Once the ends are in the chute, the CSW system automatically delivers them up to the infeed immediately above the seamer.
As cans exit the filler/seamer block, they get rinsed and then dried by an air knife. An x-ray inspection system from Heuft checks for fill levels, and then comes a junction in the line leading either to plastic carrier handle application on a PakTech CCA 440 Plus or to cartoning. Application of carrier handles has been seriously upgraded since the line first went into production.
"We had an older PakTech applicator on the previous canning line," says Zadlo. "Even though it must have been serial number zero, when this new line went into production we used it. But it quickly became clear that we needed considerably more capability on a line running 400 cans/min. So a little less than a year ago we installed the Model CCA440+ on-demand applicator." In doing so, Revolution became one of the first to put the newly developed applicator to work.
Designed for applications where throughput is on the high end, the CCA440+ accepts up to 440 cans/min and can surge to 500+ when needed. A Panelview Plus HMI and CompactLogix PLC, both from Rockwell, are featured.
A notable feature on this machine is the way it lets the operator fill up an overhead conveyor queue with stacks of can carriers. Its capacity is 3,000 cans worth of production, so an operator can load it up and then ignore it for a considerable period of time before having to replenish it with more stacks of can carriers. Stacks of carriers are conveyed into the machine and drop into the feed station. Here a combination of pneumatic and mechanical devices separate the bottom carrier from the stack above and permit it to drop onto a group of six cans. The carrier then gets pushed onto its group of cans.
Other supplier contributions that make the CCA440+ operate include a stainless steel conveyor with Intralox modular conveyor chain that brings cans into the PakTech applicator, Sew Eurodrive drive gear motors for this conveyor, a Bodine inverter duty gearmotor that drives the conveyor on which queued-up can carriers sit, ultrasonic and through-beam sensors from Banner Engineering, and Festo pneumatics.
Lighter carrier handle
Especially appealing to Zadlo is the newer, lighter handle that the brewery now orders from PakTech. "It's thinner, so it lets the consumer release a can more conveniently," says Zadlo. "And being thinner and lighter, you can fit twice as many handles on a pallet, so I don't have to order as frequently."
This palletizer discharges full pallets into a rotary stretch wrapper that brings the line to a close.Out of the PakTech system the multipacks are conveyed through a U-turn and then travel a considerable distance before reaching a KHS Innopack Kayat TP50A tray packer. It sends groups of four multipacks into corrugated trays that it also erects from flat blanks. Hot melt adhesive is applied by a Nordson unit, the flaps are tucked closed, and the finished trays are conveyed to a spiral conveyor from Ryson that takes them up to an overhead conveyor.
When carrier handles are not being applied, cans bypass that machine and go directly to a Switchback cartoner that does anything from a 4-count to a 24-count paperboard carton. Downstream from the cartoner is an ink-jet coder from Videojet that applies lot and date code information to each case. Cartons exiting the Switchback machine are conveyed into the KHS traypacker for secondary packaging just as the multipacks with carrier handles are.
All that remains is palletizing on an Alvey 780 from Intelligrated followed by stretchwrapping on a Wulftec system.
The majority of Revolution's aluminum cans come in from Crown preprinted. But MOQ (Minimum Order Quantity) requirements make it more practical to apply labels to bright stock on beers that are produced in smaller quantities. Revolution takes care of its labeling requirements in two ways. Sometimes pressure-sensitive labels are ordered from Pamco and they are applied offline on a PackLeader labeler. Other times, label converter Lucky Clover Packaging applies full body shrink sleeve labels and sends them to the brewery.
As Revolution prepares to observe its 10th anniversary, Zadlo is looking forward to continued growth. Additional cartoning equipment, among other things, is on the list of things to investigate.

Companies in this article
Videos from Nordson Corporation