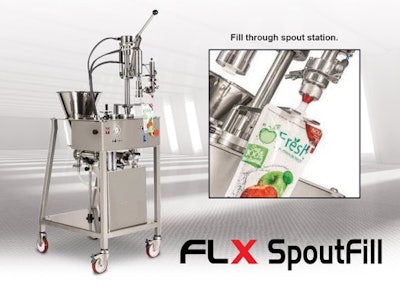 The unit is a semi-automatic filling and capping machine for spouted pouches. This spouted pouch filler is a precision, high-quality machine solution which is ideal for pilot plant, lab and R&D to establish filling characteristics, test market samples and limited production runs. It is designed to meet a growing need for a reliable system for filling and capping spouted pouches.
FLX SpoutFill machine is compact, economical, and simple to operate. It is built with corrosion resistant washdown to an IP65 standard. This semi-automatic air-driven machine is suitable for filling and capping flexible pouches (with a pre-applied spout) with liquid/semi-liquid products. The FLX filler can fill viscous products containing soft particulates or pulp and it is suitable for hot filling (100 deg.C).
In addition, FLX SpoutFill Machine produces a reliable, efficient, safe pouch packaging machinery solution. The machine accommodates a fill volume from 250 ml up to 1 liter (optional), the pouch style is standup with pre-applied top or corner spout (with carrier slot) and the output is (5-6 ppm) based upon 250 ml volume.
Companies in this article
Videos from ALLIEDFLEX Technologies, Inc.