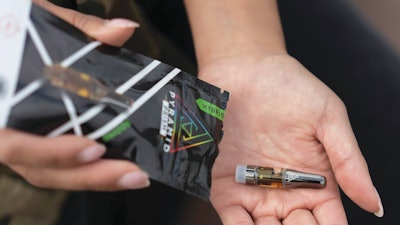 In 2015, Jake Berry and Coley Walsh founded Pyramid Pens, which now operates under the Loud Labs umbrella, a brand selling various formulations of cannabis oil packaged in cartridges that could be used in a host of vaping devices. Using the well-regarded CO2 extraction process, the partners began formulating unique strains and flavors of THC and CBD oils for vaping. In fact, the brand's innovative attitude toward packaging caught our eye back in 2019, read about what they were doing then, and see how far they've come in what follows.
Today Loud Labs markets its Pyramid Pens line of cannabis formulated oils packed in cartridges and pods in Colorado and Michigan and is setting the stage for future expansion into other states. Expansion is a complex process of navigating each state's individual laws and sales environments. The company offers a total of six oil formulations, each with its own characteristics of potency and flavor, concentrates, distillates, and CBD/THC combinations. The company also offers lines of infused pre-rolls and edibles.
Vape devices, which come in many different shapes, sizes, and technologies, all rely on cartridges filled with oil. Cartridges typically feature .3-, .5-, or 1-g of oil, depending on the type of device. Filling needs to be accurate for the optimum allocation of an expensive oil.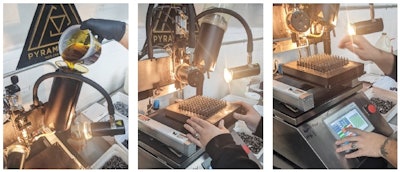 "We would have kilos of compounds coming out of the extractor," says Berry, CEO. "The compounds would then be mixed into our various formulations to create our unique offerings. And then we sat with small syringes to laboriously draw the oil out of flasks and dispense a specified volume into a cartridge."
As cannabis oil cools it becomes more viscous and harder to draw and accurately dispense. This oil is sticky, and difficult to work with and clean up. The process of drawing and dispensing via syringe is physically and mentally taxing, not to mention slow and wasteful. Plus, each formulation has a different viscosity that changes the force on drawing and dispensing. Barry says that at best 100 to 200 cartridges per hour can be filled by a diligently working team member. As popularity for the Loud Labs' formulations increased, the speed at which orders were fulfilled decreased. There was simply too much filling needed in too short of time.
"We wanted to grow a business utilizing our best insights into product development, the market, and customer needs, not spend a big part of the workday filling cartridges by hand," Berry says.
Loud Labs needed a better way to produce a competitive and affordable product, while maintaining high quality. Automating the process seemed a potential solution. It is important to note, however, that since the industry was in its infancy, automation solutions, good ones at any rate, were not as common as they are in established industries.
In 2018, Berry and Walsh became familiar with Thompson Duke Industrial of Portland, Ore., a wholly owned company of Portland Engineering that's dedicated to the manufacture and support of automated solutions for filling and capping cannabis-based vape cartridges and pods.
"One thing about designing a cannabis cartridge filling machine that we knew was extremely important was solving the issue of variable viscosity of the oil," says Chris Gardella, CTO, Thompson Duke Industrial. "Cannabis oil does not behave like any other fluid. Each oil formula will have a different native viscosity. Some formulations may be so thick that the oil will not pour out of the jar at room temperature."
Gardella says that to facilitate the flow of oil, the material must be heated. The temperature has to be controlled precisely, however, as too high a temperature may damage key components of the oil, while too low of a temperature reduces the flow. Another consideration is that some formulations must be dispensed gently, or they can be damaged.
The Thompson Duke cartridge filling machine features an oil path that involves a heated reservoir and short tube running to a stationary dispense head. In this path, a pneumatically controlled actuator raises a syringe plunger, drawing in a specific volume of oil. A second actuator lowers the syringe to an empty cartridge, and the plunger is depressed by the actuator. An automated X-Y table, which holds a matrix of hundreds of cartridges, accurately positions each cartridge in turn under the dispense head. Thompson Duke standardized on Festo pneumatic and electric components and systems for its machine based on part availability, quality, and support.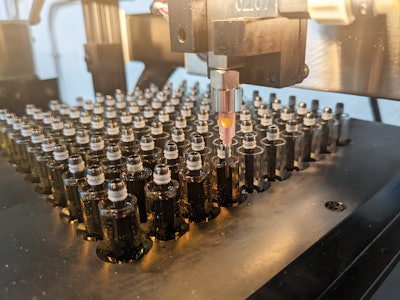 "Another design consideration is that each oil formulation will dispense at a different speed and as the oil warms it can be dispensed faster, which means speeding up and coordinating the X-Y table with the dispense head," Gardella says. "Complicating this already complex process is the fact that the vaporizer device industry is moving toward many different cartridge configurations."
Knowing the handling properties of Loud Labs' formulations as well as they did and listening to the Thompson Duke personnel describe the design characteristics of the company's patented IZR automated filling machine, Berry and Walsh thought they were talking with a vendor that understood their needs.
They were excited about the potential of an industrial grade system capable of filling 1,000 cartridges per hour, which would mean a single machine could do the work of at least four employees with higher accuracy and less waste. That level of throughput would be a game changer for the company not only in the number of cartridges filled and rapid response to orders, but also in labor savings. The business owners learned that Thompson Duke machines offer changeover from one oil to the next in less than 60 seconds, a benefit for a company like Loud Labs with multiple formulations.
Thompson Duke added two additional facts to the discussion. The company was dedicated to technical support. Customers were assured of world-class support after the sale. Furthermore, Thompson Duke's software made operation of a complex process simple for operators. Berry and Walsh purchased a Thompson Duke IZR automated filler as quickly as they could.
Expansion and diversification
"In the cannabis industry, consumers look for trustworthy brands—brands that deliver consistency in product quality and a range of options," Berry says. "Today Pyramid Pens offers six different pure, potent, and clean cannabis oils packaged in cartridges compatible with any 510-battery vape device. It offers five different types of Pax Era pods, and three different reloads and disposable vapes. All of these are filled by state-of-the-art Thompson Duke automatic filling machines. Furthermore, Loud Labs has streamlined its manufacturing by automating the process of moving empty cartridges from shipping cartons to the tooling used on a machine's X-Y indexing table. The company has also added a Thompson Duke LFP press for capping cartridges."
Automation removed the physical constraints associated with manual processes, allowed for rapid turnaround times on orders, and provided precise quality control. Prior to implementation, a large order might take up to a month to fulfill, whereas now large orders can be filled within days.
"By partnering with Thompson Duke Industrial, Loud Labs has realized a rapid return on investment, bringing speed, efficiency, quality control, and cost-effective solutions to its manufacturing floors," says Berry.
"There are three takeaways from Loud Labs automation experience," adds Walsh. "Cannabis is a material with unique properties. The vendor community must develop automation and packaging solutions specifically for cannabis or at a minimum be prepared to significantly modify systems to accommodate the performance characteristics of the materials.
"The second takeaway is that this is a new industry. Cannabis companies will benefit from ease of use and high levels of support. And lastly, electronic record keeping, traceability, and Good Manufacturing Practices that conform to FDA-level regulations in equipment and process may, in the not-too-distant future, be required. Suppliers and end users must be ready for this."
In the meantime, both Berry and Walsh says they are continuing product development, looking for ways to automate, exploring expansion into new states, and most importantly focusing on giving thier retailers and consumers a quality brand, one they can rely on.

Companies in this article