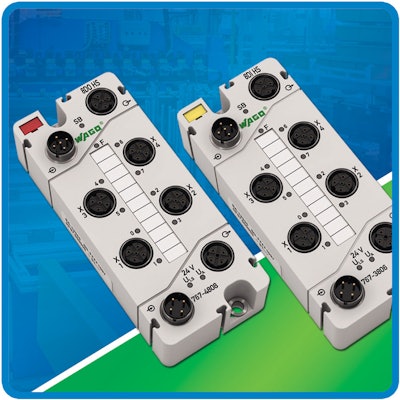 The 767-3806 8DI, 767-4808 8DO (0.1A) and 767-5401 DIO (0.2A) modules are engineered for the "hard, real-time" requirements of motion control-based automation. Companions to WAGO's SPEEDWAY Sercos Coupler, the modules support high-speed packaging sensors and actuators, e.g, solenoids/valves (output modules) and proximity switches (input modules).
The new machine-mount SPEEDWAY modules connect to actuators via four shielded M12 ports that prevent EMC interference. In addition to inversion, simulation and diagnostics, WAGO's high-speed I/O modules feature the following configurable functions:
• 8DI module with filter (10, 25, 50, 100 and 200µs, 1 and 3ms, as well as "filter OFF").
• 8DO module with substitute value strategy and manual mode.
• 4DIO module with operating mode, counter, filter, substitute value strategy and manual.
About SPEEDWAY 767:
The machine-mount SPEEDWAY 767 I/O-SYSTEM processes 1000 instructions within 150 microseconds — ideal for cabinet-free automation. Utilizing a fieldbus-independent platform, SPEEDWAY Ethernet controllers (IEC 61131-3 programmable) and couplers, as well as DI, DO and DIO modules support harsh-environment applications. SPEEDWAY accommodates up to 64 modules per node with a maximum 1,650 foot node extension.
 
Companies in this article