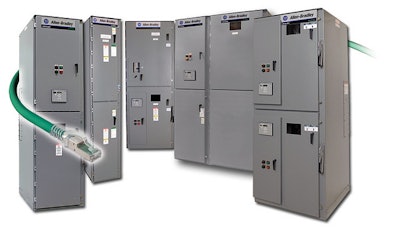 Rockwell Automation has announced the addition of EtherNet/IP to its medium-voltage Allen-Bradley CENTERLINE motor control centers (MCCs). With the features of an integrated EtherNet/IP network, manufacturers now have access to production information throughout the enterprise and can take advantage of simplified device programming with Premier Integration.
"We are excited to extend our portfolio of EtherNet/IP-enabled MCCs to include medium voltage," said Jeff Nolan, product manager, Medium Voltage MCCs, Rockwell Automation. "As with our low-voltage MCCs, EtherNet/IP integration allows customers the ability to access more detailed production data, allowing plant engineers to predict potential problems and help prevent equipment failures. This ultimately results in higher asset availability and reduced maintenance costs."
Leveraging a single, standard network simplifies communication for the entire enterprise and provides users with the flexibility to control, configure and collect data from any point in the system. In addition, by taking advantage of Premier Integration, users can configure and commission their MCC faster with Rockwell Software Studio 5000 engineering and design environment, helping to eliminate errors associated with redundant programming.
Furthermore, the Ethernet connection allows CENTERLINE MCC users to access information remotely. This lets personnel safely monitor, troubleshoot and diagnose the MCC without exposing them to potentially dangerous conditions and power equipment. Knowing how an MCC is performing from anywhere
also saves time by minimizing the need for maintenance personnel to enter the MCC. This involves suiting up with personal protective equipment to help protect personnel from exposure to hazardous conditions.
With embedded Allen-Bradley IntelliCENTER technology, CENTERLINE MCCs use a pre-configured and pretested network with integrated hardware and software. This level of integration helps reduce installation time with its plug-and-play setup, and can help minimize facility downtime by quickly providing intelligent diagnostic and predictive failure information.
Companies in this article