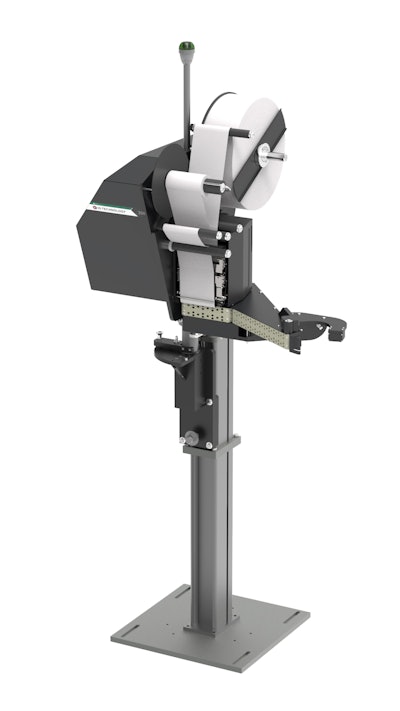 ID Technology, a ProMach product brand, used PACK EXPO Connects to help introduce their new Model 258 print & apply label applicator with CrossMerge™ technology. Designed for labeling cases and trays with GS1-compliant barcodes and alphanumeric text at very high speeds, the 258 applicator improves print quality and barcode readability while massively easing use with its unique one-button operation.
"Our patent-pending CrossMerge technology allows us to decouple print speed from line speed and rotate the print head to change print orientation. This increases line throughput while decreasing print speed to simultaneously maximize packaging line output and enhance print quality," said Mark Bowden, Vice President of Sales & Service at ID Technology. "Our next-generation Model 258 labeler also simplifies operation. Single-button functionality and the ability to easily swing the applicator from its running position to its service position and back make the 258 perfect for less trained operators in high turnover environments."
Unlike traditional tamp or feed-on-demand print & apply labelers that must produce linear barcodes in the non-preferred 'ladder' direction to apply GS1-compliant labels in landscape orientation, CrossMerge prints barcodes in the preferred 'picket fence' direction and applies labels in landscape orientation. CrossMerge technology enables the 258 label applicator to produce more readable barcodes with crisper edges to ensure the best scores when verified.
By rotating the print head, the 258 applicator can print a 4x2 label to apply a 2x4 label, which optimizes the conditions for both barcode printing and label application. This facilitates 50 percent more labels on the roll, running line speeds up to 50 percent faster and/or achieving 50 percent greater print head and print engine life. The 258 applicator maximizes uptime and minimizes the total cost of ownership while enhancing print quality.
Dedicated to labeling cases and trays, the 258 applicator prints and applies labels 3.5 to 6 inches (90 to 152 mm) wide and 1.75 to 4 inches (45 to 100 mm) in length to cases and trays on packaging lines running at speeds of up to 190 feet (58 m) per minute.
Compared to traditional print & apply labelers that require the printer to pause while the tamp pad is traversing, CrossMerge decouples print speed from line speed. Using a vacuum belt to transfer labels from the print engine to the point of application, the Model 258 applicator allows multiple labels to be on the vacuum belt at the same time and enables the system to start printing the label for the next product without delay. The all-electric design features a fan-based vacuum generator – it requires no factory air.
Together, the high-speed vacuum belt, which transfers the labels, and the carbon fiber blades, which finish the label application to cases or trays, minimize moving parts to further reduce maintenance and enhance reliability. The system achieves consistently precise label handling and placement. Rolling labels onto packages eliminates complicated timing issues and improves worker safety compared to traditional tamp assemblies.
ID Technology designed the Model 258 applicator for operators. A single touch button controls on/off/label-feed, eliminating the need for a complex HMI. A beacon light indicates status. The 258 automatically goes offline when the unit is rotated from its running position to its service position clear of the conveyor, easing use and maximizing worker safety when loading labels, cleaning the print head or performing other maintenance.
The 258 label applicator can be combined with a thermal transfer or direct transfer print engine to print linear and 2D barcodes, including serialized barcodes, and variable information text to 'bright stock' or pre-printed pressure sensitive labels. It applies side labels to cases, trays, shrink-wrapped bundles and other secondary packages. An optional 'zero downtime' configuration, with two integrated 258 machines, can speed changeover and maximize throughput.
The Model 258 print & apply label applicator can be seen in-action at ID Technology's Pack Expo Connects virtual showroom until March 31, 2020.
Companies in this article