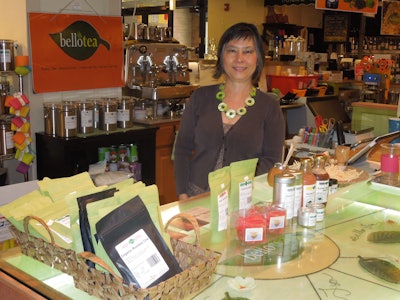 "Life is good…enjoy your tea," says Tammy Reddy's business card. Reddy is the owner of Downers Grove, IL-based Bello Tea. Its mission: to "serve, help, and educate our customers to discover the world of tea," says its website. The company does just that from its main location in Downers Grove, from a newer retail store in the new Chicago French Market within the city's Ogilvie Transportation Center, and through online and phone orders. The company even offers tea educational courses.
At its Chicago French Market store, life is good in no small part thanks to the addition of an LX900 printer from Primera Technology, Inc. The desktop color label printer uses Primera Imaging Perfection™ to print sharp text, graphics, and photo-realistic print quality. The LX900 prints onto rollstock material provided by Kenco Label & Tag Co., LLC. The labels are designated as follows:
• 74800 White TuffCoat high-gloss label stock for 1.5-in.-W x 1.5-in.-L labels.
• 74806 White TuffCoat high-gloss label stock for 4-in. W x 3-in.-L labels.
Label sizes and number of colors selected vary by product and by packaging configuration. Bello labels flexible stand-up and lay-flat pouches, aluminum tins, flexible clear plastic boxes, and now even glass-bottled teas in different sizes and from various suppliers.
Says Reddy, "We are using the printer to produce labels for many different packages. And now we are expanding our beverage line to include tea bottling from dispensing machines right at our store, so the LX900 is again proving to be quite useful. We create beautiful labels for all of our products."
The printer creates labels that are used for packages that Bello Tea displays at the outlet, and for on-demand orders from consumers as they stop by the outlet at the Chicago French Market.
The key benefits of the printer, Reddy notes, are flexibility and printing on demand. "With the Nice Label software, we can create many versatile labels in all different sizes from 2 x 2 to 3 x 4 inches. With the 3 x 4-inch labels, we create one, two, three, or four labels across. We also use them for shipping labels and merchandising cards."
Retail space constraints
Chicago French Market is an indoor market featuring about 30 specialty entrepreneurs and family-owned businesses. The indoor market concept came about as part of a movement to support local farmers and artisans and bring back the European-inspired marketplace. It was co-developed by the Bensidoun family, a market operator in and around Paris since 1953, and by Chicago-based U.S. Equities Realty. The metropolitan market houses primarily food and beverage purveyors, including Bello Tea, side-by-side in a series of aisles within one of Chicago's central train stations.
Because space is at a premium in its 10 x 30-ft location within the Chicago French Market, Bello Tea uses the majority of space to display its teas, which are repacked from larger containers from suppliers located around the world. Bello Tea specializes in Matcha Japanese green tea, and offers more than 90 varieties of organic, traditional, and fair-trade loose-leaf teas and herbals. It also sells teapots, mugs, cups, and accessories for tea preparation.
"Were an independently owned tea shop," says Reddy.  "Our mission is to provide quality loose-leaf tea and tea beverages, and excellent customer service, and to raise awareness of tea benefits. We have two distinct offerings: Loose Leaf Tea and Bubble Tea/Tea Beverage."
Before using the Primera equipment, Bello Tea used what Reddy describes as a conventional printer and sheet labels. "Although those allowed us to print different label sizes and different tea names, and were functional, they did not position us to be commercially ready. They also proved costly," she says.
After extensive research, Bello found Primera. "We purchased a Primera LX400 from a wine seller that had gone out of business and was selling its equipment," Reddy recalls. "I had been doing research before and wanting to get something other than just a sheet labeler. The labels on their wine bottles were gorgeous. I decided that probably would be the right thing for us to get because we have so many different types of labels in different sizes that if we used label sheets, we would have to print a ton of them. And if we tried preprinted labels we would have to order rolls and rolls of them. We don't have enough space to store them, and they would be very costly. So we decided that this would be a better way for us to do it."
The success of that first Primera machine prompted Bello Tea to employ another unit at its new French Market location in 2012. Says Reddy, "We opened the new location last October. We wanted to get another label printer because we wanted on-demand, on-site printing rather than having the other location print the labels and bring them to the French Market. That just wouldn't have been very convenient."
Multiple benefits
Reddy says that beyond label print quality and flexibility, "a bonus is Primera's technical support. I can say that they are the only company thus far that has an excellent technical support," she says. "I didn't think that a printer company would care so much about their technical support. But they exceeded my expectations by being timely and knowledgeable. I worked in IT for over 25 years, so I recognize great technical support when I see it."
She adds, "I just love the Primera labelers and I think we would buy one for another outlet if we were to open one."
 
Companies in this article