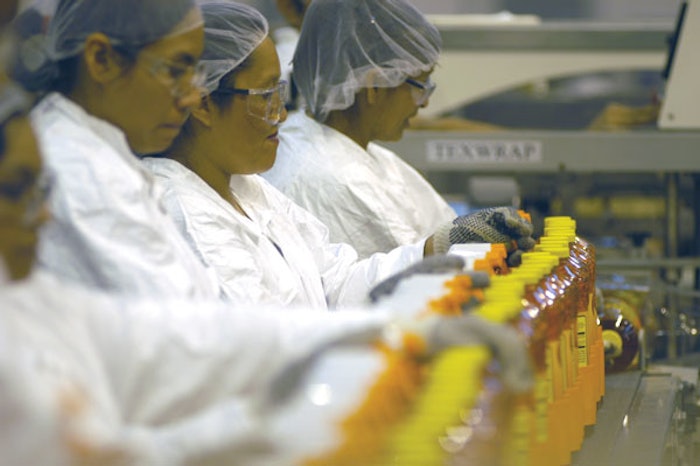 One challenge for any consumer packaged goods (CPG) company in getting its products to market efficiently is keeping the distance between manufacturing and distribution operations short. Millions of dollars in costs—and potentially the profitability of a product line—are at stake, depending on how adept the product manufacturer's purchasing department is at qualifying and negotiating contracts with external vendors, including contract packagers, which provide these services.
Barilla America Inc. is one product manufacturer that succeeded in finding the right logistics partner when setting up its first North American manufacturing plant in Ames, IA. The maker of pasta and sauces needed help with warehouse design, the layout of a 180,000-sq-ft warehouse attached to its production plant, and ongoing packaging services.
Elsewhere, a major CPG company was looking for a contract packager to provide turnkey manufacturing and packaging services for the insecticide brand it had recently acquired from another product manufacturer. The acquiring company also needed external assistance in relocating the factory that makes the insecticide.
Both of these product manufacturers turned to Jacobson Companies to provide a range of upstream and downstream functions. Jacobson is among a growing number of multiservice companies with a national footprint. The company operates separate divisions handling contract packaging (25% of those operations involve repacking), logistics, transportation, and staffing.
Of prime importance to both Barilla and the new owner of the insecticide products (Jacobson could not name the company because of contractual agreements), Des Moines, IA-based Jacobson operates nationally. It is the fifth-largest third-party logistics (3PL) provider in North America, according to a study from Armstrong & Associates Inc. (www.3plogistics.com), and it operates 157 locations spanning nearly 30 million sq ft of warehouse space in 41 states, making it the seventh-largest warehouse service provider measured by square-footage capacity.
Integration of divisions
"We do a lot of cross-selling here," notes Ron Pontolilo, Jacobson's vice president of sales, during Contract Packaging's recent tour of the facilities in Des Moines, IA. "Our focus on packaging is aided by the fact that we can do some things our competition can't. Jacobson Companies has a complete list of 3PL services to offer clients. We get to play off of our 157 locations. So if a customer needs to go to Indianapolis, we have an operation there. We can move some equipment and take care of their needs right there.
"What we do well is start up operations from scratch and tear down operations, if necessary. We let the customer tell us where to spend the money."
Kirk Fischer, president of Jacobson Packaging and Manufacturing Co., adds that planning projects with product manufacturers typically starts with this question: Where do you want to be?
For Barilla, the answer was Ames, IA. The company needed a logistics partner when establishing its first North American manufacturing plant in central Iowa. The warehouse would serve as Barilla's Midwest distribution center and also act as the national replenishment center for the company. Barilla selected Jacobson to design the 180,000-sq-ft warehouse attached to Barilla's production plant and also to provide the pasta maker with packaging services in that facility.
Jacobson provided key input during initial operations start-up at the Barilla plant, while construction was being completed. Jacobson Packaging Co. provides secondary packaging services, and Jacobson Warehouse Co. provides management and labor for an around-the-clock operation. Services include warehousing, off-site return of goods, and inbound/outbound scheduling.
Among the benefits to Barilla, Fischer adds, is Jacobson's management of an American Institute of Baking (AIB)-certified, food-grade warehouse that is registered with the Food and Drug Administration. Jacobson handles record-keeping and weekly inspection reports, and it can trace packaged goods to Barilla's logistics operations in Illinois.
Benefits for Barilla
Pontolilo lists the following outcomes of Barilla's partnership with Jacobson:
• Jacobson Packaging Co. in Des Moines provides special packaging for store displays and club packaging, such as multipacks with assorted pasta and sauce products.
• Full-service packaging options include packaging and pallet design, materials sourcing, and labor for all secondary packaging needs.
• Jacobson regularly handles specialized processes, including special labeling, kitting, and building custom retail pallets and mixed-pallet loads.
• Inventory specialists at Jacobson manage cycle counting and on-hold product. They are responsible for quality-assurance testing and releasing product for shipment after quality-assurance approval.
"Barilla had one manufacturing facility, in Ames," Fischer explains. "When they wanted products packaged, they sent the products to us in Des Moines, we packaged it, and sent it back to them. That's a lot of transportation costs.
"With the new facility, when pasta comes through the wall from the manufacturing plant, it goes right into packaging. Think of the corrugate savings from eliminating all the transportation back and forth. When it comes off the line, they're telling us, 'Put it into X, Y, or Z packaging.'
"And now we've partnered with them to construct and manage a new 300,000-sq-ft facility in Avon, NY. What it comes down to is that we're really in the seamless-solutions business. Here's a suggestion for the product manufacturers out there. Don't just get a price for your packaging and walk away. Also talk about seamless solutions."
Insecticides on the move
When Jacobson asked the unnamed product manufacturer where it wanted its newly acquired insecticide brand to be, the manufacturer responded that the brand's operations needed to be moved to a Southeastern contract manufacturing and packaging site. This brand owner represents the trend of CPG companies that want to own the product but not the packaging operations. The product manufacturer selected Jacobson (operating in Forest Park, GA, at that time as Wilpak Inc., a contract-packaging company that Jacobson purchased) to produce insecticides under various trade names.
The manufacturer's primary goal was for Jacobson to plan, manufacture, package, and ship the products. The secondary objective was to reduce the brand's operating costs. But the immediate challenge facing Jacobson was moving the plant from Pearl, MS, to suburban Atlanta, GA. Compounding the task were unforeseen events, including a lightning strike to equipment, restricted access to mechanical information at the former plant site—and Hurricane Katrina.
Jacobson initiated all plant-relocation operations, honored the limited accessibility to the previous factory, and continued with the project plan even as the hurricane created new challenges for materials procurement and costs.
"We moved all the filling and packaging equipment and lab facilities, and set them up within our operations in the Atlanta area, right during Katrina," Pontolilo recalls. "They picked Atlanta because of distribution considerations. We didn't have space in Wilpak to meet their needs, so we procured a facility across the street from Wilpak, and we're running it now."
Jacobson's efforts have brought about the following results for the insecticide brand's new owner:
• Jacobson created and executed a budget, including capital costs and moving expenses, which met the brand owner's goal.
• Jacobson also created and put into action a plan for plant and equipment relocation, including disassembly, transport, and reassembly of the manufacturing facility.
• The $2.7 million plant relocation was completed on time and on budget, delayed only two weeks until power was restored at the original plant site.
• Construction was completed on a state-of-the-art, quality-control laboratory.
• Jacobson provided the product manufacturer with a supplier network based on the brand owner's current and future manufacturing requirements.
• The Jacobson team redesigned the operations' compounding room at the new facility, eliminating the need for a more expensive two-story application and reducing costs.
Costs are saved
In addition, the use of Human-Machine Interface controls to deliver quantity to the batches of insecticide is producing a quick return on investment and leading to savings in materials costs, Fischer said.
Ironically, Jacobson comes by many of its contract-packaging jobs not through its co-packing company but through its other divisions. "Our exposure to CPG companies, by one of our other divisions, is how much of our CP work happens," Pontolilo says. "We're already doing logistics and warehousing for them, so contract packaging is a natural extension.
"It gives us an extreme advantage over our competition in that we have everybody at the table—the vice presidents of logistics, warehousing, manufacturing. It becomes more cost-competitive for the manufacturer to do the complete package with us."
Fischer notes that bundled services, which often are called "turnkey" operations, are becoming a larger component for Jacobson Companies. He reasons that product manufacturers, when possible, want to avoid apportioning any resources in their ever-tightening budgets for producing their own products.
"We see turnkey manufacturing becoming a larger component than it was five years ago," Fischer says. "A lot of that is tied to manufacturers wanting to expand their product offering, and they don't want to tie up capital."
Fischer points to this desire for services from packaging to logistics as one reason why Jacobson continues to grow, reeling off this nugget: 76% of the company's top 200 customers use more than one of Jacobson's services.
To which Pontolilo adds, "The successful contract packager today is the one who can do the whole solution, provide all the services. The CPG companies, they're the creators, and that's what they want to be."
Companies in this article