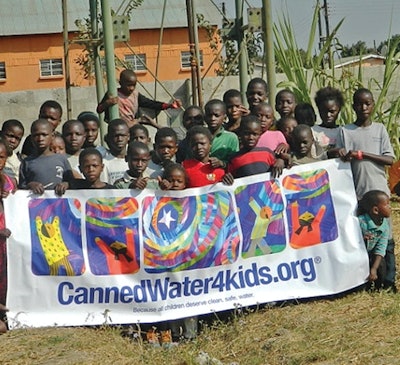 A Henkel business team recently donated 5,000€ (approximately $5,600) to CannedWater4Kids. This donation–prize money from a global teamwork award–represents Henkel's commitment to social responsibility and sustainable business. After receiving the monetary award, the leadership team of Henkel's Metal Packaging business sought potential charitable outlets consistent with its values and daily business activities.
CannedWater4Kids (CW4K) was selected as an organization consistent with Henkel's mission and values. "We loved the CW4K mission–to ensure clean, safe drinking water for children around the world," said Laurie Andriate, Corporate Vice President, Henkel Corporation - Metal Packaging. Moreover, they fulfill their mission using aluminum cans. "Not only is CW4K doing great things, but the nonprofit is also using the most sustainable packaging container, an aluminum beverage can, to promote its message. CW4K demonstrates that clean and refreshing drinking water comes in cans, a container more sustainable than plastic. We are proud to donate our monetary award to make an enduring impact on the lives of many people," added Andriate.
"We are grateful for this generous donation from an industry leader like Henkel," said Greg Stromberg, Founder & CEO of CW4K. "Too many children are dying from a lack of safe drinking water. Henkel's kindness and support will allow us increased visibility and potential to develop, fund, and deliver clean, safe drinking water solutions at a faster pace."
One of the ways CW4K drives awareness and raises funds for their water projects is through North American sales of their drinking water packaged in aluminum bottles and cans. Whether you are looking to support corporate or personal sustainability goals, or believe in giving back, this product accomplishes both. CW4K canned water is the perfect replacement for the minimally recyclable plastic water bottles.
"Every time you buy & drink our premium water, you are making a difference," said Peter Gorman, CW4K Board Member and CMO. "We call our water 'Drinking water - with a purpose.' That's because it keeps you hydrated, it tastes great, is infinitely recyclable, and 95% of all money collected by CW4K from the sale of this water goes to help fund & deliver sustainable clean, safe drinking water programs worldwide."
Upscale hotels, like the Ritz-Carlton, Laguna Niguel in California and Radisson Red in Minneapolis, Minnesota include CW4K water in rooms for their guests. CW4K drinking water in aluminum bottles and cans is also available in America's national parks like Yosemite, Denali, and Mesa Verde.
CW4K premium drinking water is currently only available in North America. It comes in 16oz aluminum bottles, and 12oz cans– perfect for home, boardroom, office meetings, school, hospitality, or vending.
To learn more about CW4K and how you can help, please visit http://www.cannedwater4kids.org/howtohelp
Companies in this article