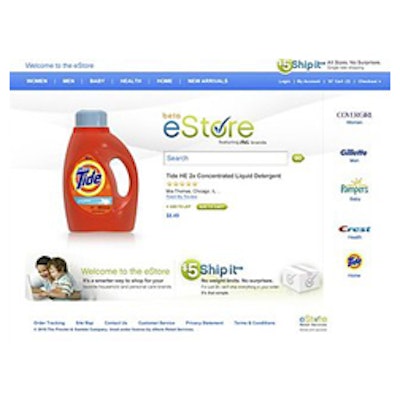 Procter & Gamble is embarking on an ambitious effort to test the viability of a plan to put hundreds of its own products online in a new "eStore" that the company is creating and which will be operated by PFSweb Inc. The idea is novel for a consumer products manufacturer because it will pit P&G against some of its main customers, traditional and online retailers.
On its Web site, P&G describes the venture as a consumer "learning lab." The company says an important purpose of the site, which will go live in the spring after a pilot test, is to collect key data from consumers. This venture could have interesting ramifications for packaging, because a few of the areas P&G wants more consumer input on are packaging sizes and formats and product variations that meet their needs. One byproduct of this effort could be more innovation at the shelf.
This effort appears to have some correlation to P&G's new innovation model. What better way to retrieve extensive consumer input on packaging, among other areas, than to ask questions via a Web site where consumers can purchase your products, possibly at a discount? (P&G didn't discuss its product-pricing strategy for the eStore.) Initially, P&G will charge a flat rate of $5 for shipping.
If the data collected from eStore is shared with retailers, as P&G intends, the results could lead to improvements that make the shopping experience even better for consumers.
Companies in this article