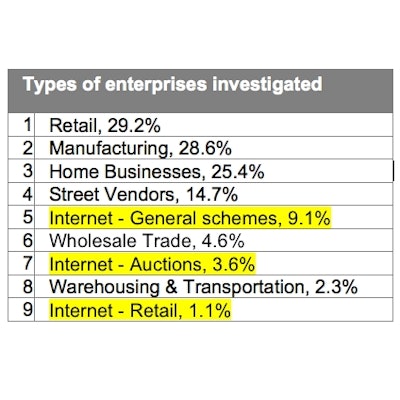 Gieschen Consultancy released on October 24 the 2006 Mid-Year Counterfeit & Piracy Intelligence Report, derived from BASCAP Daily Counterfeit & Piracy Intelligence Reportstatistics compiled over the first half of 2006. The report is based on data obtained from actual counterfeit and piracy activity. It focuses on intellectual property theft, citing major links to illegal activity, the Internet, and brands.
BASCAP, Business Action to Stop Counterfeiting and Piracy, organized by the International Chamber of Commerce, is funded by the world business community, including brand owner members such as AstraZeneca, GlaxoSmithKline, Nestle, Microsoft, and Pfizer.
According to counterfeit intelligence manager Glen Gieschen , "This activity has major implications upon consumer health, safety and security, and is driving serious criminal activity into this seemingly innocent crime. The greatest misconception about counterfeiting is that the impact is negligible, however the truth is far different. Consumers who are unaware they are purchasing fake products and those who are actively seeking them have consumed adulterated drugs and died. We have documented numerous instances where these bogus items result in serious problems, large and small for consumers. It is becoming a frequent occurrence during seizures of such goods to discover illegal drugs and weapons. When you purchase these items, you have no idea of the type of people you are supporting, where these funds are going, and for what purpose."
Packaging implications
We asked Gieschen what intelligence he sees for packagers and brand owners from the statistics and trends in the report.
Gieschen: For packagers, this means that there is more seriousness to being involved in this industry. It's not just worrying about protecting their brands, there's more social issues now involved with counterfeiting that there weren't previously, so it raises the importance [of anti-counterfeiting] even more."
PW: What size companies does this affect?
Gieschen: If you have a unique product with a market for it, and there's a profit to be made in reproducing and selling it—that's what counterfeiters look for. They're no different than a businessman in the sense that they're looking to maximize their profit. But they save a tremendous amount of money because they don't have to spend money to research and develop these products, test market them, advertise them, set up a distribution networks, and educate consumers. That makes virtually any type of branded good a potential target. We've seen small companies launch with a dozen or two dozen employees that are having their goods counterfeited.
PW: From the report, the Internet is playing a larger role as a conduit for fake products.
Gieschen: Yes. And it's very difficult to track and investigate criminals using the Internet to organize their activity, not just for sales. So, they're using it to full advantage.
PW: What can be done?
Gieschen: With respect to the Internet, if it's a market that's global, it's not something that's easily regulated. It's really a challenge for pharmaceutical companies to help consumers know when they're getting authentic goods or not. Education is certainly part of that, but there's no magic bullet that's going to kill the problem, nor is there really a simple solution.
PW: Any new techniques in the "layers of protection" that a solid security program is based upon?
Gieschen: In terms of security technology, I'm starting to see older technologies such as holograms being counterfeited, and that permits newer technologies to come in. It's not that holograms are necessarily ineffective, but certainly if you can't verify the authenticity of a security technology, then you have to look elsewhere. This in particular is difficult for consumers because holograms are an easy-to-see technology that has remained secure up until recently.
PW: In summary, counterfeiting is growing and the stakes are getting higher?
Gieschen: Yes. We've seen marginal growth of 7% in reported incidents, which relates to more education about counterfeiting than in sheer number increases. However, in the European Union, we're seeing triple growth increases in counterfeit goods. And through the Internet, the reach of counterfeiters is instantly global, a fact that's drawing people into this illegal activity who haven't been involved before.
The magnitude depends on what's important to you: If that includes drug trafficking and illegal immigrants and people carrying weapons and people who murder each other, or don't care about how these goods are going to affect consumers, and you buy these goods, you're supporting that activity. It's as simple as that.
Report highlights
According to the report, over the first six months of 2006 a total value of U.S. $699 million of counterfeit and pirated goods, specifically intellectual property theft, was discovered from 760 incidents in 69 countries. Major links to drugs, weapons and deaths were uncovered. In addition, a detailed analysis reveals the Internet is becoming a major factor in this illicit trade. Top brands counterfeited are also reported. Other notable highlights:

Counterfeiters are now cross selling different brands with different types of fake goods and in some cases are dealing illicit items with the counterfeits.
14% of counterfeit investigations now involve the use of the Internet.
To view the 2006 Mid-Year Global Intellectual Property Counterfeit & Piracy Report, click here.