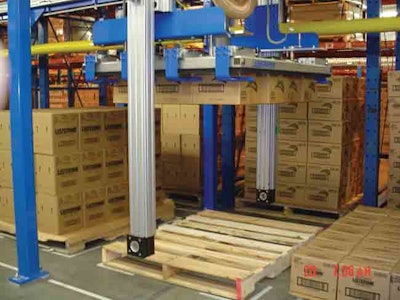 A new, labor-saving automated picking system at Pfizer Consumer Healthcare (PCH) Logistics has lifted a weighty burden from operators and increased throughput at Pfizer's Lititz, PA, Logistics Center. In fact, the system handles 2,000,000 lb of product monthly that operators no longer lift, according to Steve Smith, Pfizer's engineering manager, who was part of a team that spearheaded the project. That's more than a ton per worker per shift.
To appreciate the operational improvement brought by the new system, it helps to understand something of the operations. Each day operators build mixed pallets for customers such as Wal-Mart, Target, and other well-known retailers. They accomplish this by steering a pallet jack down the center of a long aisle bordered by pallets filled with corrugated cases of product. An onboard computer suggests a pick path sequence for pallet building. If their assignment is to build a pallet with two full layers of Listerine, two full layers of Lubriderm, and then two additional layers that contain a mix of Pfizer's' other brands, they stop their pallet jack at as many locations as required to build their assigned pallet load.
Before the new gantry system was commissioned, operators would load full layers manually. Now, for a full layer, they push a button and wait for a robotic device to pick the entire layer and place it on their pallet jack. The only lifting required is for individual layers that contain a mix of products.
The Layer Handling System (LHS) that brought this improvement to Pfizer is supplied by Automated Motion Inc. (AMI) (www.automated-motion.com). It was started up in March.
"We began looking a couple of years ago for a method that could pick full layers, yet still work within a system where some layers were not going to be full," says Smith. He found what he was looking for at a trade show in Europe when he saw the Uni-Gripper, an automated package gripping system from Sweden-based Tepro Inc. (www.tepro.nu) that is uniquely suitable for handling full layers of corrugated cases. That led him to AMI, Tepro's U.S. representative.
"We found that the Uni-Gripper could consistently handle 600 different cased items, all different in weights, shapes, and sizes," says Smith. The only prerequisite, of course, is that the layer consists of identical cases.
Operating pneumatically but without vacuum cups, the Uni-Gripper is a 50"x42" metal plate with over 1,600 tiny holes covered by a layer of foam rubber. Each tiny hole has a ball-check valve. The vacuum is activated only when it presses against something flat like the top of a corrugated box.
"The downside to conventional grippers is that they can become plugged with corrugated dust, or else the rubber or silicone suction cup can tear," says Smith.
At Pfizer's Lititz facility, 13 of these Uni-Grippers are mounted on two gantry frames that extend more than 340' each. That 340' length is divided into zones no more than 60' long for each Uni-Gripper. When a Uni-Gripper is directed to pick a layer of cases containing product A, it moves into position over a full pallet of cases. It then picks a full layer and places it on the pallet jack that the operator has prepositioned. From the time the operator presses the load button to the moment it is ready to load the next layer takes about 40 seconds.
Operator friendly
The system was designed with the operator in mind. Due to the use of safety light curtains, it is safe for the operator to work within the module and within the gantry frame to apply labels, move a slip sheet, or perform any other function.
Within the LHS, cases are picked approximately twice as efficiently as a manual operation. Additionally, the mechanized solution eliminates well in excess of 3,000 pounds of strenuous case lifting for each operator daily, Smith reports. It has significantly reduced the handling of empty pallets, which weigh from 35 to 45 pounds each.
Another major benefit is that one operator follows the fulfillment of each pallet order. This avoids the handoff of pallets and eliminates the opportunity for errors. Smith emphasizes this is key to maintaining a high degree of pick accuracy and process reliability.
Smooth programming
The programming to use the LHS was relatively easy, says Smith. With some simple modifications to PCH Logistics' existing automated Warehouse Management System software, the LHS was seamlessly integrated into the WMS's RF-directed pick sequence.
The software directs the building of full layers first. Heavier layers are placed on the pallet initially with successively lighter layers placed above.
Smith says ergonomic improvements are huge. "Before, if a pallet needed three layers of cased Lubriderm, that would be 60 cases manually moved from a supply pallet to the customer pick pallet."
Most of that is eliminated in the new system. In April, the first full month of operation, Smith says the system moved 1.3 million lbs of cases that were previously handled manually. More than 25% of all case picks were done by the LHS. Typically 450,000 pounds of product previously moved by hand is now moved by the LHS weekly.
"That's weight people no longer lift per person per shift," says Smith. "And we're experiencing a significant gain in overall productivity in terms of throughput, even though at this point just under one-third of the cases for shipment are moved by the LHS system."
It all stacks up to a very successful project.
Companies in this article