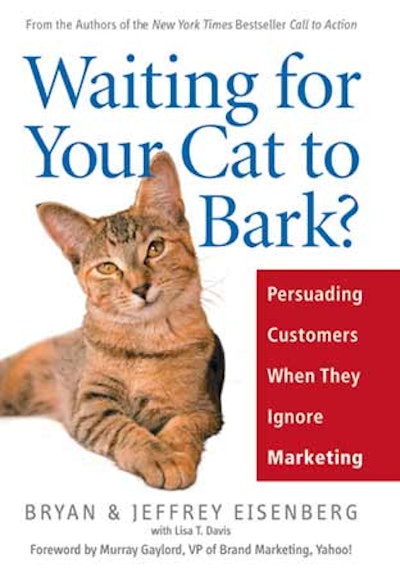 "Interactivity has changed the nature of marketing," state Bryan and Jeffrey Eisenberg. "Marketers...are now responsible for creating powerful persuasive systems that anticipate and model customer needs, personalize information and processes to meet those needs, and then measure the return on investment."
In their forthcoming book, Waiting for Your Cat to Bark? Persuading Customers When They Ignore Marketing, the two best-selling authors provide some interesting insights for consumer product marketers on leveraging the power of increasingly interconnected media channels. Packaging is certainly a potent player in the mix.
The Eisenbergs describe the emergence of the personal-experience economy, where consumers are king—and acting like finicky cats who are in it only for themselves. Experiential branding is rapidly replacing mass-marketing ideals in which consumers, like animals in Pavlov's lab experiments, continuously are expected to "ring the bell" in response to the same stimuli—in this case products—mass-produced according to product manufacturer whims.
For those seasoned marketers who can get past this shop-worn opening premise, wonderful nuggets of useful information await elsewhere in the book. "Branding is more about what you do than what you say," the Eisenbergs state, and they build their case over 29 chapters, culminating with steps for viewing your marketing strategy through the lens of Persuasion Architecture™. This integrated model, the authors say, provides a proven context for rethinking customers and retooling customers in a rewired market, which is the authors' area of expertise.
All good stuff indeed, but the authors stopped me in my tracks when they asserted that "the buying decision process always begins when you become aware of a need." Want is an equally powerful purchase motivator, and it feeds on consumer impulse. Several recent studies on shopper buying habits bear out the "power of want" with evidence that consumers often exit the store carrying additional items which weren't on their "need" list. Often, consumers say, the packaging on the products they "wanted" helped close the sale.
That quibble aside, this 208-page book offers numerous gems that product marketers will find relevant for strengthening their packaging communications. I found the chapter on "Insights and Customer Data" especially compelling. Among the observations: Marketers typically make three types of mistakes when collecting and analyzing data.
• Some marketers "torture" the data by selecting and collecting only the numbers that conform to their particular case.
• Others start a data religion. "When all data are sacred, it's hard to decide which piece of data is holier than another," the Eisenbergs say. "What do you do if the data seem to exist in some kind of contradiction? Worse, what do you do in the absence of data?"
• Marketers make another type of mistake when they minimize the importance of truly meaningful data. They claim to have research, but all it amounts to is sending out someone with a clipboard to ask consumers a few poorly formed questions.
Competent marketers crave insight on what consumers are doing and why, and forward-thinking product manufacturers are hiring experts to work closely with brand managers and marketers in formulating ethnographic initiatives. One goal is gathering data that tells them not only about their consumers' behavior today, but that may also predict future behavior.
Waiting for Your Cat to Bark? is an informative read that dissects the persuasion process and offers solutions for engaging consumers on their own terms—including in the reality of the online world. Those are solutions that no marketer can be without.
Companies in this article