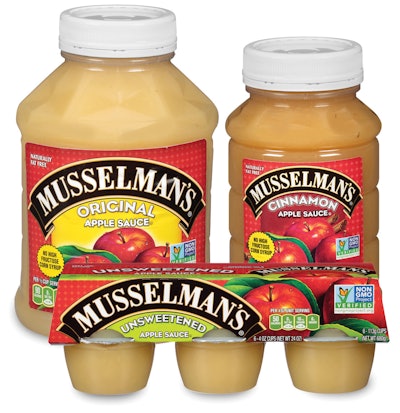 The all-American triumvirate of apple juice, applesauce, and good old-fashioned apple pie is close to the center of the bullseye when it comes to consumer expectations of wholesome, clean-label food. Grower-owned apple producer Knouse Foods' products have always had short, recognizable ingredient lists, so it stands to reason that it has been flourishing in recent years.
A southeast Pennsylvania-based cooperative formed in 1949, the company is most famous for its Musselman's brand of apple juices, sauces, and butters and Lucky Leaf brand of pie fillings, juices, and slices. While apples are its bread and butter, Knouse Foods also processes and packages cherries and peaches along with a host of frozen fruits in one of its five Pennsylvania facilities or its single Michigan location. To add to the iconic brands, the company also has a strong-and-getting-stronger B2B channel, both in foodservice and in private label.
"We package in everything from a two-ounce cup to a 3,000-pound tote of bulk ingredients, and everything in between," says Robert Woerner, Director of Engineering and Development at Knouse Foods. "We're diverse in that we supply products to retail, to foodservice institutional markets, and also to industrial consumers."
With dedicated facilities and equipment primed to process fruit, plus fully equipped packaging lines well-suited for the fruit juice and fruit cup niches, the company has been ramping up its private-label-for-store-brand business in recent years. This move aligns with evidence, found in a PMMI Business Intelligence report, Global Trends Impacting the Market for Packaging Machinery 2018, that store-brand growth is outpacing that of traditional brands.
"We pack private label for store brands and act as a contract manufacturer and contract packager, particularly on the beverage side," Woerner says. "When we're not filling apple juices, we're processing and packaging other fruit beverages and teas in contract packaging arrangements with more than 2,000 SKUs. "
While Knouse Food's products retain their on-trend simplicity, the business itself is getting more complex. With an expanding portfolio, a lengthening list of SKUs, and an increasingly diversified set of markets to serve, the co-op behind the ubiquitous Musselman's brand looks for as much consistency and harmonization as it can get across its many operations. Coding and marking is an important battleground in this effort, both in container marking with continuous ink jet and print-and-apply labeling of shipping cases.
New coding and marking equipment
To keep up with emerging coding and marking technology, the company recently invested in a number of Diagraph Linx Continuous Inkjet (CIJ) 8920 printers for two-, four-, and six-ounce single-serve applesauce cup lines.
"These systems monitor the number of marks and also the hours of use, as well as the fluid levels," Woerner says. "Instead of scheduling a PM [planned maintenance event] at an arbitrary point in time, we now can tailor it, watch our hours of use and move systems around, and do PM in such a way that we're getting the full use of the system, getting the most uptime while limiting unnecessary maintenance."
Most of the planned maintenance on the new Linx CIJ 8920 equates to replacing a simple cartridge system for inks and solvents. On older machines, Knouse had to change the fluids and filters every 2,000 hours or so. There's a cost to that, perhaps $700 to $800 per change, and that happened two or three times annually. The newer machines can run up to 13,000 hours—a six-fold increase in the service life. Also, service visits for the CIJ 8920 have been shortened from two hours to 20 to 30 minutes per machine. Knouse has more than 25 continuous ink-jet machines across its various facilities, so that adds up fast.
"Servicing really just involves opening a door and pulling out a nearly-spent module, then popping in a new self-contained module that has preset filters and inks," Woerner says. "That makes the service easier."
The company's latest print-and-apply systems, tasked with labeling corrugated cases, are Diagraph PA6000s. Knouse and Diagraph worked together to calibrate the label and ribbon infeeds so that the two consumables run out at the same time.
"That way, we do one change at a time which includes printhead cleaning. We're not changing multiple times throughout a shift or the operation, so we're increasing our uptime," Woerner says. "We also monitor linear inches of print per unit and quality of print. By coordinating PM with our print-head cleaning and checking, we've been successful in getting upwards of four million linear inches of print from a print head. My understanding is that a million linear inches is pretty good. If we're getting two million, even four million frequently, while still meeting our customer's quality demands, that's excellent."
Knouse Foods uses approximately 40 print heads annually, and if the company didn't get the long-lived marking usage it currently gets, Woerner estimates the company would use at least double that, if not more.
Quality control
Print quality is another key performance indicator that cannot be ignored, especially when supplying products to companies like Walmart. This has elicited a shift from print-on-case toward print-and-apply labeling in order to attain higher-resolution, EN 128-style linear barcoding that carries more information. But the specifics on labels can be a moving target from customer to customer.
"Diagraph has long used what I would call a template-and-field-type of setup in its print-and-apply systems. We create new templates, and the information automatically populates the fields. This is important when you have 2,000-plus SKUs. Whenever a customer asks to relocate a mark or position the label differently, we can modify the template instead of each individual field. The system can then automatically pick the correct information out of the MES [Manufacturing Execution Systems] database and populate the field correctly," Woerner says. "That kind of background has allowed us to tie these new marking systems into our MES and use more of a pick/pull system, where operators can pick the batch they're running and pull the information down from a single master MES database. When you have a lot of SKUs, that really is a big benefit. The big thing for us is accuracy. You don't want to mark anything incorrectly."
A common benefit of all the newer coding and marking equipment at Knouse Foods is that the recent CIJ and print-and-apply systems from Diagraph have moved away from external pneumatics. For the Linx CIJ, an internal air source eliminates the problems associated with disconnection from a compressed air source, leakage, and associated downtime.
"On the print-and-apply side, the most recent six systems we've purchased have featured an electric tamp, or e-tamp," Woerner says. "All the other operations on the printer are electrical, so with the e-tamp, it makes for a completely electrical, standalone system. It's faster to swap in/swap out. You're not reliant on any compressed air. But more than any kind of a consumptive air savings, the e-tamp is more accurate, more controlled when it extends out to the product, and more controlled when it retracts, allowing us to better apply the label to the case."
That level of accuracy is what the Walmarts of the world are demanding, and that has precipitated a subtle ongoing shift toward print-and-apply. Knouse Foods uses Diagraph IJ 3000 ink-jet systems for high-res printing direct to corrugated when possible, citing the cost effectiveness and utility of printing up to four inches high on a single head.
Audit controls marking costs
Knouse Foods and Diagraph annually complete a full audit of how the coding and marking systems are performing. The program provides a 360-deg view of service, inks, components, cost per mark, cost per unit, and more.
"We're looking at our spending to monitor if we have anything out of the norm. That way we know if we need to step in, alter a fluid mix, replace, repair, or do something else differently. It is also a means of controlling our marking costs," Woerner says. "As we look at our SPI [service parts and inks] on a per-unit basis, we're at the same cost per unit today as we were 10 years ago."
Making this more impressive, aforementioned customer demand for accuracy has pushed Knouse Foods toward a more print-and-apply-heavy coding and marking mix. Print-and-apply tends to be more expensive than direct- print coding technology. The efficiencies uncovered by the audit have outweighed more expensive equipment at a per-unit basis.
"We're actually 20-percent lower in marking and coding expenses than when we initiated these audits, factoring cost of new equipment and maintaining of old equipment," says Woerner. That's one means of how we evaluate the program and evaluate how we're doing, to make sure we're getting the best out of our equipment."
Lasers could be next
Woerner has been keeping his eye on laser marking and the advantages it could provide, particularly for a plastic bottle application. Much of the CIJ workload consists of small-character Best By or Sell By date codes that need to be visible and legible to an ordinary person in a retail setting.
A new line of juice drinks exhibiting a light-to-dark color variance depending on the SKU is presenting a contrast challenge with current inks. Depending on the drink, traditional ink jet isn't always doing the job. "So we're looking at laser as an option to improve our marking system on that line," he says. "This exemplifies why tying the coding and marking into an MES is so important. When you mark a container with a laser, it has to be right as the mark is permanent. We are looking to do a trial with a Diagraph Linx laser coder here shortly."
Partnership is a blueprint for realignment
Ever since stenciling fell out of favor 25 years ago, Knouse Foods has had Diagraph print-and-apply and direct coding and marking systems on its lines, starting with the venerable Telemark dot matrix systems. Continuous ink jet for marking directly on primary packaging was eventually added, and over time, the company organically grew into an exclusive Diagraph house for coding and marking.
"The way we have partnered, we've pieced together the consumables portion of inks and solvents, and the parts and service portion with components and print heads, for years now," says Robert Woerner, Director of Engineering and Development at Knouse Foods. "If we have a problem thermal printing a label, or having it apply and stick, we've never had to go through the runaround on whether the issue is with the machine, the label, the ribbon, or any of what you deal with when you have multiple vendors. For us, it has always been important to feel like we're partnering with one entity."
In May 2018, ITW Diagraph codified the type of relationship it has with Knouse Foods into its corporate identity. It announced a reorganization meant to outwardly reflect a one-stop-shop brand positioning for coding, marking, and labeling. As part of this new strategy, Diagraph is offering customer partnership programs that help manufacturers dial-in and control spending similar to its support of Knouse Foods.
Companies in this article
Videos from Diagraph, An ITW Company