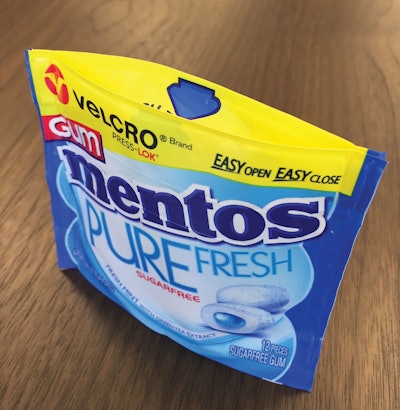 Dutch-Italian confectionery maker Perfetti Van Melle needed an on-the-go convenience package for Mentos brand gum unlike any such pack available today. It took a collaborative effort by a film vendor, a vertical form/fill/seal machine builder, and the maker of a unique hook-to-hook reclosure feature to bring about what was needed: the Mentos Gum Wallet.
The machinery vendor responsible for supplying two custom-modified vf/f/s machines each running at 70 packs/min is the one stakeholder that can't be identified, partly because Perfetti Van Melle has exclusive rights to the machinery and its "modified forming parts" for a two-year period. But the other two key contributors were Amcor, provider of the flexible film substrate that runs on the vf/f/s system, and Velcro Companies, the provider of the VELCRO® Brand PRESS-LOK® hook-to-hook reclosure system.
"Perfetti Van Melle is always innovating what confectionery can do in order to meet consumer expectations," says Sylvia Buxton, Vice President, Marketing at Perfetti Van Melle. "With the VELCRO® Brand trademark on our packaging, we're providing extra value to our customers who can be assured that their favorite Mentos™ gum is sealed securely—and easily—in its package."
"Our partnership with Perfetti Van Melle is an exciting step for us, as it marks the first time our VELCRO® Brand PRESS-LOK® closure is used on a confectionery product in North America," says Chris Lerra, Senior Business Development Manager, Velcro Companies. "These closures allow for efficient, slim packaging that keeps items fresh and makes them more transportable, which both candy manufacturers and consumers will love."
The technical accomplishments behind this launch are notable, and we'll turn to them soon enough. But first it's important to understand how this new format, the 12-count Mentos Pure Fresh Gum Wallet, fits into the strategy behind the family of packages that Perfetti Van Melle uses to bring its Mentos gum to market. The largest package format in the family is a 120-count stand-up pouch. Smaller formats include the 50-count "car bottle" that sits in a car's cup holder and also the 15-count "pocket bottle" that's meant to be carried in purse, pocket, backpack, or briefcase. The car bottle is extrusion blow molded of polypropylene and the pocket bottle, also PP, is injection-molded.
As it looked at its existing package portfolio, Perfetti Van Melle set out on a mission to design a pack that would improve the consumer experience and add a flat pocket option to the mix. "Rigid packaging in general can have a negative impact on the life cycle analysis of a package, and it comes with relatively high set-up costs," says Perfetti Van Melle Packaging Development Manager Dan Lebling. "Rigid containers take up a lot of space, which leads to increased transportation costs from the bottle manufacturer and to the customer."
There are also mold costs to consider. So if you want to go to a new size you face an added cost, not just for the container but for the cap, too. All of these considerations have led Perfetti Van Melle to gravitate toward flexible packaging formats.
"We are using flexible packaging wherever possible to help reduce the impact that packaging has on the environment and to encourage consumers to purchase the re-fill pack and re-use the 50-count bottle," says Lebling. "That 50-count Big Curvy Bottle format works well because it fits quite nicely in the cup holder of your car.
The other strategic objective served by this pack format is that its price point of $1.00 encourages consumers who may not be familiar with Mentos Gum to give it a try. "We wanted something aggressively priced because our research showed us that one in eight consumers weren't aware that Mentos had gum," says Lebling.
Sustainable, too
A final driver behind the development of this format is that it scores some significant sustainability points. Lebling says that if the 15-count pocket bottle were in fact a 12-count, the wallet pack would represent an 41% savings in weight. He also emphasizes how much "greener" it is to ship rolls of flexible film and rolls of the VELCRO® PRESS-LOK® material compared to shipping rigid bottles, lids, shrink sleeves, and stickers. Looking at the volume of packaging being shipped to the plant, the pouch shows a 90% reduction in the amount of packaging being shipped to the Perfetti Van Melle plant.
Having laid out this pack format strategy, Lebling and crew next had to identify partners from the supplier community who were capable of bringing it to life. Essential among them was Amcor and their patented PushPop technology, which is the basis for the packaging shape.
Amcor's PushPop is made of a two-layer gravure-printed lamination of PET and HDPE. The final structure is laser scored in the slitting process to give the finished package its "Push to Open" feature.
Production of the new wallet pack is done at Perfetti Van Melle's Erlinger, KY, plant. While the finished package has gussets at the top and bottom, the gussets are actually on the left and right due to the vf/f/s process used.
"We wanted the pack to be as slim as possible," says Lebling. "If you were to pull on the four corners, you would see that the film spreads apart and peels. In order to get your gusset, you have to have those corners tacked down properly to allow the consumer to push down and in on the laser score. There are a couple of ways to tack the material down, and one of them is to actually cut a hole in the film and then seal the inside sealant layer to the inside sealant layer. The downside to this approach is that in a vf/f/s machine you could get misalignment, which would then cause the corners to not be tacked together. Our method makes for a much more attractive package."
Lebling points out that Amcor applies the heat-seal coating in lanes where the top and bottom gussets wind up being created. This is what makes it possible to tack the gussets. "With vf/f/s you can get a lot of wrinkling or heat distortion if you use polypropylene that seals to itself. We knew we wanted the look of polyester, and we tried a heat-sealable polyester, but it just didn't give us the look we wanted. Only by applying the heat-seal coating in lanes could we get the look we wanted."
Variation on a theme
As was mentioned previously, the pack that Perfetti Van Melle developed is a variation of Amcor's PushPop technology. What's different, however, is that PushPop formats commercialized previously have tended to be polypropylene. In order to achieve pristine aesthetics, Perfetti Van Melle opted instead for polyester. This took some development work, including figuring out the right intensity and speed of the laser used for the scoring that makes the package easy to open.
"You can't score 100% through the polyester layer," says Lebling, "because then you'd hit the HDPE layer, which is your barrier layer. The idea is for the laser to penetrate through about 90% of the polyester. It took some trial and error to get it right."
As for why the VELCRO® BRAND was chosen as the reclosure feature, Lebling says this: "The main reason we chose this reclosure feature is because we liked the flexibility it gives the consumer," says Lebling. "You don't have to perfectly line up male and female zipper components to reclose the package."
One of the pioneering elements behind the launch of this pack was the way in which the reclosure feature is applied online on the vf/f/s machine. The material from Velcro Companies arrives at the Perfetti Van Melle plant as a continuous roll of material. For every pouch, two pieces are cut from this roll and then heat-sealed in register precisely where they need to be on the proprietary vf/f/s machine.
"Getting that right was quite a challenge," says Lebling. "In fact, I don't know if there's any one else applying unmated VELCRO® Brand PRESS-LOK® material in register. We also had to adjust the sealant that Velcro Companies applies to its material to make sure it was compatible with the HDPE layer of the rollstock to which it gets applied. Finally, we increased the number of ribs on the back side of the material, which also helps with adhesion. So it's a custom component that we procure from Velcro Companies."
Applying the reclosure component in an unmated state was a key objective in the development of the package because if applied mated, it results in what Lebling refers to as an hourglass shape. "The package bulges in a manner similar to a doy pouch," he explains. "So when you're on shelf the graphics are negatively affected. And because you don't have a uniform shape, the units are harder to handle in secondary packaging. Also, when you put the pack in your pocket, the product sort of clumps at the bottom, so it's not as slim as it could be. By applying the unmated reclosure material on the vf/f/s machine in registration, the product is allowed to flow up into the reclosure area, which results in a much more uniform shape at shelf and in our secondary packaging operation."
Secondary packaging
Also at Perfetti Van Melle's Erlinger plant, downstream from the two vf/f/s machines, is a robotic system from Bosch Packaging that produces 10-count cartons. The two custom vf/f/s machines both feed into the Bosch equipment, which has two delta-style robotic pickers. Carton erecting and shrink wrapping of 10-count cartons are both done by machines that Perfetti Van Melle already had in the plant.
Launched in January of 2018, the new packaging format has been popular at large chain grocery stores as well as at convenience stores and gas stations. A 12-count wallet pack sells for about $1.00.
While acknowledging that the marketplace will ultimately have to pronounce judgement on whether this pack format is a yes or a no, Lebling is impressed with how it all came together.
"Amcor had the PushPop, Velcro Companies had the reclosure feature, and the machine builder had the vf/f/s machine that was suitable for the purpose we had in mind," says Lebling. "We took all these things and modified or tweaked them where we needed to in order to make it all come together. It was challenging to get all three companies aligned and to make sure that all of the materials worked with the machines. But it worked out well."
Companies in this article