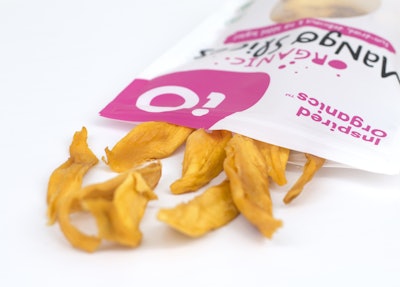 The demand for more wholesome, good-for-you-and-the-earth foods continues to rise throughout the U.S., but access to organic items can be challenging given the cost. With that in mind, Inspired Organics, or iO, from Lapari Foods, Warren, MI, created an organic food line that caters to grocery shoppers' needs yet remains affordable. To exemplify its passion and mission for making organic food accessible, iO worked with creative branding company Skidmore Studio to develop an impactful brand and eye-catching packaging.
"Inspired Organics came to us wanting shoppers to see and know how they were different from any other organic brand," says Kacha Azema, Executive Creative Director at Skidmore. "Our brand strategy is a result of researched logistics behind what catches a shoppers' eye and will ultimately make iO who they grab off the shelf. I can confidently say this brand and packaging will set them apart."
In order to stand out among the crowded organic market, Skidmore crafted a brand strategy, messaging, and a design for a lively brand that resonates with today's grocery shoppers, a demographic mindful of ingredients in their food and its impact on the environment. Using this same viewpoint, Skidmore went on to develop packaging design for iO's first wave of products, including granola, nut butters, dried fruit, pasta, and chips. Dressed in bright colors and a playful, custom font, each iO product is united throughout every aisle and store.
Skidmore's branding capabilities lie in human-centered design, a creative approach focused on 'who' the design is targeted at through empathy. With iO, the need was an approachable brand that alleviated barriers for customers shopping for organic goods, bringing them affordable, hassle-free goods that would garner attention and exemplify a brand they could get behind.
iO now offers 180 products in small shops and independent grocers nationwide.