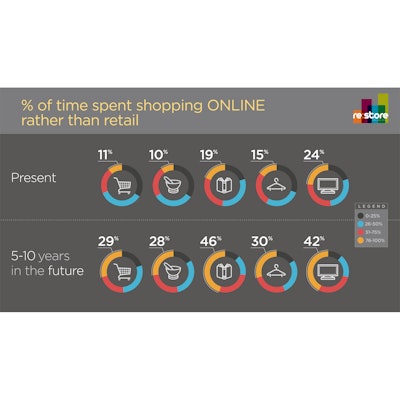 Online shopping is growing by leaps and bounds in every retail category from household goods and mass merchandise to clothing and electronics, at the expense of the bricks-and-mortar shopping experience. In late 2012, Canadian branding and design firm Shikatani Lacroix released results of a survey it conducted with research firm Hotspex to understand the breadth of this change in shopping behavior and its impact on the retail industry. For consumer packaged goods companies, the challenge is to optimize both online and in-store sales opportunities. And in this new environment, where value and price rule, packaging innovation will play an even greater role.

According to Jean-Pierre Lacroix, R.G.D., president and founder of Shikatani Lacroix, one of the greatest insights gleaned from the new study, "Re:Store - Redefining Retail," is that "consumers are very predisposed to do online shopping," he says. "And, when they shop online, Amazon.com dominates."

Notes the study, depending upon the category, approximately 30% to 50% of American shoppers make half their purchases online. In electronics/appliances, that percentage jumps to 52%. In the next five to 10 years, the study estimates that consumers' online shopping activity will continue to grow, with shoppers expecting to move at least half of their shopping activity online rather than in store.

Currently, when it comes to crossover shopping (shopping in-store and online), Re:Store notes that between 50% to 70% of shoppers browse in-store and then buy online, depending on the category. "Only 29 percent of the people who decide to shop outside the store and do so online go to the retailer's Web site," says Lacroix. "The remainder goes to non-retailer Web sites, of which Amazon.com is 45 percent."

For a retailer, this is a huge concern. "For a packaged goods company, this means that Amazon.com is now one of your biggest customers when it comes to your retail network," advises Lacroix. "So start looking at Amazon.com as a retail channel, and give it the same attention that you would if you were talking to Costco or Kroger or any other channel. Develop products that appeal to their segment of the marketplace."

In the online environment, it is price, not packaging, that drives purchase. According to Re:Store respondents, the overriding reason they purchase products online versus in-store is price, with over half the respondents saying that online prices are better. But there are ways CPGs can bring value through packaging to online shoppers. One way Lacroix suggests is by bundling frequently purchased products.

"If I am a CPG company looking 10 years out, I would be looking at every bundle. For example, if we know that consumers are typically going to the store and buying four different products, let's say under the Kellogg's brand or the Quaker brand, then the CPG can bundle these products and make the outer wrap the important thing versus the individual package. So they can actually lower the cost of production of the packaging, especially since online is going to be such a significant percentage of the distribution of their products.

"Right now it's not economical to create separate packaging for online sales; it doesn't make sense. But as the online channel grows, the viability and the opportunities will arise to make it more feasible."

Reclaiming the emotional experience

The other major insight gleaned from Re:Store, says Lacroix, is that the online experience dominates as it relates to the emotional connection to the consumer. "You would expect the retail store environment, with staff and a physical presence and an opportunity to browse and shop, would have more affinity on the emotions side with customers," he says. "The reality is, they don't. So if, on average, 40 percent or 50 percent of all buying decisions are done emotionally, the online experiences are winning."

According to the study, Amazon.com has the highest overall relationship index of all retailers. The brand has unique strength in emotional response areas like trust and success, and has very strong satisfaction ratings.

To reestablish the emotional connection with consumers, Lacroix notes that retailers will continue to expand their private-label offerings beyond the value proposition "just to reclaim that point of difference and drive consumers to their Web site if they can't find the product in their store, versus going to Amazon.com."

Similarly, to help retailers keep consumers in the store, CPGs can create special packaging and offers geared toward specific retail channels. "I think you are going to see more and more retailers asking for customization of packaging so the consumer can't compare that box of cereal with the one online, because it will be different," Lacroix.

Other ways CPGs can work with retailers to help "dial up the emotional experience for customers" in-store is through in-store trials and taste tests, special product presentations, or distinctive displays such as bump-outs in the store aisle to highlight new products. "Convert the store from a commodity selling experience to an experiential platform for customers to learn, try, and discover," says Lacroix. "What's new and exciting is what is going to drive interest within a category and trial."

The rise in use of smartphones provides another opportunity for retailers and CPGs to enhance the consumer's in-store experience. Study results show that in the U.S, 41% of shoppers "sometimes" to "very often" use their smartphones to check prices while in the store. That percentage jumps to 47% in the electronics category, while in other categories, 40% on average use their phone to price-check.

"Obviously, in certain categories such as grocery it is less prevalent, but it is going to continue to grow as the use of smartphones grows," says Lacroix. "So it is important for the retailer to have a capture mechanism, such as a coupon, to keep the consumer in the store."

"Ultimately, retailers need to redefine the role they play for customers, and the role they play is really an opportunity for people to discover things in a way you can't do online. Now, CPG companies need to learn that they play an important role in that."
Companies in this article